My first kitbash in a couple of years.  
I hadn't lost interest, but  I had done so many over the years, I was running out of inspiration. But I finally got round to doing one that I had been mulling over for quite a while.  
Much as I love the original GI Joe/Action Man Green Beret (and I do love it - i have a dozen of' em), I have always regarded the original uniform as far too brightly coloured.  This was supposed to be for jungle combat and it was virtually day-glo green;  not very good for camouflage.  
The fabric was also far too heavy giving the uniform a bulk that the real life uniform didn't have.   This was supposed to be simulating  a fatigue shirt and pants, but the colour and bulk ended up making it look more like a much more formal jacket/pants combo.  And a strangely coloured one at that.
Here's John Wayne modelling the real thing for comparison...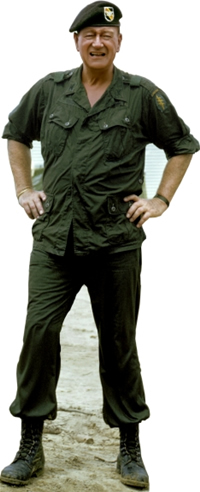 You can see what Hasbro was getting at, but they'd have been closer to the mark using a fabric similar to what they used for their normal Action Soldier fatigues.
Indeed one of the rarest of all GI Joe sets is a variation of the Green Beret set, available as a store exclusive through Jewel Home Shopping in which the figure is wearing the standard GI Joe Action Soldier fatigues.   While looking nowhere near as distinctive as the more familiar version, he does look more combat ready in this version.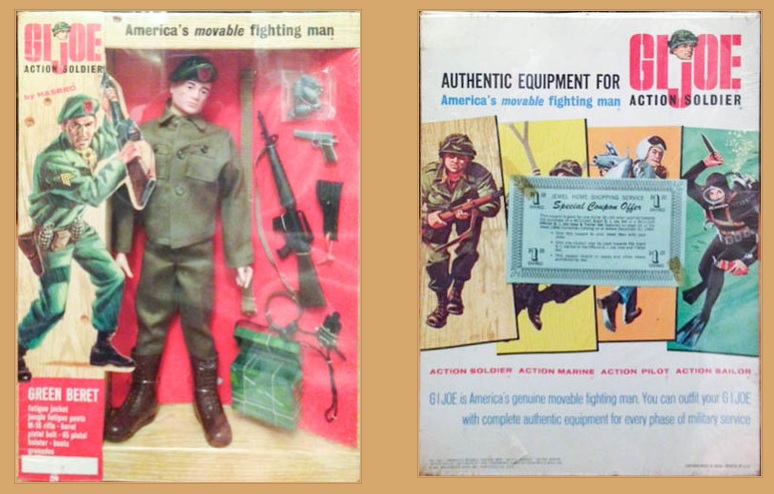 I have always thought that the ideal uniform for the Green Beret (had it been available at the time) would have been the fatigues on the Action Man 1970 Soldier figure.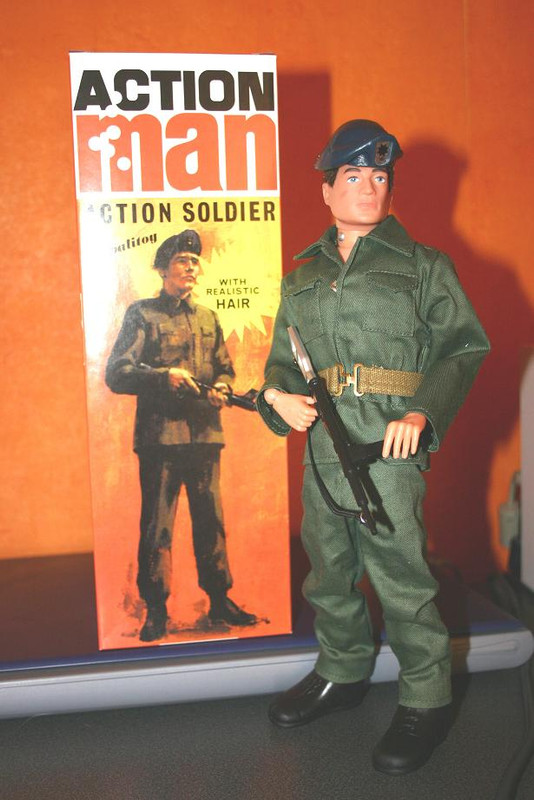 Despite coming equipped with a Sten gun, this guy is definitely not meant to be a British Soldier   The beret is US Army style and the uniform does not resemble any British Army uniform of that era or earlier.  
What it does resemble however, in both in terms of design and in the distinct shade of green of the fabric, is the then current US Army uniforms of the Vietnam era, noticeably different from the WWII/Korean War olive drab green fabric.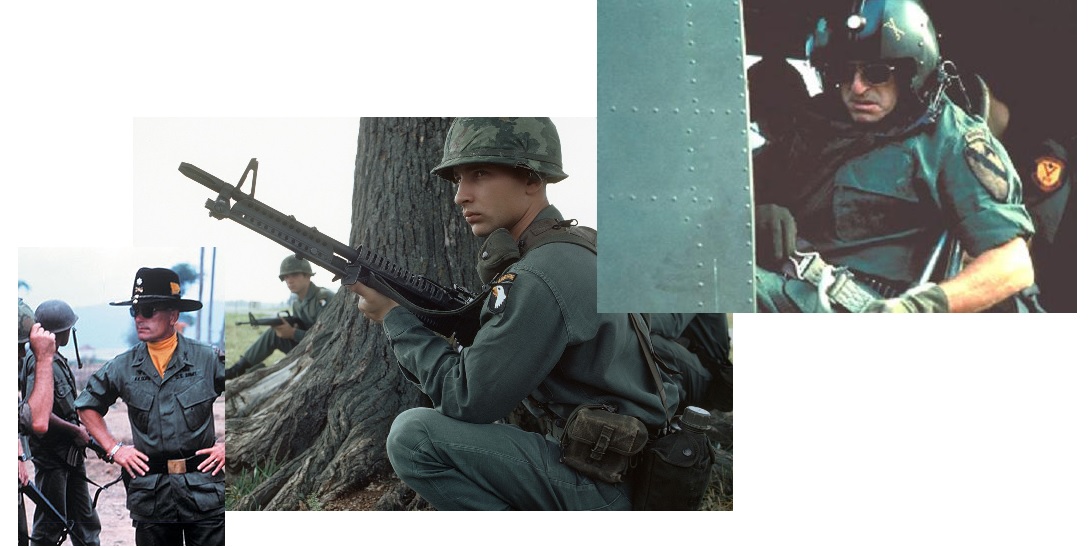 Plus this figure was released at the time when the Action Man range had just introduced GI Joe's Vietnam era sets, such as the Armoured Car (Tank) Commander, Infantry Support Weapons and the Rifle Rack.
Consequently, I've found this uniform is a terrific basis for US Army Vietnam era kitbashes.
So, I've always wondered what a Green Beret would look like in this uniform, and thought I'd get around to it someday, which (finally!) brings us to today's kitbash.  
Et voila!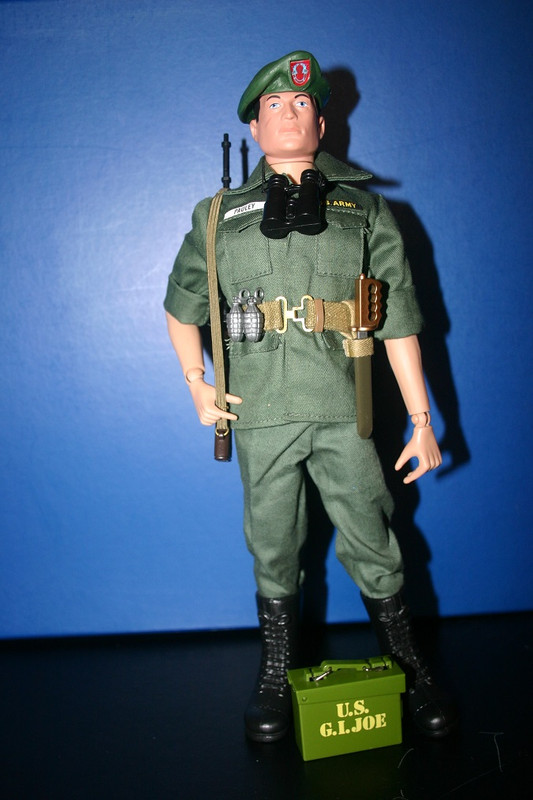 With a couple of minor exceptions, the 'bash uses all Hasbro/Palitoy kit.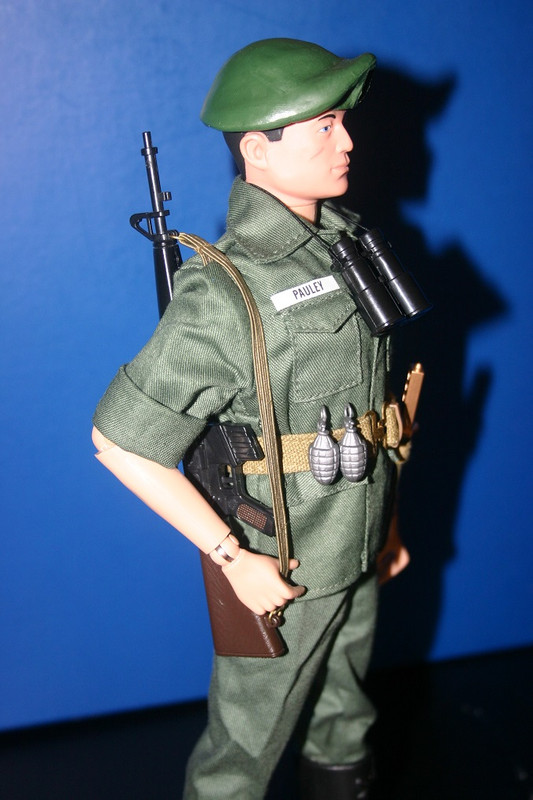 And yes, I know the canteen isn't Vietnam era issue, but I wanted to keep the figure as "Joe" as possible.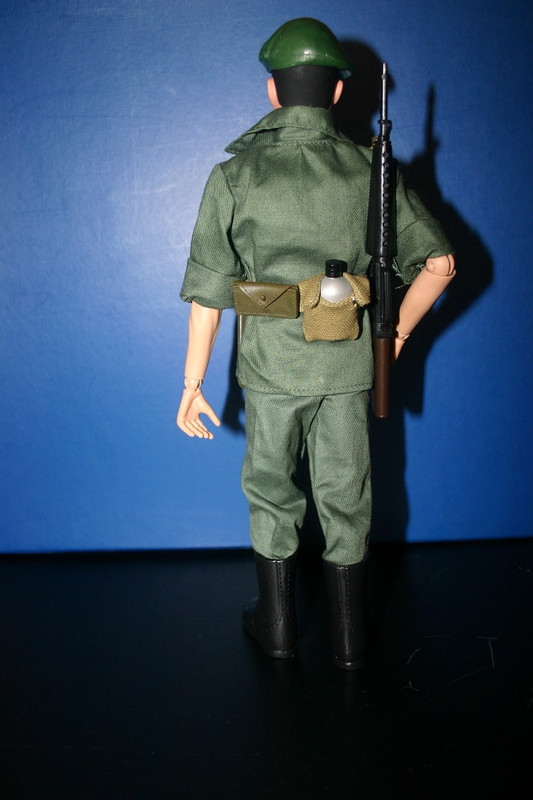 The only non-Palitoy/Hasbro kit is the knife scabbard which comes from Cotswold Collectibles and the name tags which are by from One Sixth Scale King.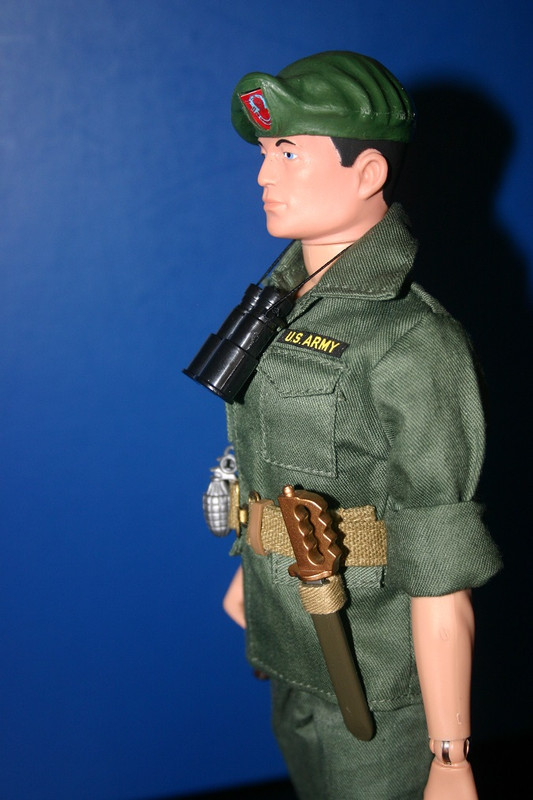 This kitbash had been so long in gestation at the back of my mind and I was so pleased with the result, that for the first time ever, I christened one of my 'bashes.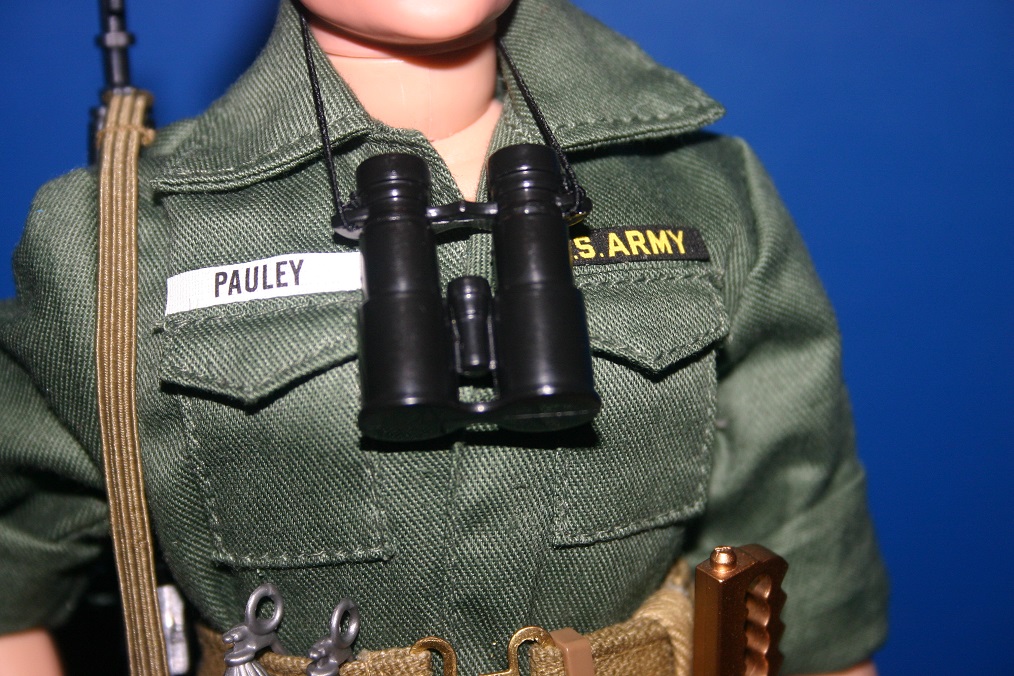 With the original for comparison.