So, it was early August, I wanted to continue get some figures that I needed for My older collections. Thanks goodness I had some funds. I saw some great deals on Amazon & eBay of stuff that I wanted for a very long time, basically 26 or so years
Figures that I wasn't able to get when I was much younger. So here is My great goods that I recently got
ALIENS: Action Masters 4 Pack:
Yes, as you have seen earlier on in the topic, it was My personal mission to get further completion of
Kenner's Aliens, Predators and Marines
figures. Now, this
Aliens Action Masters four Pack
were some figures that completely alluded Me back...way back when. These were available in 1994 and apparently thru 1997. I don't ever recall seeing these figures at a Toys"R"Us, a K-B Toys or any where else for that matter. I believe I discovered these guys in the very late 90s or early 2000s on the web, possibly a Tomart ad or some random action figure review page. I believe these figures weren't that popular back in the day which search Me why if that was indeed the case :?  Anyway, these figures are made by
Kenner
whom made the standard Aliens, Marines and Predator figures. I had opened these guys up and I absolutely love them. These Action Masters are a mixture of rubber & metal which really remind Me of
Tonka's
great
Willow
figures back in 88 that I featured in
My great Vintage Action Figure Topic!
! In fact, I believe like many things and times,
Hasbro
borrowed if you will this concept from the originator which was
Tonka
that they bought out along with
Kenner
With exceptions these figures could be in scale with them
All of the Xenomorphs has a point of articulation via their neck. They are all sculpted & painted really well for their small, 2" scale and especially for the era. They also include 4 exclusive trading cards that I just digg. I love the bios on the backs of them. The blister card is rather nice with good art and a cool checklist plus a special offer of the other figures within the series. I wouldn't mind to get all of them one day in the future but right now I'm just hoping to get The Predator and The Terminators. One sweet serendipitous aspect of the whole set is that the Ovomorph is actually in scale with the regular figures so I will be displaying it with them from time to time. These figures all connect to each other via their bases. Look for My entire AvPvM collection plus these great new acquisitions in
My great Vintage Action Figure Topic!
when I get to the 90s to be featured in a major showcase
STAR TREK!
For a long time I was looking at My
Star Trek
figures by
Playmates
and I realized that My collection was good but wasn't as complete as I'd like it to be. I stopped collecting them in 94/95 which was really foolish but I made up for big time. I didn't want any variants, just the characters I needed to make My display and collection for plentiful. I actually was missing some important and key characters. I have always had a soft spot for
Playmates
and in fact they were arguably My fave company of all next to Kenner, Hasbro and McFarlane. By studying these figures I come to realize how great and realistic these depictions are and in fact I believe they were only beaten when
Mcfarlane
came around...that's how tremendous I think these figures are. Another cool fact is with exceptions, they are in scale with
Kenner's AvP
series' which is great but not with Star wars though. One thing is I was very rusty on is the scale, these are 4 55" to 5", you gotta watch out because
Playmates
made some figures 6" to 7" tall that angered fans and collector's a like so if I wouldn't have done My research I would have been dumbfounded and quite frankly, upset and disgusted because their not in scale therefore would totally mess up that realism of realistic heights that I love! Another thing is these are cheap, much cheaper than I imagined and I'm glad of it. Now get this, I got 2 or 3 of these tremendous vintage figures for the price of the current markets 1 Star Wars Black or AEW or Marvel Legends among others...the price points in this whatever day and age era we're in now is so ridicules...I find these just as good if not better than those offered currently and so much funner too! I mean look at the packaging and overall what you get...need I say anymore? OK, here is whom I picked up so far
Deana Troi & Dr. Crusher:
I needed the two first lovely ladies of
TNG
!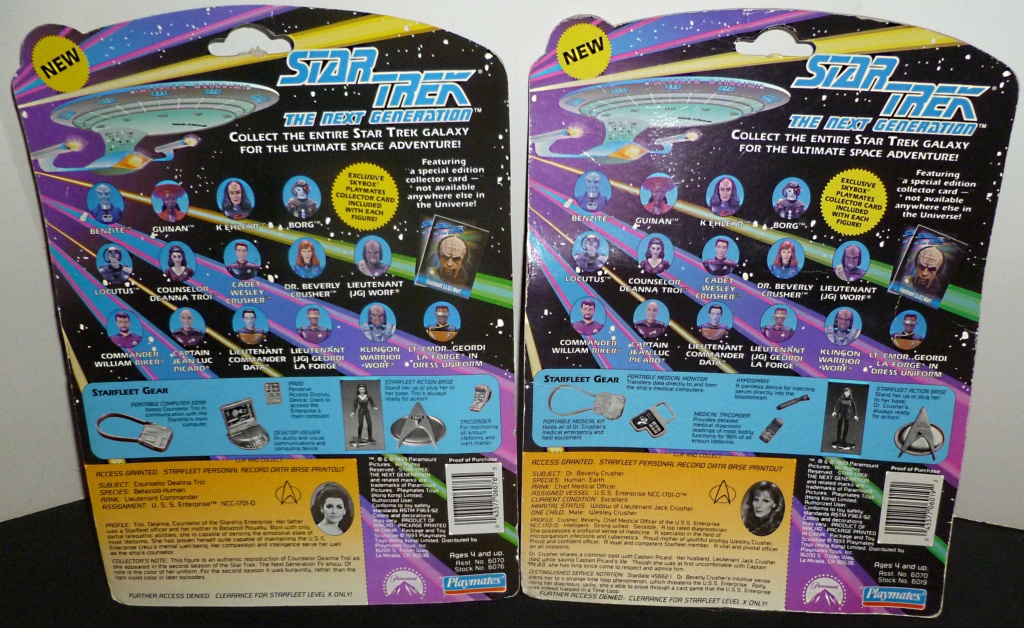 Ambassador Sarek:
I have Mr. Spock but I needed his father!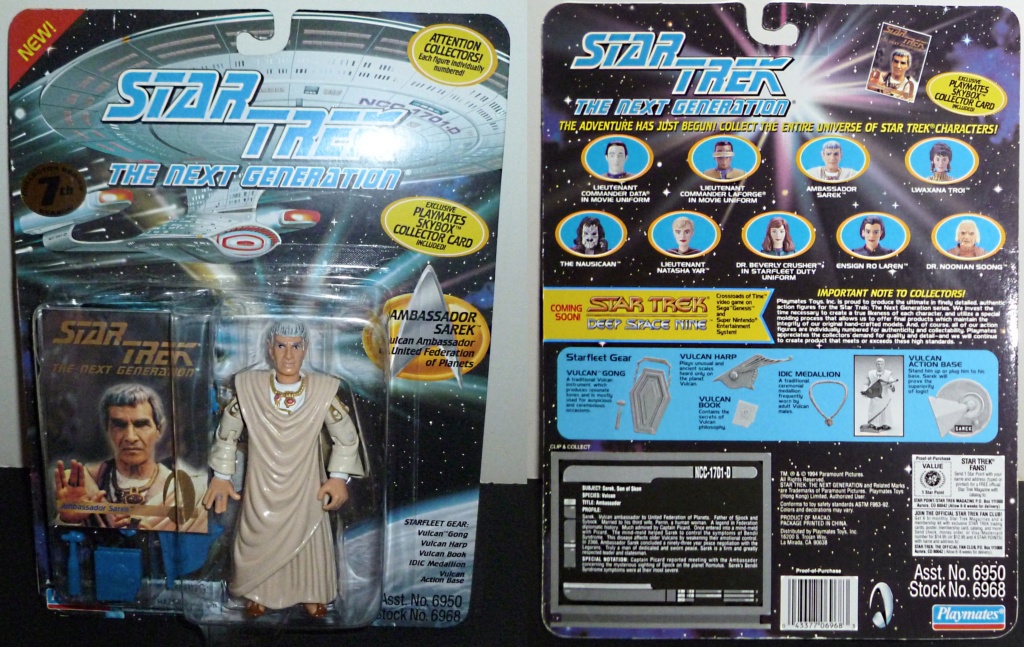 Vena the Animal Woman & Ilia Probe:
I needed these beauties to go with My OS Star Trek collection!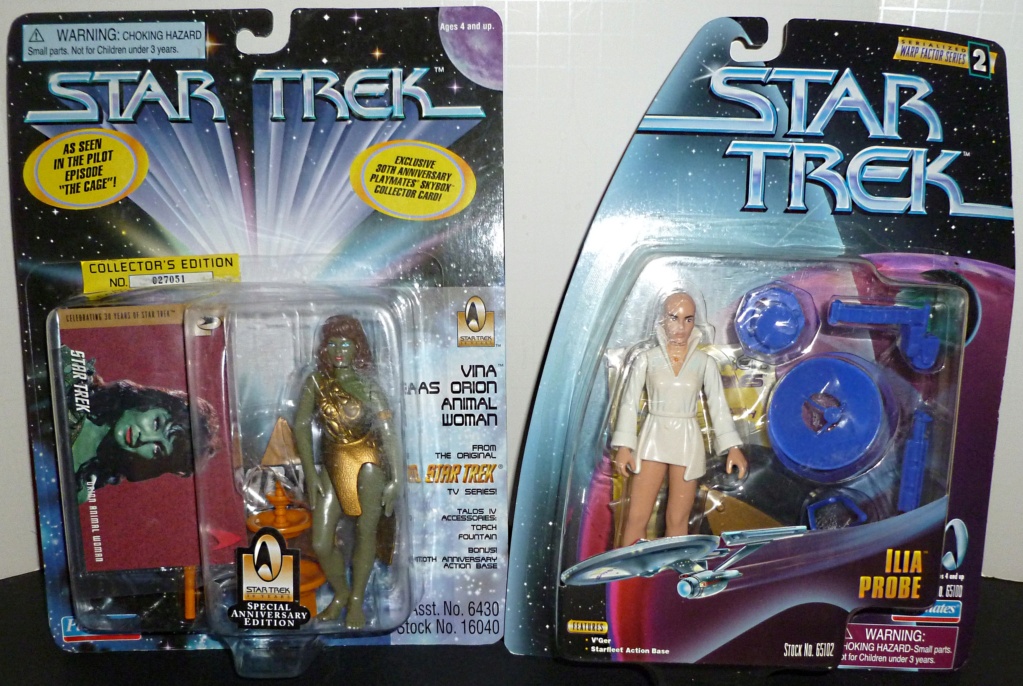 The DataLore Twins:
Lore & Professor Data!
I needed Data but realized I needed his brother too. I got Prof. Data because he was the cheapest to get and besides, I love this alternate version!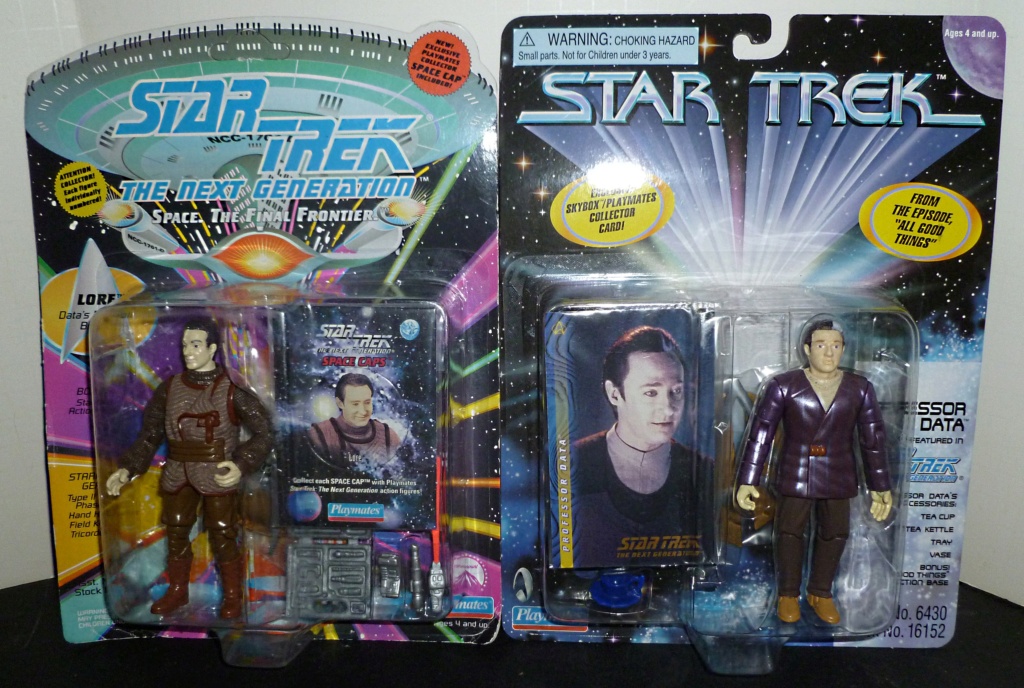 The Duras Sisters: Lursa and B'Etor!
I needed these Klingon babes to further My collection and displays!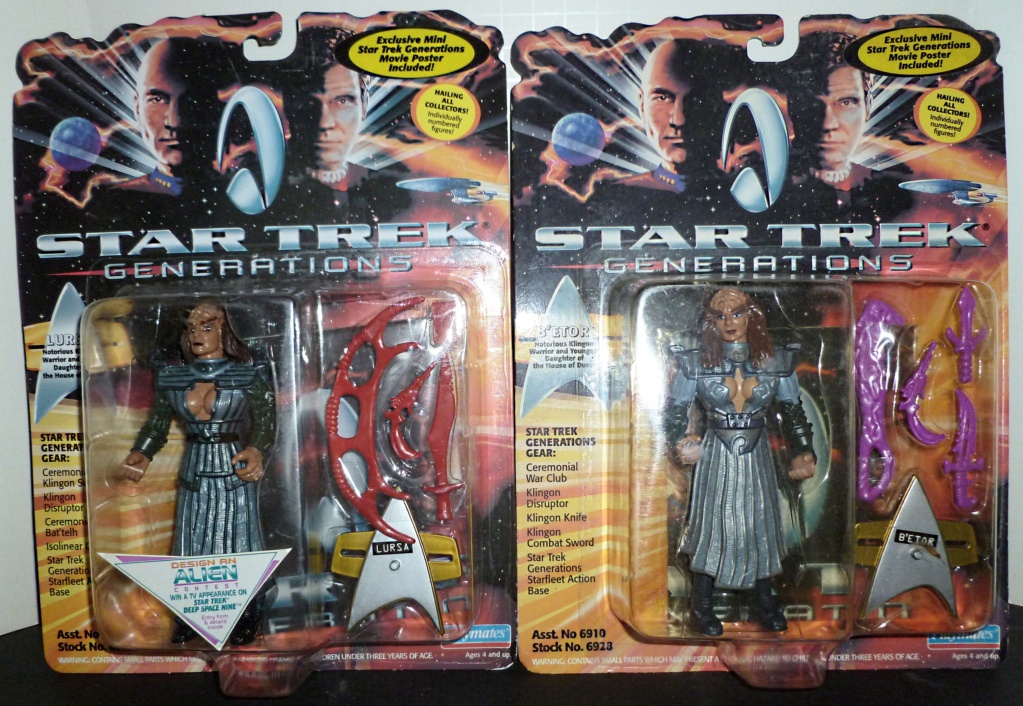 Now here is an extremely special set that I needed very much. For Me it had a similar origin like My
ALIENS: Action Masters 4 Pack:
seen above. Here it is!
Micro Machines
Star Trek Collectors's Set
by
Galoob!
I loved Micro Machines back in the day of the late 80s thru mid 90s. I thought they were so much funner than
Mattel's
Hot Wheels
. I just didn't get cars and among other vehicles, I got a lot of epic
Star Wars
Micro Machines
back in 95 - 96. Like
Tonka & Kenner, Hasbro
bought
Galoob
as well
So, for the longest time I kept on thinkin' I need those
Star Trek Micro Machines
to be with you and to crossover in an epic display! I am so impressed with these and how detailed they are how and great their sculpting is! Like the
Playmates Star Trek
figures, I have always loved
Micro Machines
packaging and companies don't make anything this grand anymore!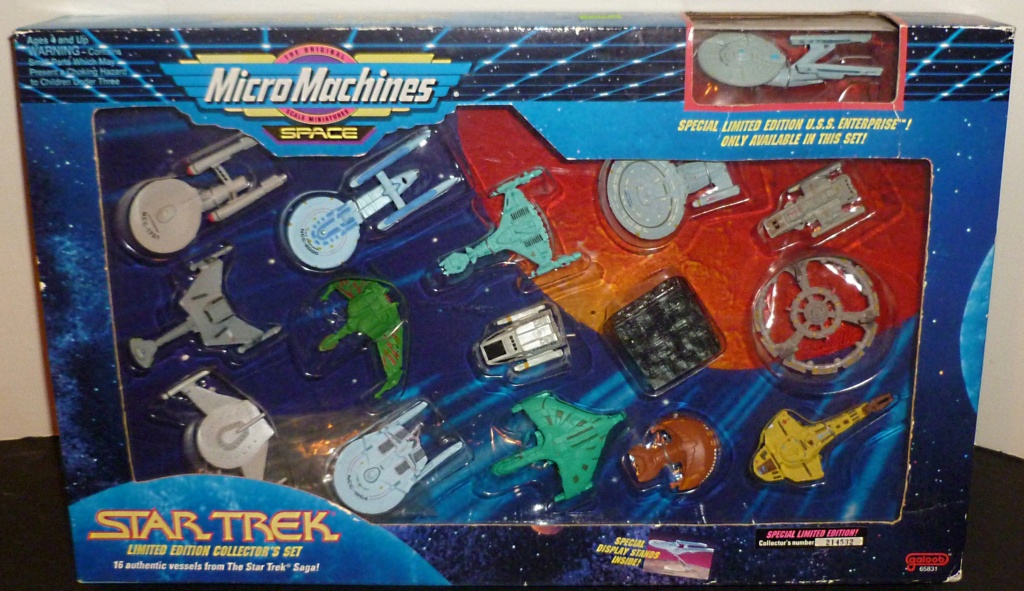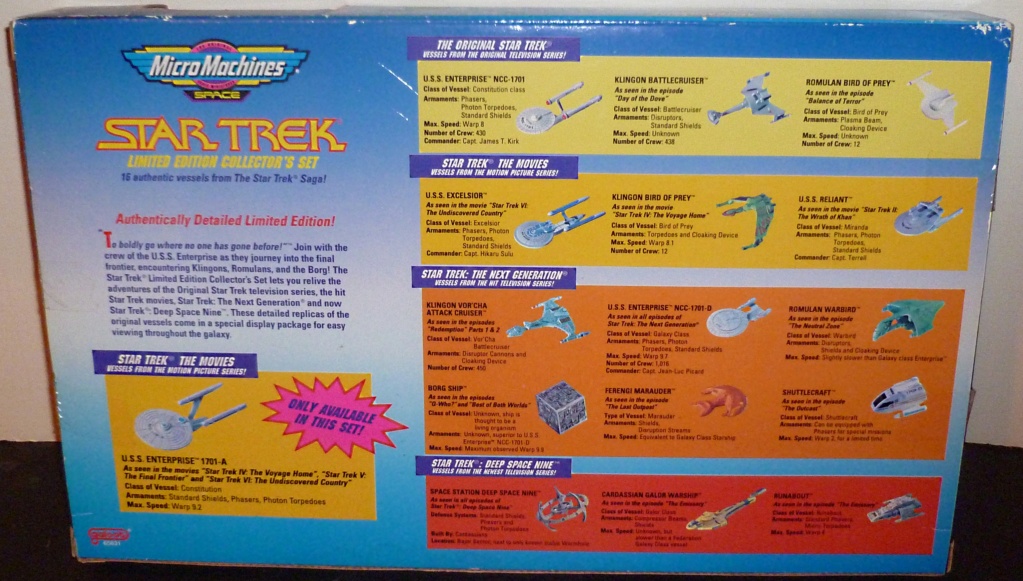 So there it is of My recent haul! In time I will feature all of this in
My great Vintage Action Figure Topic!
So if you are just now checking this topic out please look back within and check out My other great stuff I got previously! Comments and questions if ya got'em please