So finally, here we go with My showcase of the great
WCW
wrestling figure series made by none other than
ToyBiz
This line ran from 1998 to 2001 which was the unfortunate end of
WCW
when they along with
ECW
were bought & taken over by the
WWF/WWE
. It was arguably the most painful and emotional events ever in wrestling as I had watched
WCW
faithfully for over a decade despite I did the same for the
WWF
but when your a huge wrestling fan like Me then that's what you do! It was a sever struggling after this as feds like
TNA & ROH
were just beginning but never came close as being competition and it would remain that remain that way until
AEW
came along but that unbelievable conflict is for another time.
OK, so as previously seen & known, I absolutely loved the previous
WCW
figures by
OSTM
and I wanted them to continue it and finding this out was really disappointing but apparently their contract/partnership was over in late 97/early 98 and
WCW
wasted no time at getting a new company to make their figures. They chose
ToyBiz
and how apropos it was since they already had Hulk Hogan within their ranks
So their figures were made quite differently as they are pose-able with articulation & action features unlike
OSTM & Galoob's
statuesque figures previously seen in My great in-depth showcase! I quickly got adjusted to this newer style and I arguably liked them even more than their rivals of the
WWF's
Bone Crunchers/BCA by
Jakks Pacific
(gosh it was truly a terrific time going to Toys 'R" Us & K-B and seeing all of those classic wrestling figures on the shelves & in the bins...in fact it was weird seeing left over OSTM WCW with the newer ToyBiz WCW figures on the same shelve and I miss them days so much!) as I felt
WCW's
figures were more realistic because they had great unique sculpts and were mostly real heights as opposed to most
Jakks'
wrestlers being in the same scale and using the same molds thus continuing the template/palette trend of the 80s, a cool concept that was decided in order to make things fast by companies such as
Mattel & REMCO
which this process is still being done today!
Now, like any entries of My collections, they maybe a bit worn and may not have all accessories and I do not have every wrestler nor variant but I do have most of them. I will present them in random order and will have a special gallery like always and without any more waiting here they are!
Chris Jericho, Sting, "The Giant" Paul Wight, "The Total Package" Lex Luger & Ref:
The Ref was actually an accessory but like always, I never count these like that. These Jericho & Luger versions were the best they made of them said wrestlers!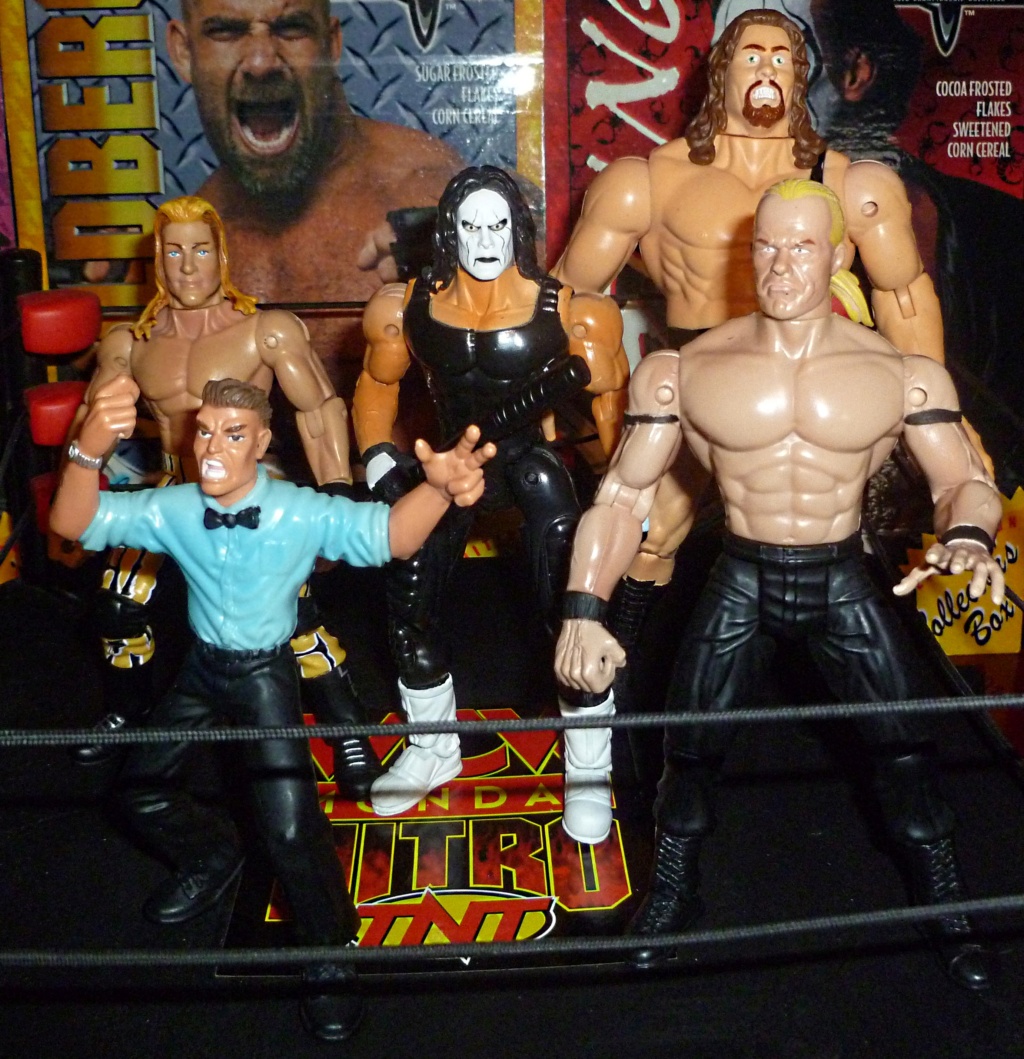 Rick Steiner, Hardcore Hak, Dennis "The Bod/The Worm" Rodman & Chris Kanyon:
Steiner uses the same mold as his brother and this I believe is the only version of his heel persona, Hak's figure is rather decent and to think OSTM would make him as The Sandman not to long after this in their awesome ECW series. This is a rather fantastic figure of Rodman, his hair changes color and he has tats. I remember how surprised I was that they actually made him after OSTM made him only a couple short years before this edition. This maybe the only figure ever made of the late great Kanyon!
Kevin Nash, The Giant, Bam Bam Bigelow and Scott Hall:
This one of many variants of Nash and its OK. This is the first version of the Giant. I love how he is different than his other figure as he is sculpted with a neck brace. He is depicted this way as it was from a time when Nash severely injured him, in fact they both came in a two pack together. My Grandma got Me the late great Bigelow @ Walmart. He is a superb version of him with a great likeness & accurate tattoos! Now, this Scott Hall is one of My most prize figures EVER because this is the black & white version. It was in the year 2000, Me & My Grandma went to our local K-Mart in the old neighborhood and while I was excited to to go to the action figure isle but wow I was so thrilled that I saw him on the peg on a nearly empty section
I believe he was the first chase/variant figure I saw from any series and that I got
She bought'em for Me and I never seen this version for sale in person again
Konnan, Wrath, The Disco Inferno & Bill Goldberg:
Though K-Dawg & Disco's attires arn't as detailed as they could have bee, these are all great versions and I believe these are the only figures made of them except for Goldberg which this one of the best versions of him if not the best!
Stevie Ray, Kevin Nash, Raven & Rey Mysterio:
Rey uses the same sculpt as his brother Booker T. Similar version of Nash, now Raven has a Marvel Daredevil shirt...how apropos that was and oh and like Hak, OSTM would make a version him not too much longer as he would also return to ECW! Now, this is the ONLY UNMASKED version of Mysterio
He is maskless due to the stips he had in WCW. Today's WWE for almost 20 years wants the fans that remember this era to forget about it and for noobs to not EVEN KNOW taht this even occurred! This is just not one of the most important Mysterio figures but one of the most imperative wrestling collectibles of all-time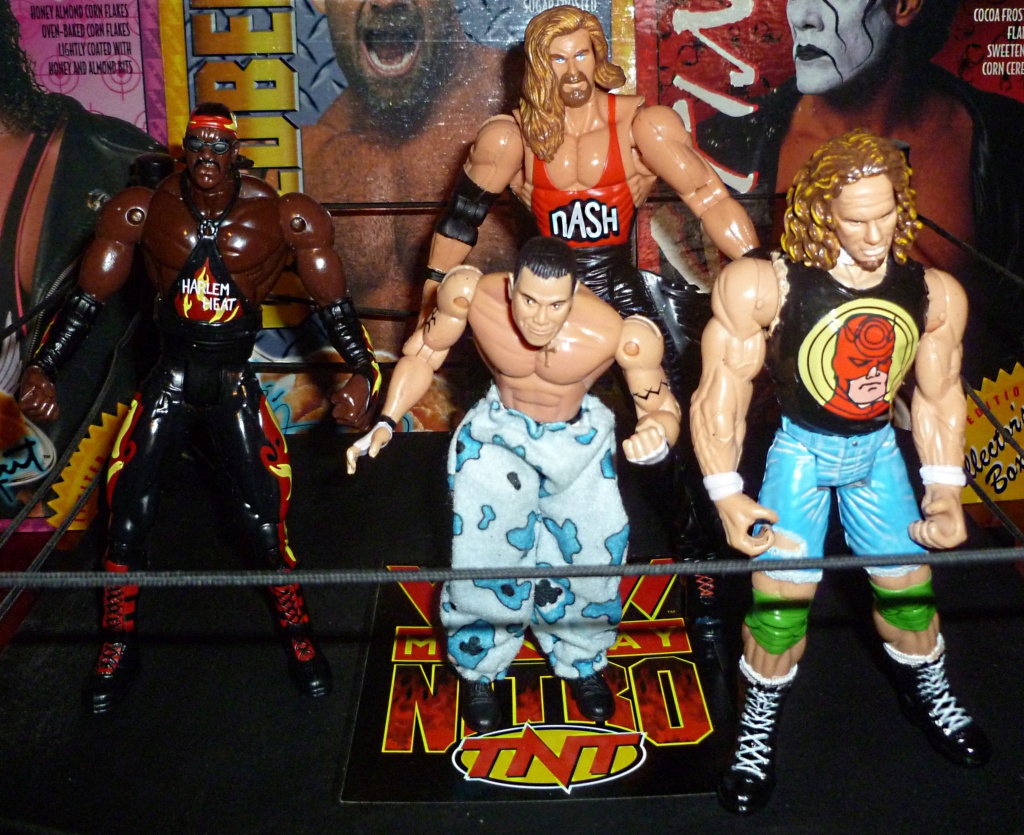 "Macho Man" Randy Savage, Eric Bischoff, Sting & Goldberg:
The red & black Macho is really sweet, Easy E is a decent fig with a nice likeness and was exclusive in a box set! This Sting was one of the best versions of him with a rubber jacket. This Goldberg is cool and one My faves, I love his shirt with his tat logo on it!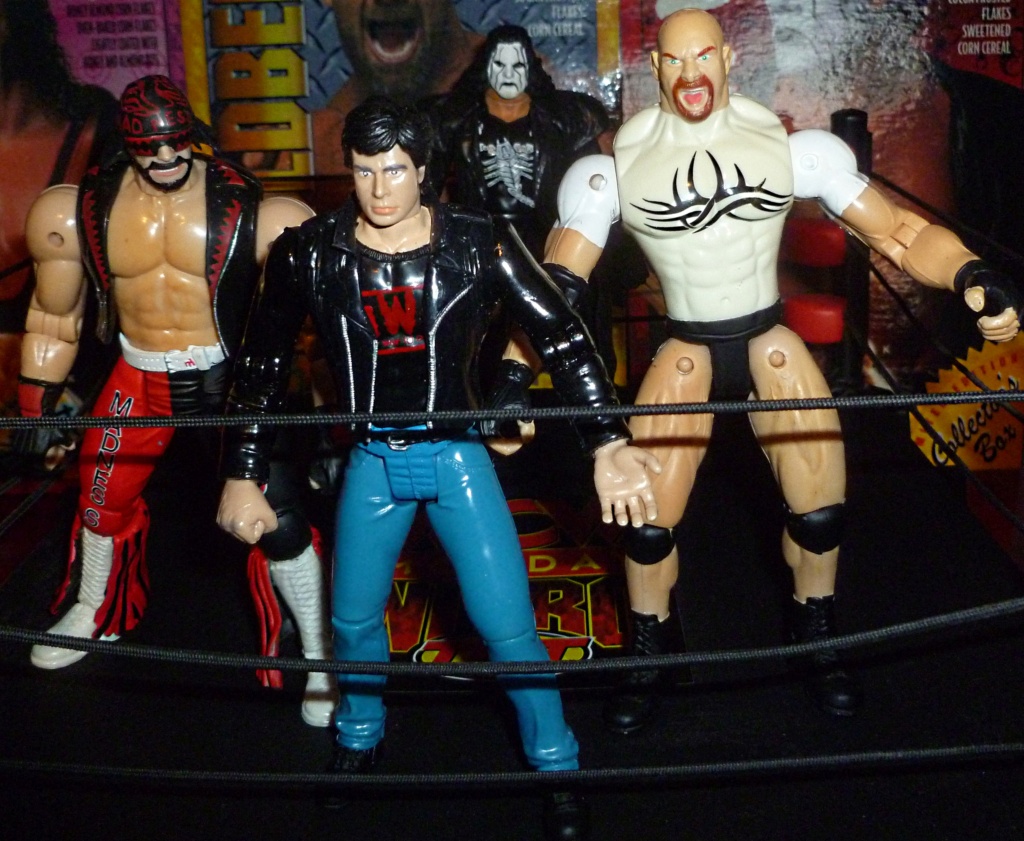 Bill Goldberg, Marcus "Buff" Bagwell, Kevin Nash and Billy Kidman:
This Goldberg was My first figure of him EVER. ToyBiz wasted little at making a figure of him as he was like no wrestler ever seen before at the time! Gosh, I remember how I got him, it was at Sears where My Mom worked and she got him for Me (see My OSTM nWo Hogan & Rodman for a similar special event) and he is My fave figure of him and one of My faves of all of My entire WCW ToyBiz collection! This is really a cool version of Bagwell, great likeness! This is the most realistic version & My fave one of Nash in the series and the Billy Kidman is also superb version!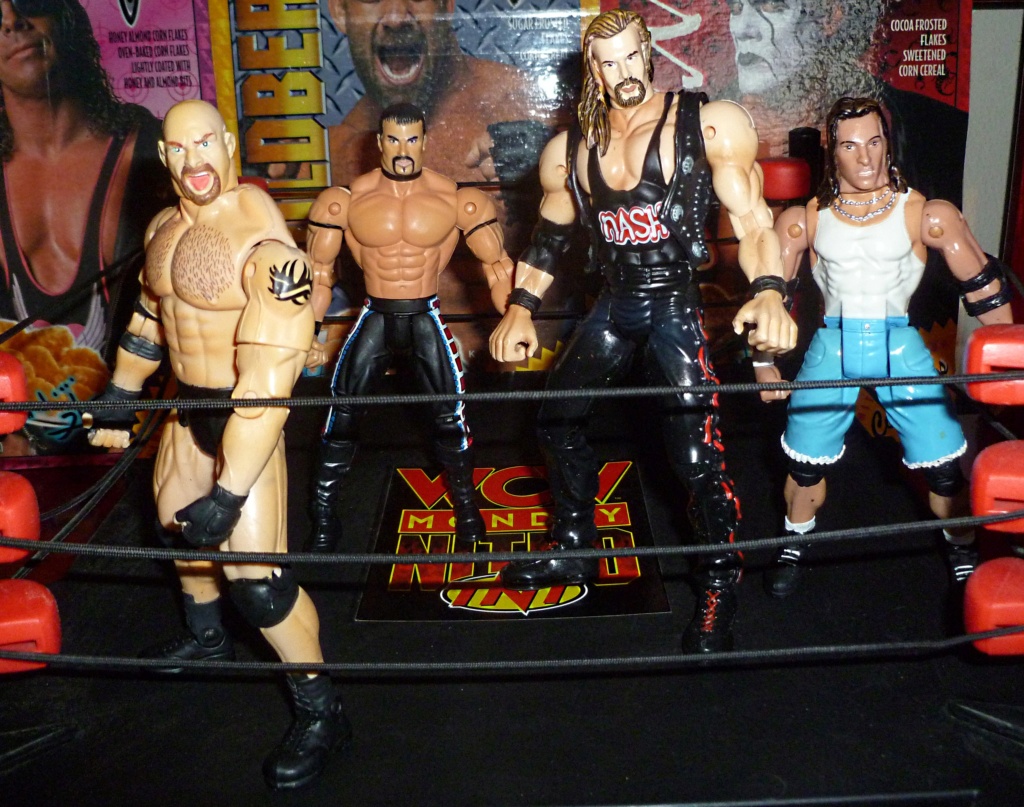 Sid Viscous, Bret "Hitman" Hart, The Giant, "Rowdy" Roddy Piper & Hollywood Hulk Hogan:
Ignore the Giant, he is the same fig as presented above and put him in by mistake. This is a tremendous version of Sid and IMO almost rivals Galoobs version that almost came out a decade prior. This is an amazing likeness of Hart, far more realistic IMO than Jakks ever made of him and it is astounding that his figures came out so quick after his screwjob in the WWF Survivor Series 97 nearly 25 years ago! His cousin Piper is great, I find his likeness really good and his removable jacket & kilt is a nice touch! This Hogan was an exclusive with Bischoff and is one of the coolest action figures ever and My fave of all of the ToyBiz Hogan versions!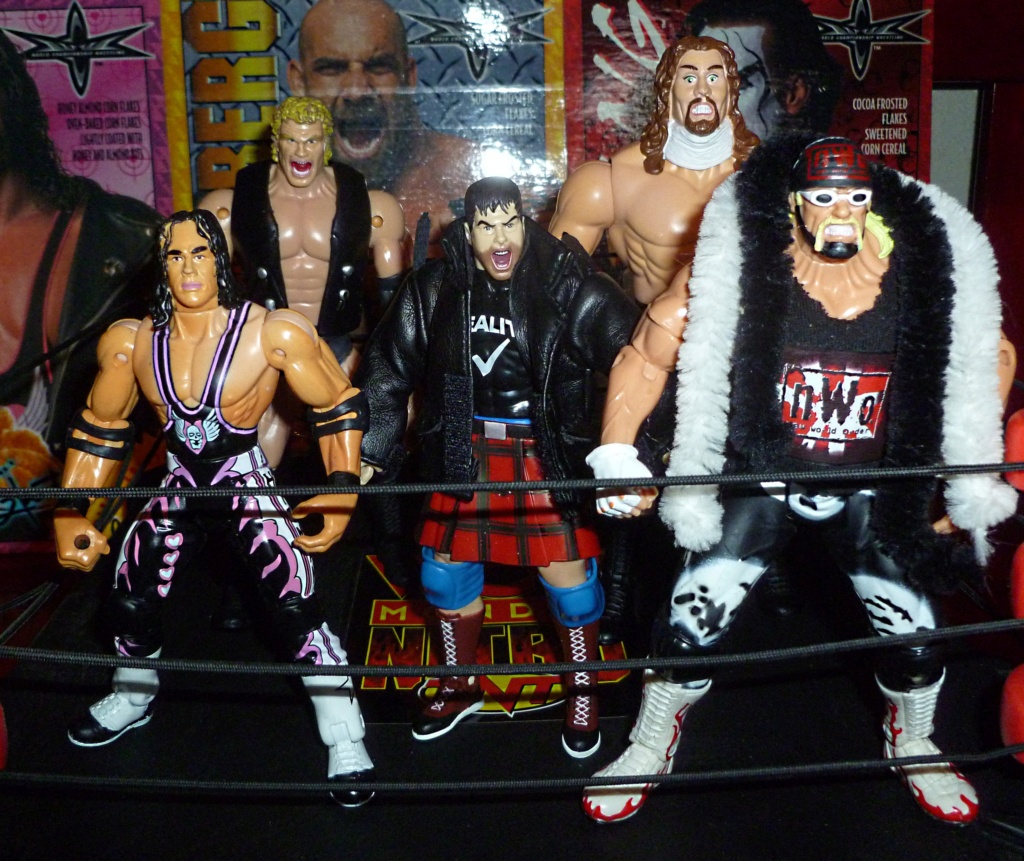 "Macho Man" Randy Savage, Sting, Diamond Dallas Page and Goldberg:
Previously seen in My Marvel section...this is the first & only version of the late great Randy Savage in his newer look & much more aggressive persona and wow what a likeness! The red & black Wolf Pack Sting is really good, love the colors! Another great one with DDP and was the first one they made, his arms are in the pose for good to mimic his diamond sign but this IMO is the most realistic version of him ever! This is also a very realistic version of Goldberg!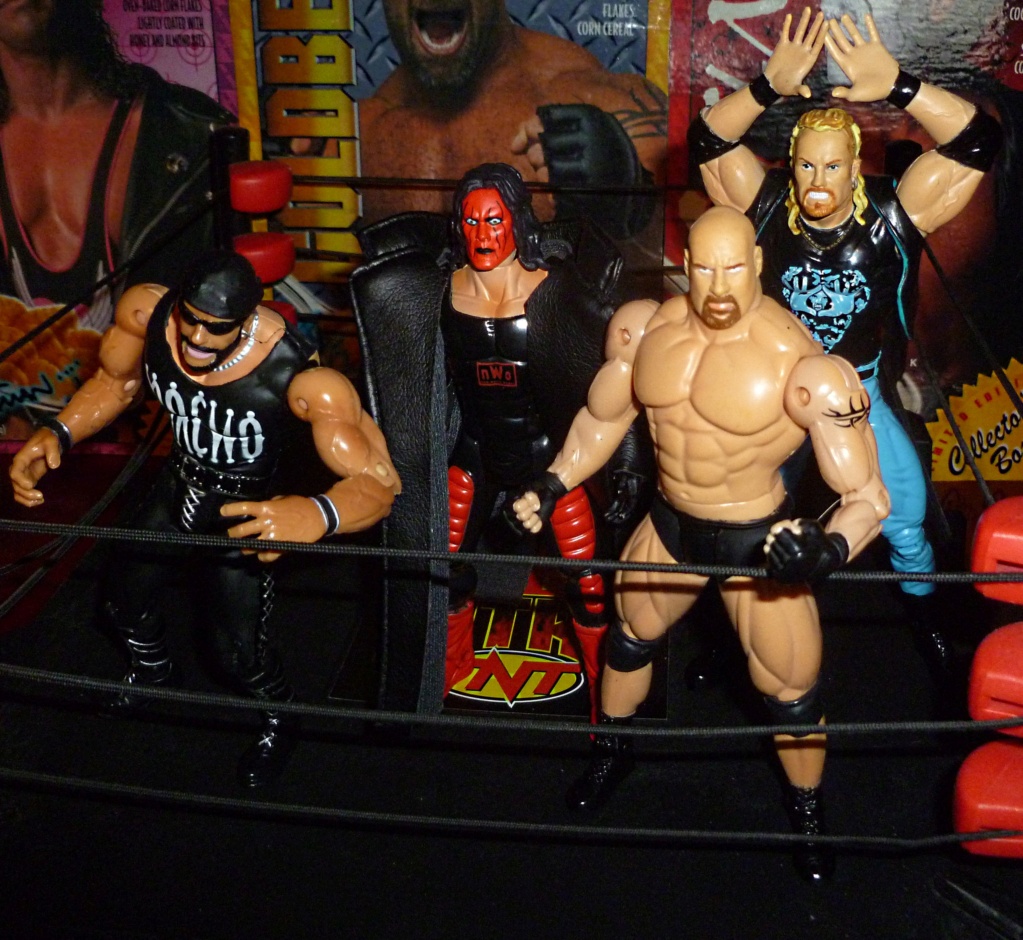 DDP, Sting, Nash & Hollywood Hogan:
All of these versions are OK, the DDP is much shorter than the other version which is not to My liking and I love that expression Hogan has with his beard!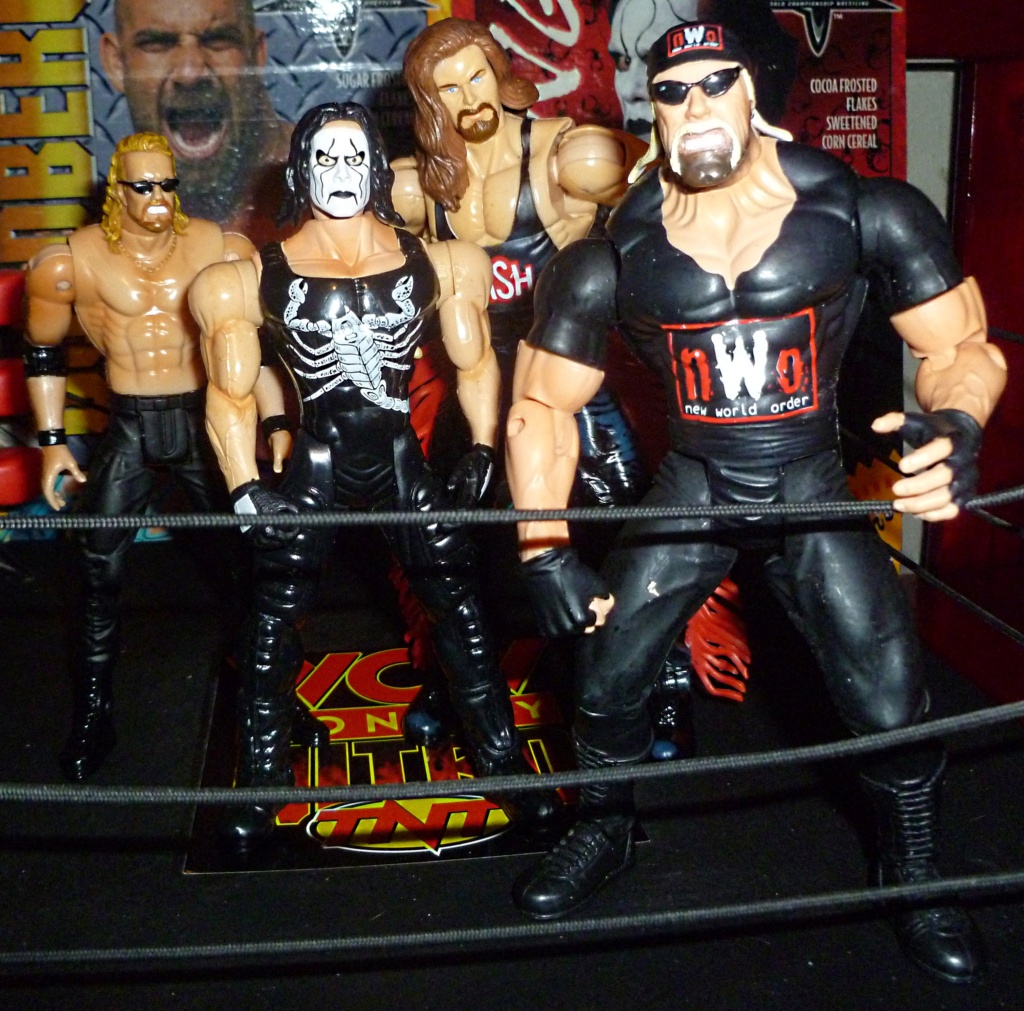 Lex Luger, Hulk Hogan & Sting:
This version of Luger was first they made and they desperately corrected this version seen above. This is the only red & yellow version of Hogan as we were supposed to forgive him for turning heel. I was very glad that they made a R&Y one of as I felt that the line wouldn't have been complete without it. This version of Sting was cool but it was an exclusive gimmick appearance only seen within this series.
Bret Hart, Booker T, 'Big Poppa Pump" Scott Steiner and "The Crippler" Chris Benoit:
All 4 of these guys were in a series called
Ring Masters
where you would collect all four with a piece of a ring which is what they are displayed in as it is complete! This was one of the first ever build-a-figure/BAF type years before ToyBiz' would do it for their Marvel Legends series
This was the first ToyBiz Bret Hart WCW figure and he has his shades! Finally there's Booker T! Steiner & Benoit looks great and this was their first versions with this line!
The Four Horsemen box set - "The Nature Boy" Ric Flair, Steve "Mongo" McMichael, "The Ice Man of 1.000 holds" Dean Malenko & "The Wolverine" Chris Benoit:
This was a major set to have as they were one of the most iconic stables ever seen. It's about time they made Flair! Mongo looks just unbelievable, easily one of the best figures in the entire line and really one of the most underrated action figures regardless of series. Malenko's first fig is really good and Benoit's repaint is great!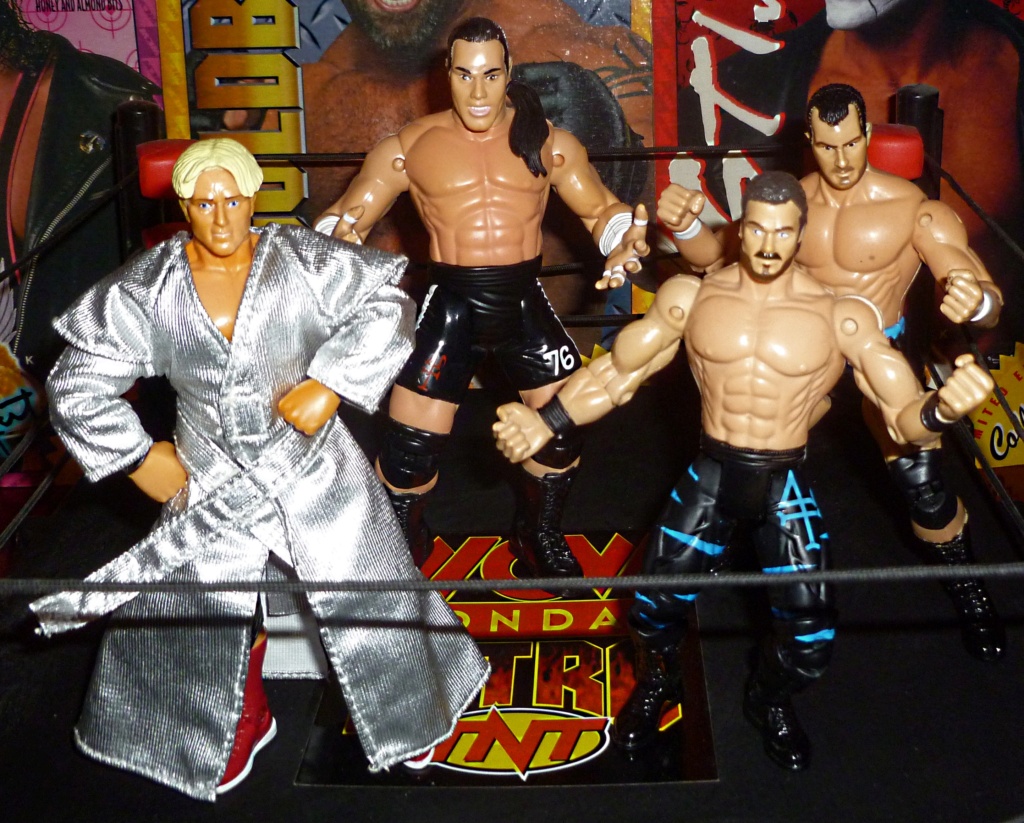 Vampiro, Mike Awesome & Perry Saturn:
These 3 are some of My faves of the whole series and were some of the last WCW figures EVER MADE as WCW went under
This Vampiro figure is one of the greatest figures ever created and he is so accurate and I love his hair
Unlike the other ECW guys mentioned above, it was the opposite as OSTM already made a figure of the late great Mike Awesome in their ultra ECW series then he suddenly jumped ship and was totally missed used in WCW and he was never the same since. His ToyBiz figure looks great and was on a much smaller card. Saturn is terrific with a fantastic likeness, his tats and cool skirt!
Miss Elizabeth:
She was included in a 2 pack with her ex-hubby & the black & white version of Randy Savage. This is only her second figure ever made and was nearly a decade before her very first figure was made in the ultra classic
LJN
series as I previously showcased earlier. The likeness is fair, since she is made by a comic company, they went the comic route rather than the realistic option. She is much thinner then her real life self but clearly female and in fact she is the only woman ToyBiz ever made in this entire line which was really a shame as WCW had some really good, hot, classy and talented women. I would have loved it if they would have made a special box set of the Nitro Girls...oh man that would been sweet! Here is she is
Bonus Entries!
Bonus Character/Wrestler!
Sabertooth:
Yep, from ToyBiz' great X-Men movie series from 2000. I enter him within My fan fiction roster because the actor that played him was a wrestler in WCW in the early 90s known as The Big Sky so it was so apropos that ToyBiz made him and he is in great scale with the WCW ToyBiz figures!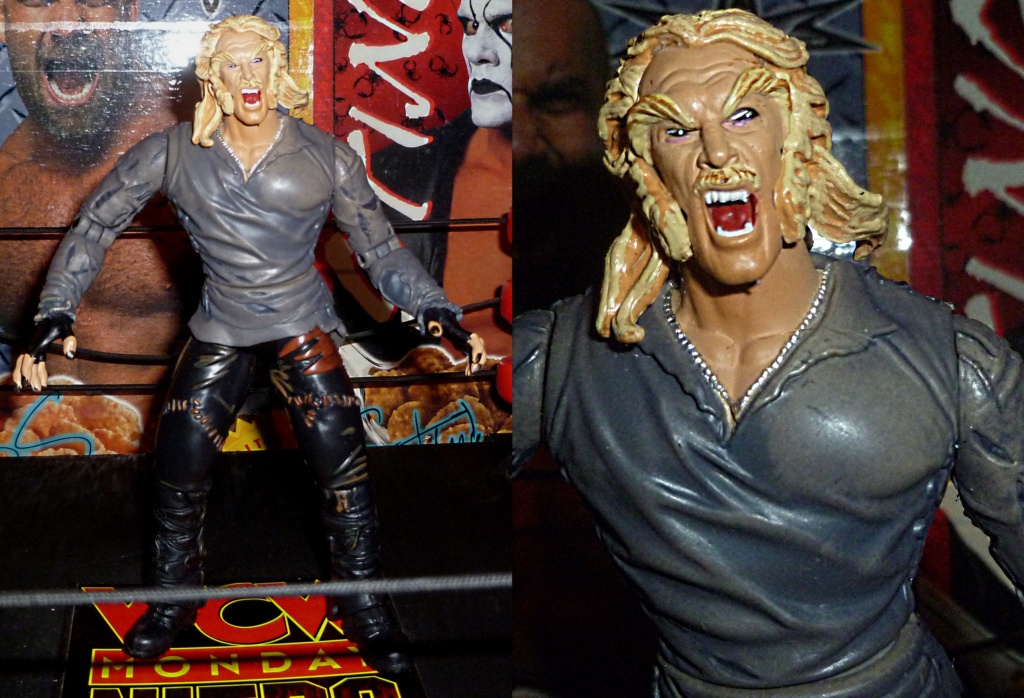 Tyler "Sabertooth" Mane & Kevin "Vinnie Vegas" Nash reunites but are they at odds this time
Look at that scale, they are both 7 footers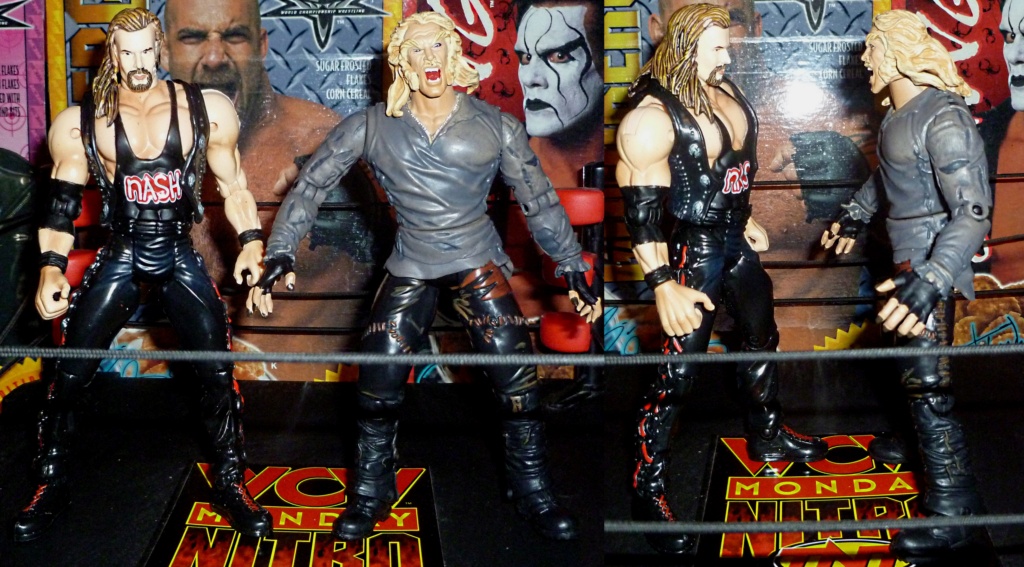 Here is special real pic of them that I put together when they were a team in WCW in 1993!