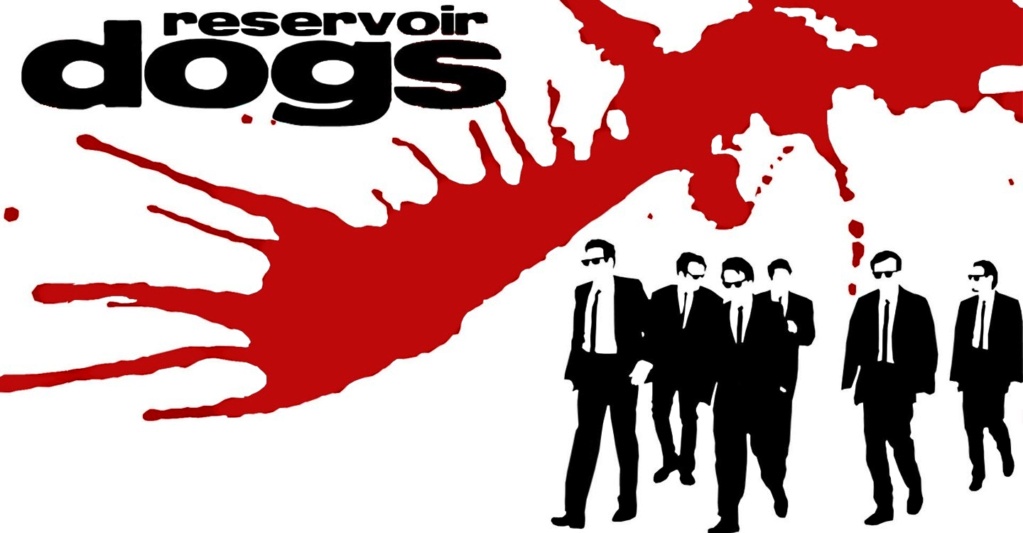 Well well, here we go on a long time coming. It was 2001, that year I first became a 12" - 1/6 collector...this marks My 20th year Anniversary! Long story short, I was looking on the web and saw there was like this big bang of 12" activity from companies and I was hooked. I mean from collecting smaller figures from Wrestling figures, TMNT, X-Men to Movie Maniacs it was a big jump for Me not only size & price but also display. I mean The figures are very realistic with tons of articulation and real clothing!.
When I first saw
The Reservoir Dogs
figures at various web stores I was like, oh wow, their really cool. So I was thinking about getting them. I hadn't seen the movie before. If your not familiar with this classic, it's a fantastic crime thriller that is very gritty & has violent action by Quinton Tarantino.
CLICK HERE to the wiki page to know about it!
I wanted the figures but I had to see the movie first, I rented it at Hollywood Video when video rental places still existed (I miss those days, Red Box and Netflix screwed all of the good times up with all of this digital stuff and today's young generation doesn't know the half of it)
 So, I watched movie and I got the figures, THE WHOLE COLLECTION! So who are these figures made by? They are made by
PALISADES!
These were such an up and coming company with many terrific lines such as their great
Muppets
, 12"
Final Fantasy
movie figures (I never did collect The Muppets nor FF) and awesome
Resident Evil
figures (I have the whole collection of
Palisades' RE
so stay tuned for that). They were competing against the likes of
McFarlane & NECA
and due to that, constant quality issues among financial debacles, they went out of business in around 2006.
I got all of these guys from a really good web store in Texas that had great selections, prices & CS. Their name escapes Me at the moment but sadly they are no longer in business for over a decade unfortunately
These guys were only about $35 a pop
That was a great deal back then and if you look at today's insane market's prices, it's utterly pathetic how it is now. I miss the old days, I truly, truly do
So here we go with the 12"
Reservoir Dogs
figures. The head sculpts are superb. They were sculpted by SOTA which was Jerry Macaluso's great company (I knew him when I was a customer when he first started SOTA but more on that at a later date
) and Plan B Toys also provided support for the line as well. I loved the likenesses, this is during when realistic sculpts started appearing more and more which really IMO it was a mystery of how quickthis upbringing horizon wasn't really seen in the 90s. I mean there was some great sculpts in the 80s especially the 90s but IMO the only sculpts that come as real as these were
Playmates' Star Trek
&
McFarlane's X-Files & Movie Maniacs
. The newer tech was being altered & upgraded by such sculptors like
Mcfarlane's
Four Horsemen
whom would later do excellent work for
NECA & Mattel
of all companies. I don't know how many people noticed this then like I did but I still really find this to be rather odd how it all got better all of a sudden
 The clothing is great and so is the many accessories. The quality is great but the bodies are kinda loose and I don't dare change the alternate heads. I misplaced the great artwork packaging though. Now later on there will
BE A GRAPHIC SCENE!!!!!
IF YOU KNOW RESERVOIR DOGS THEN YOU'LL KNOW WHAT TO EXPECT AND MIGHT BE SURPRISED THAT PALISADES ACTUALLY MADE THIS A DISPLAY OPTION!
OK, here we go!
Mr. Blonde:
Played by great villain actor Michael Madsen. He uses a taller body since the actor is the tallest of the whole group @ 6 foot 4!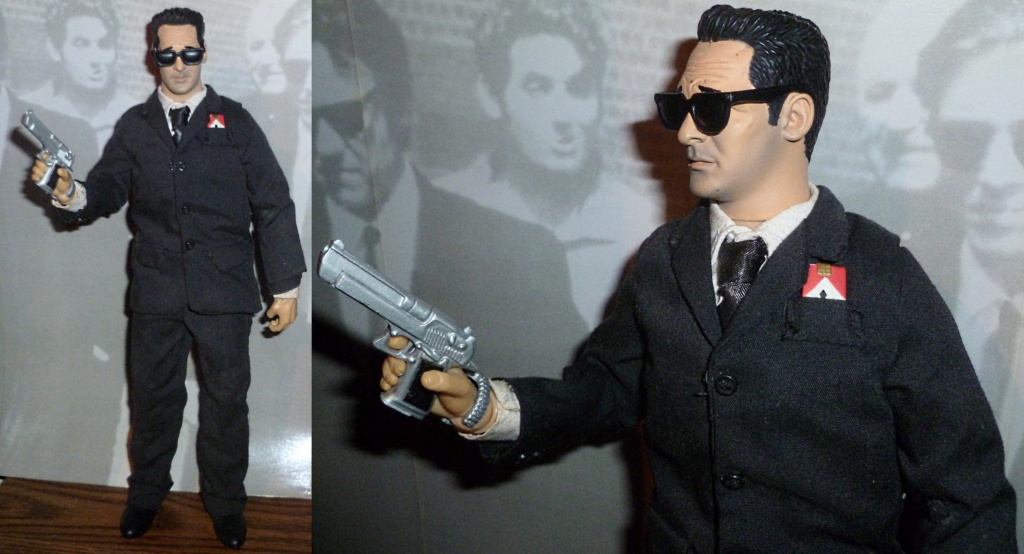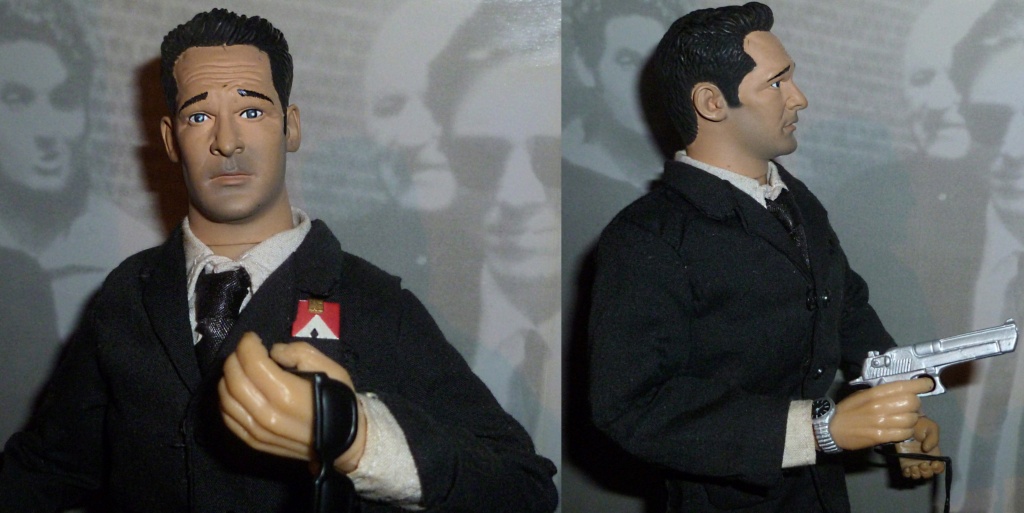 Mr. White:
Played by the talented Harvey Keitel, look at that great likeness!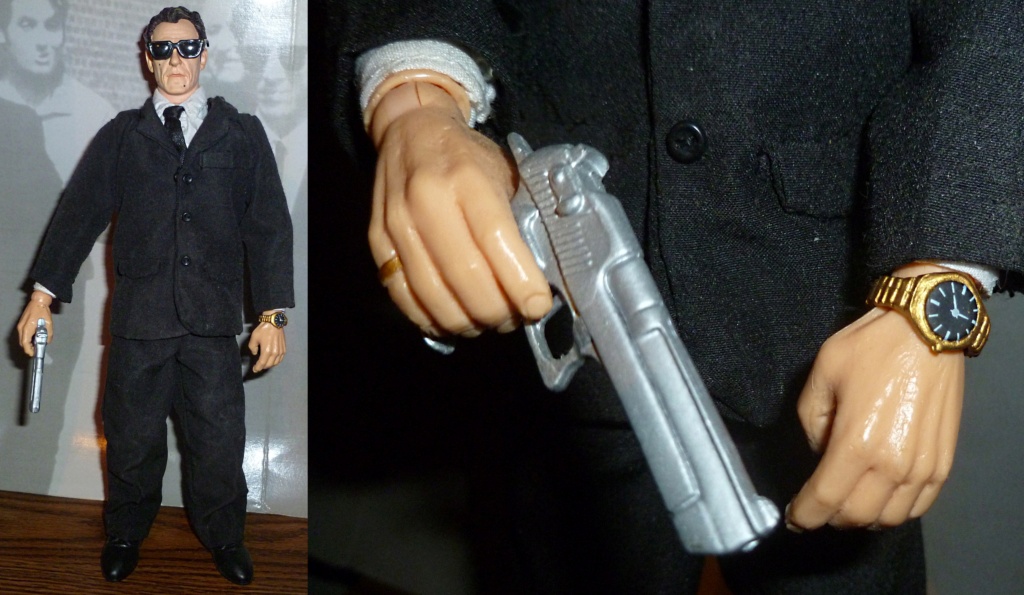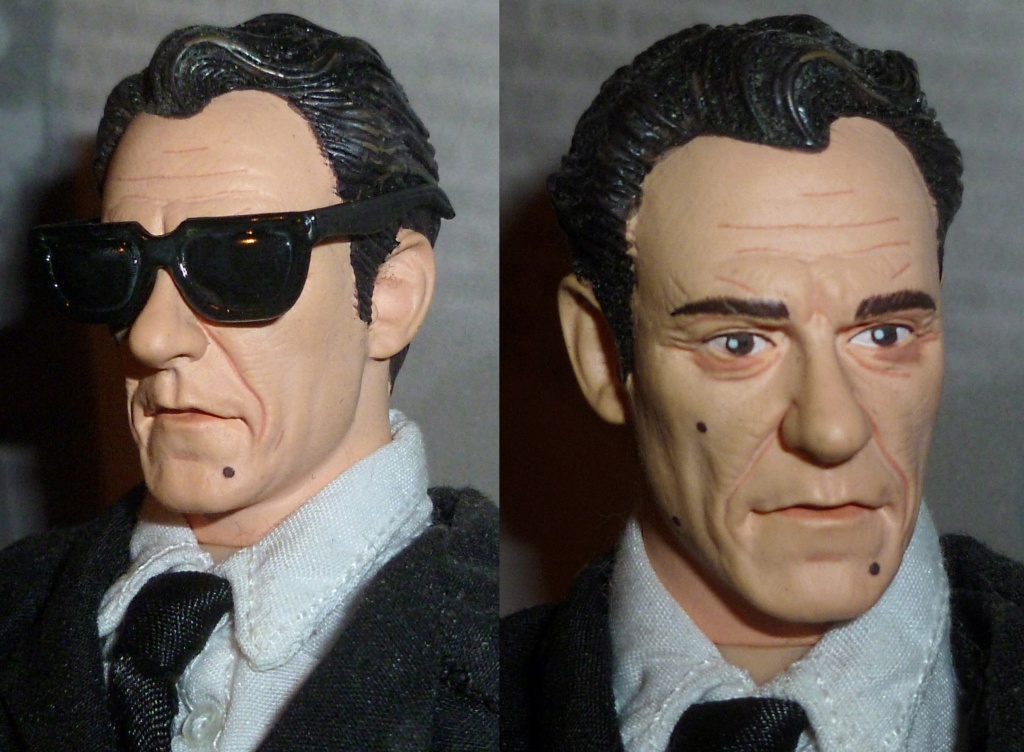 Mr Orange:
Played by good Tim Roth, another tremendous likeness!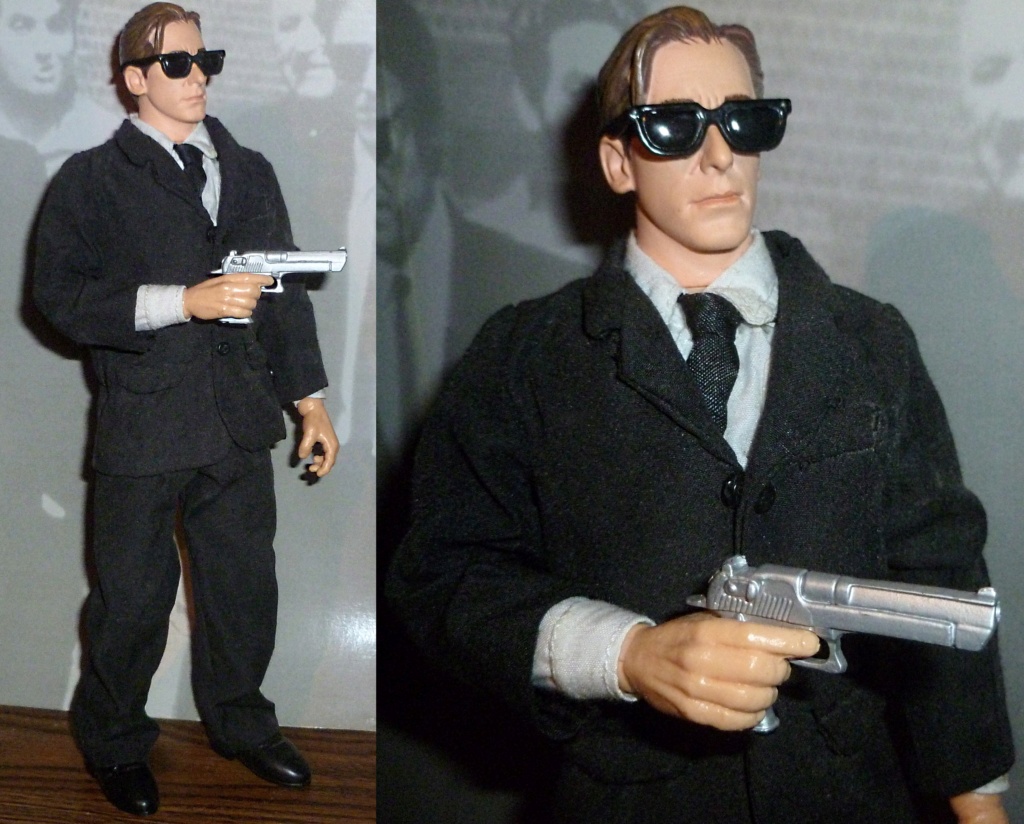 Mr. Pink:
Played by funny Steve Buscemi, yet another good likeness!
Mr. Brown:
Yep, its's Quinton Tarantino, the director of the movie!
"Nice Guy" Eddie Cabot:
This figure was a ToyFair exclusive
Played by the late great Chris Penn, good likeness and I love the big, more chubbier body to fit the character and I love that jacket & denim. He is the son of Joe Cabot.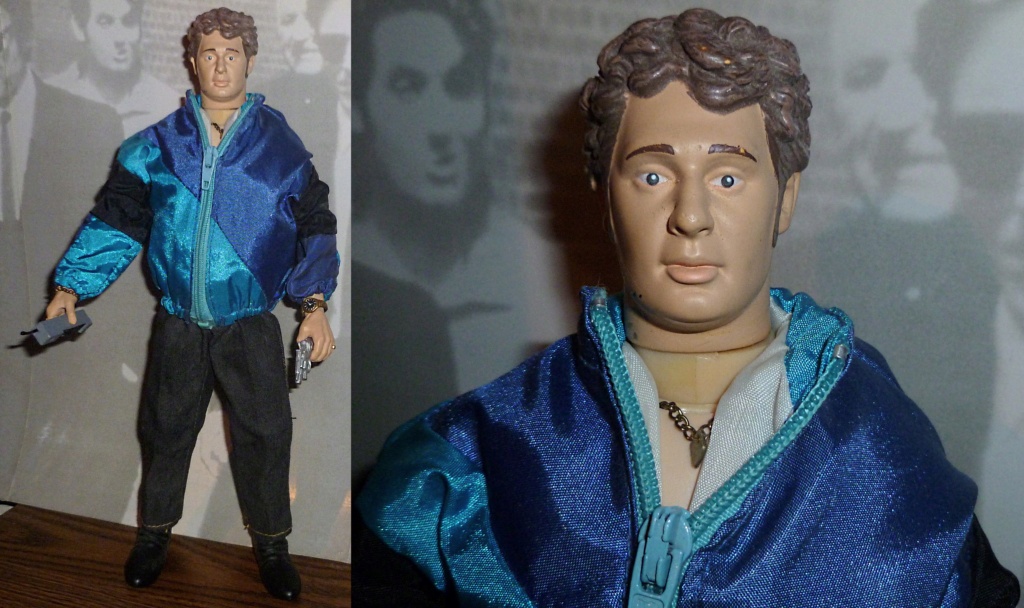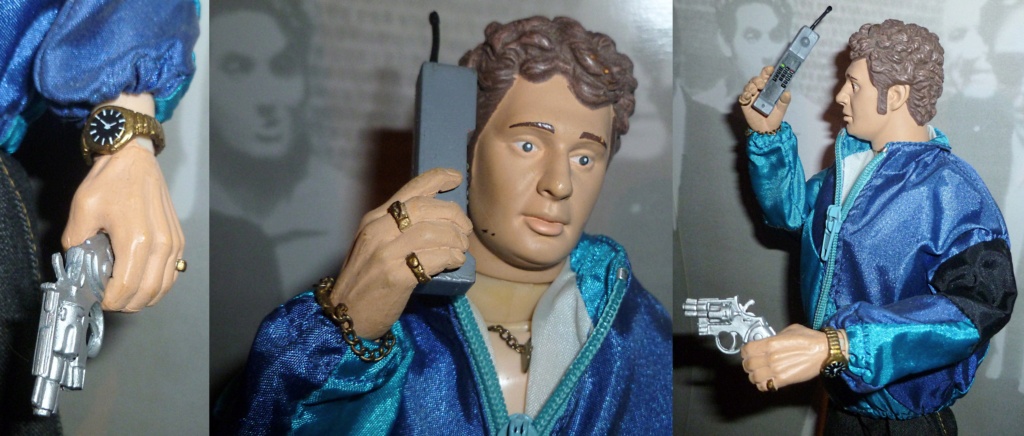 Joe Cabot:
Played by late great actor Lawrence Tierney. Like his son Eddie, he uses the chubby body. I love his clothing and he has a great likeness which arguably the best one. I believe this the first and one of the few if not the only official figure of Lawrence Tierney!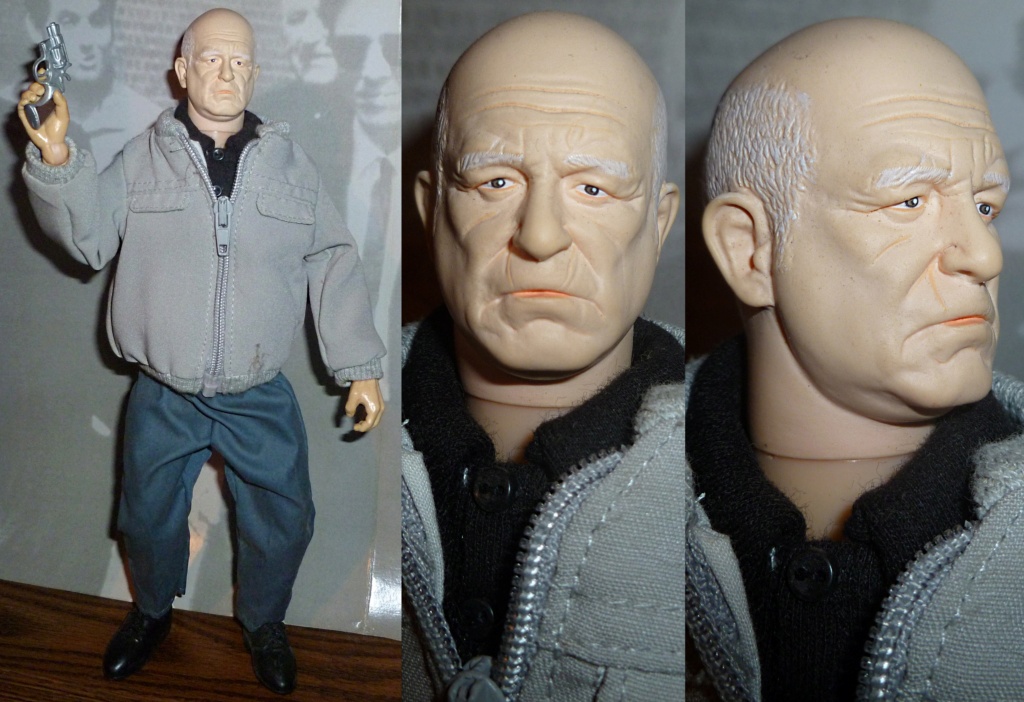 Marvin Nash:
Wow, Palisades knocked it outta the park with him, the head sculpt is marvelous and I love his utility belt!