Hi Guys
having come back from my extended brake full of "vim and vigour", I decided a make over for my HQ was in order.
I'm lucky enough to work from home and so for the past 3 and a bit years my collection has shared my home office. Now I have decided to ease my way in to by retirement working part time, I decided that I had to reprioritise !
Some of you may recall I had my guys in a Ikea Billy book case and the rest of my figures and gear was in plastic storage boxes of various cardboard boxes -finding items was becoming a real pain and also a hazard -one or two "collapses"
So I started with a good old decant - Spare bedroom one held all the figures.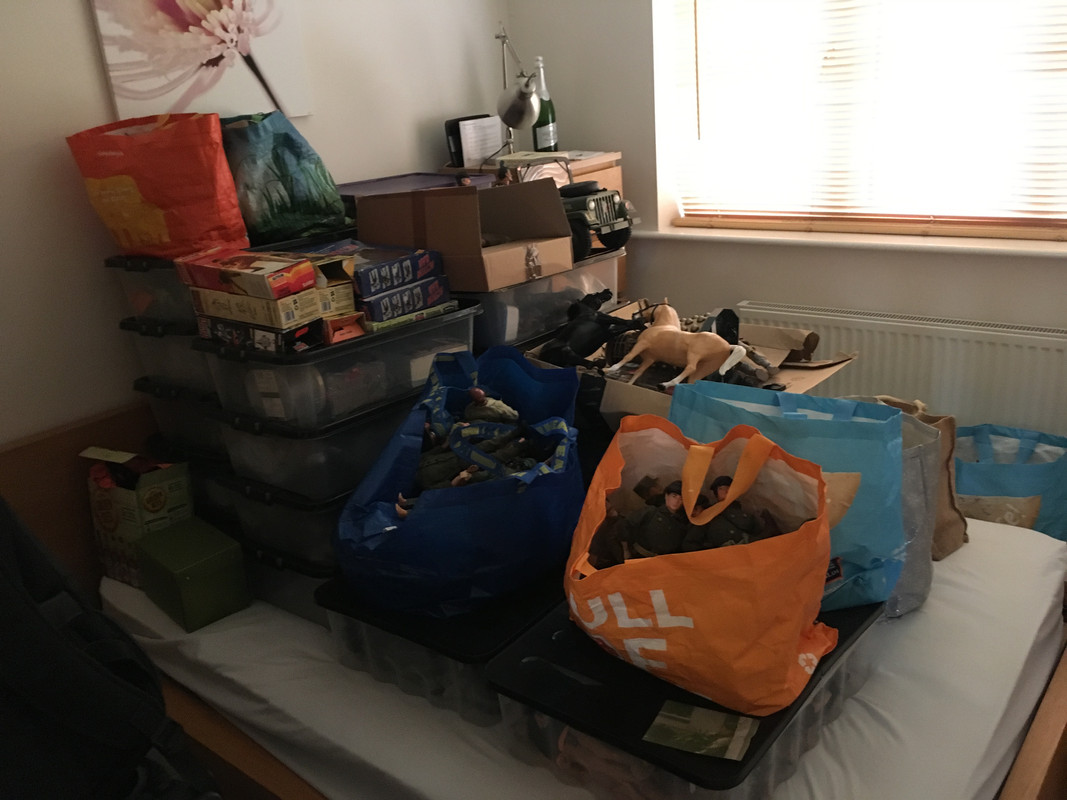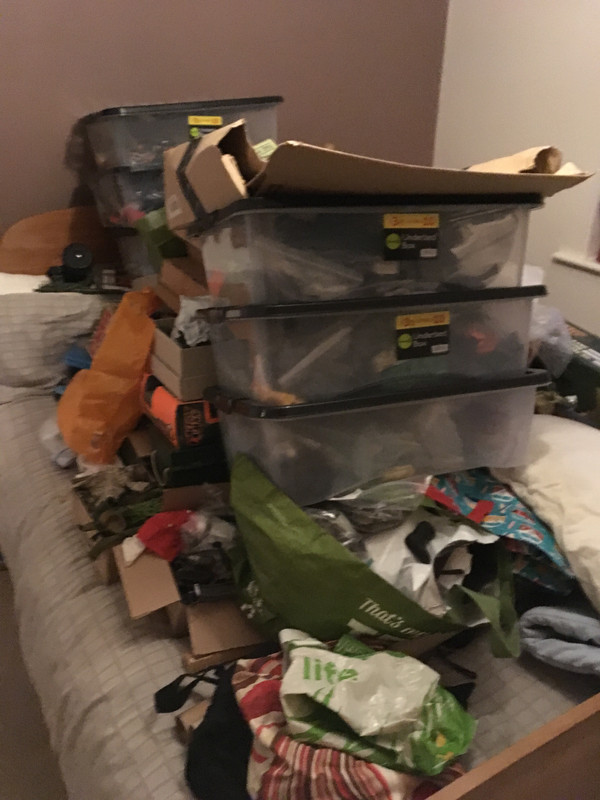 Spare bedroom/Grandkids room held all the gear - or jumble as Mrs Gunner "affectionately" calls it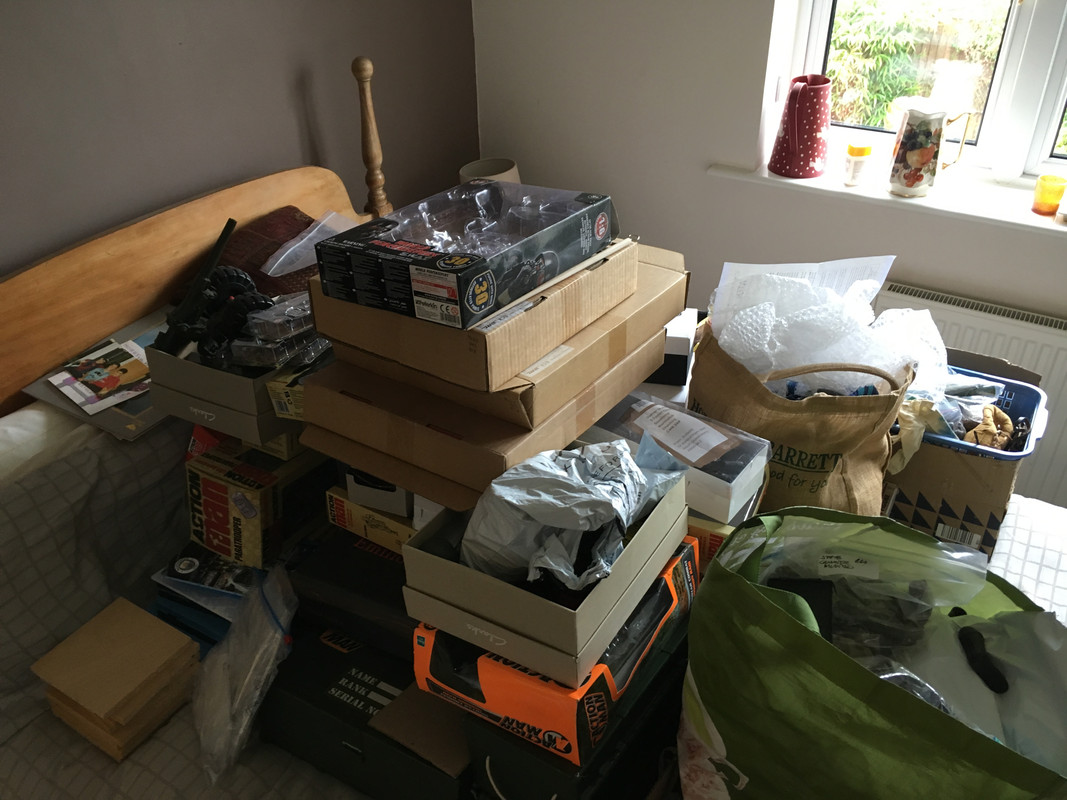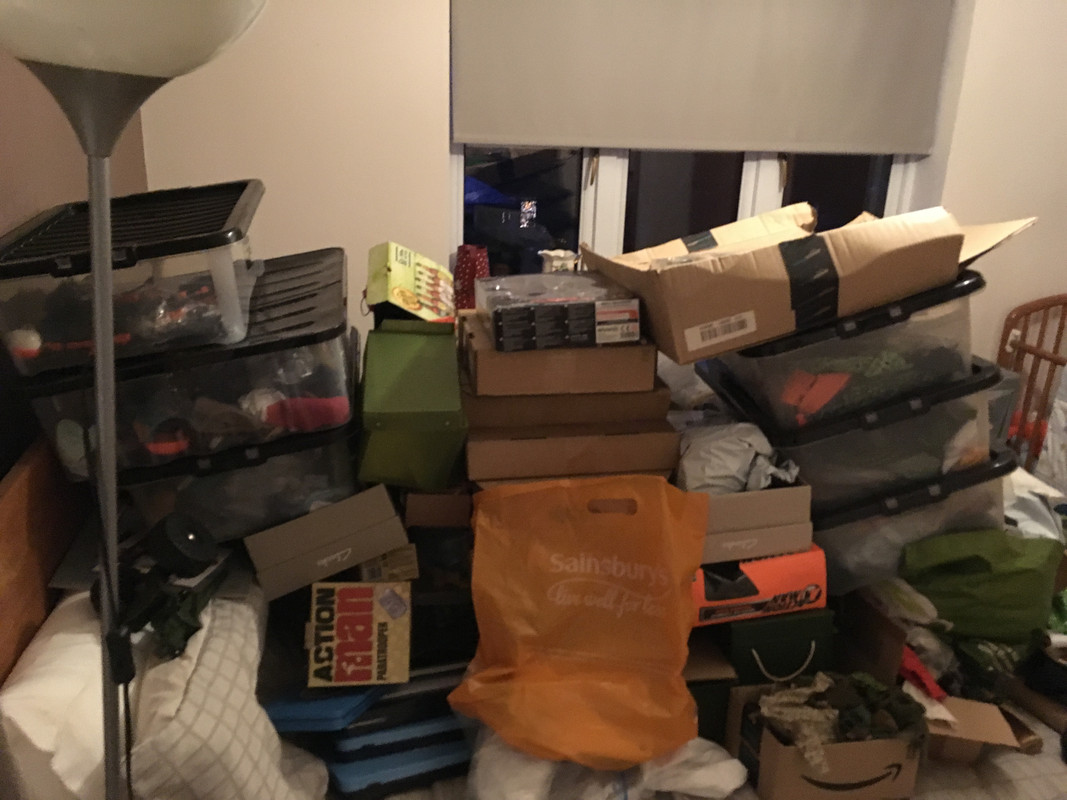 This was bit like one of those 'hoarder" programmes where everything is piled up !
This also prompted a "healthy" chat with Mrs G. "haven't you got enough figures now ? "
 . Me "Er No..?"
 the rest you can imagine
A redistribution of the room to 20% work 80 % came next. A small corner of the room and the original AM Billy book case given over to "work".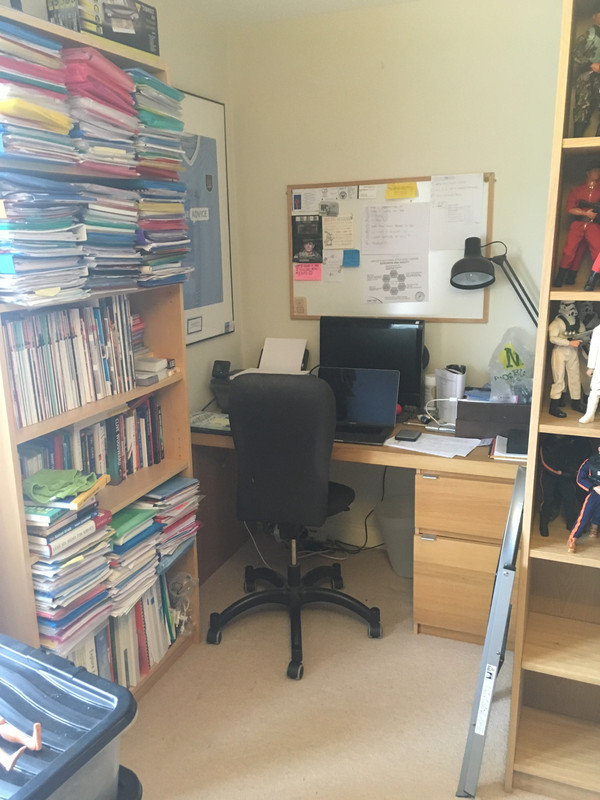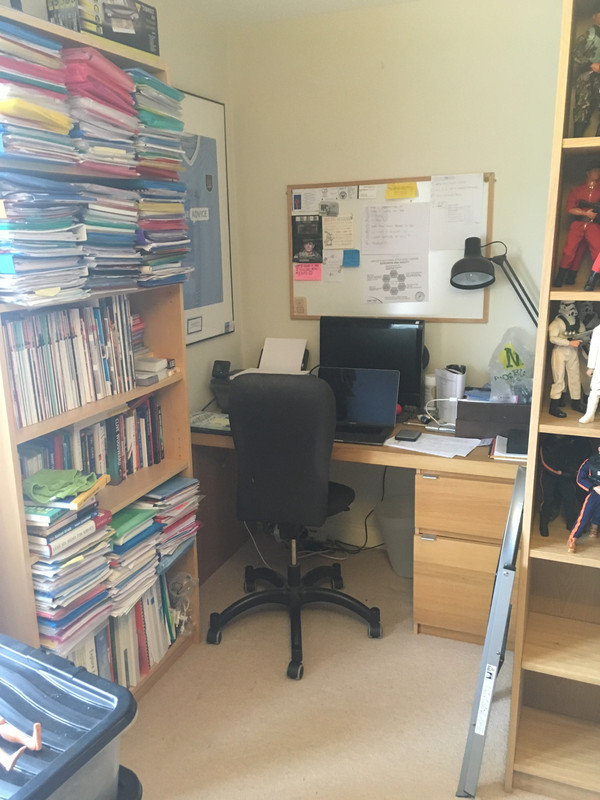 Next came a trip to Ikea at Warrington. I love and hate Ikea at the same time ..I need a SatNav to get out !
The inevitable build of 6 Billy book cases took a toll on my knees . By the time I did my last one I had gotten the hang of it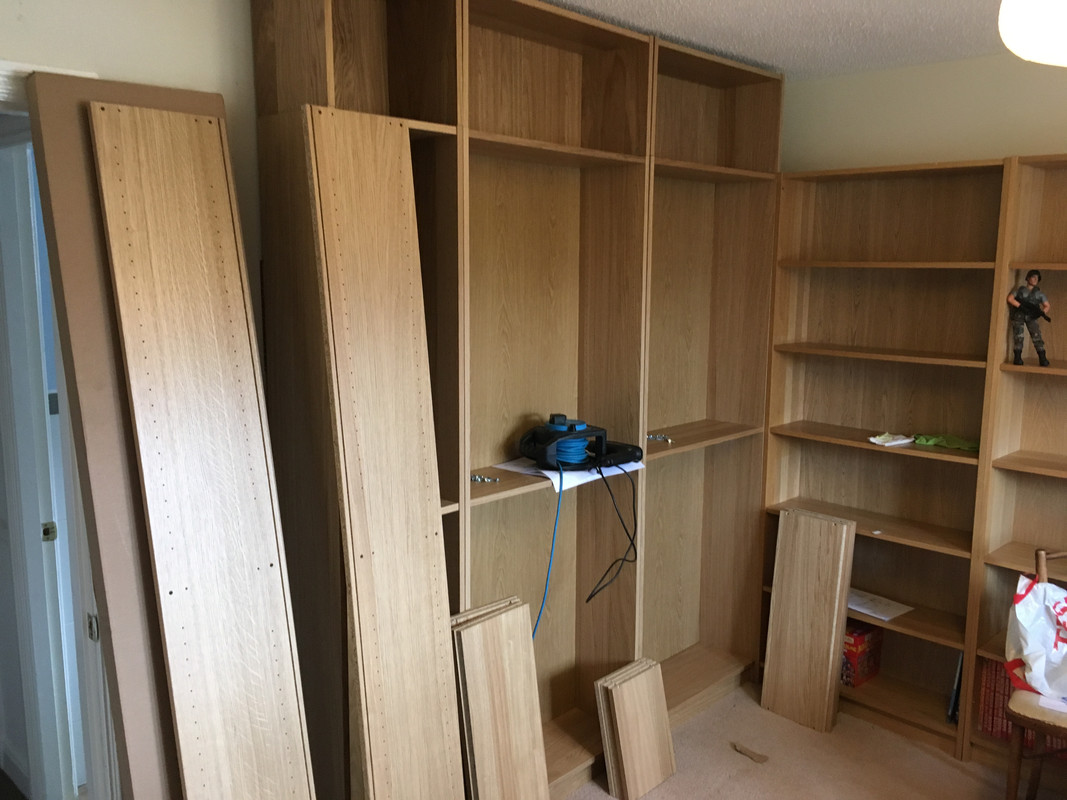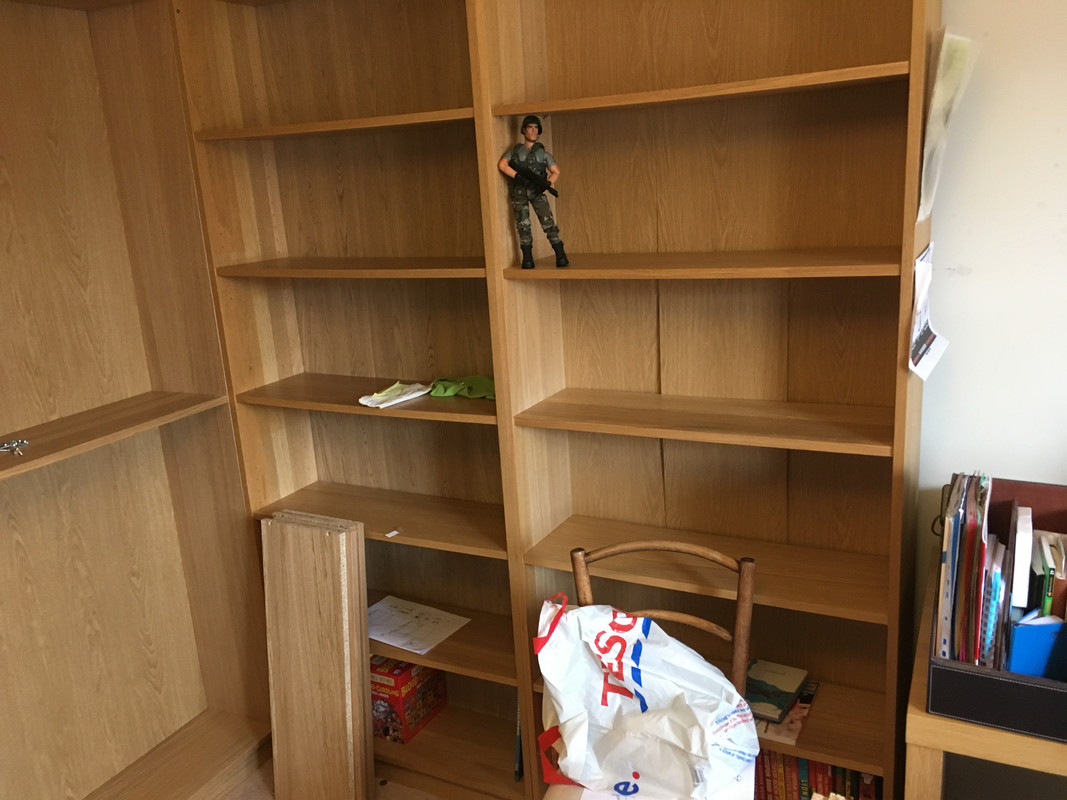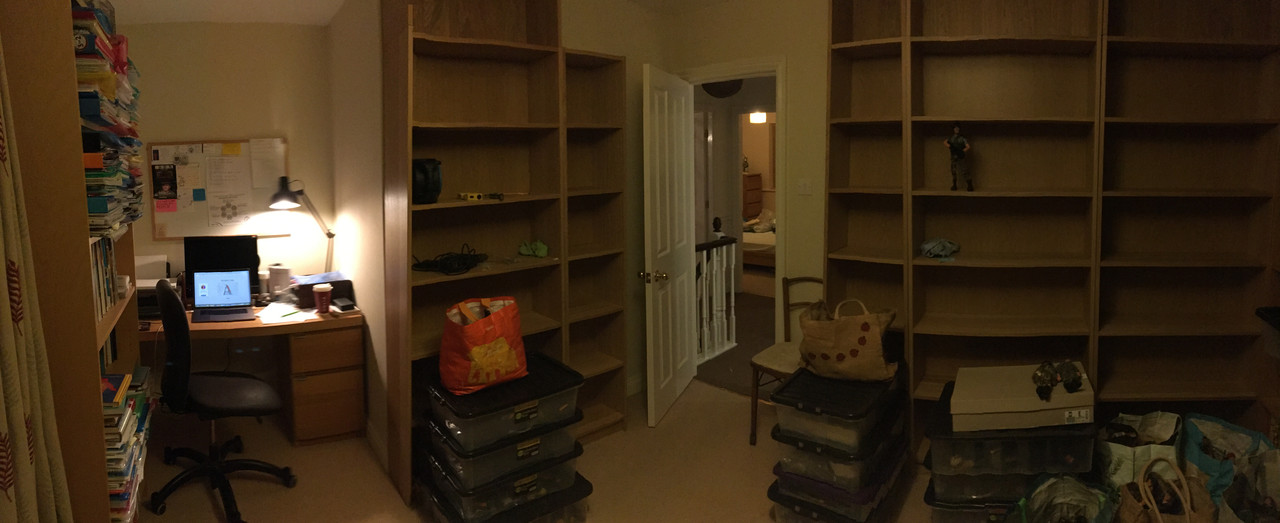 Once completed came the fun part... returning the figures and working out the flow of the display.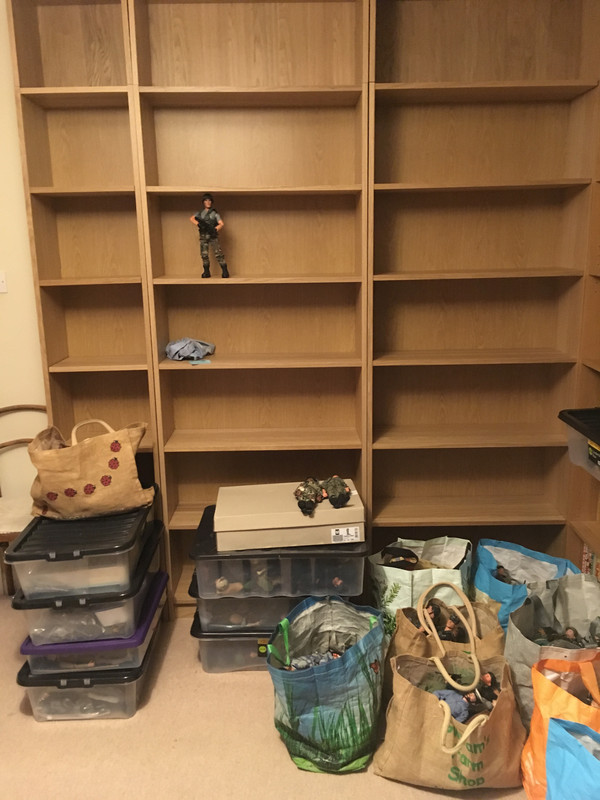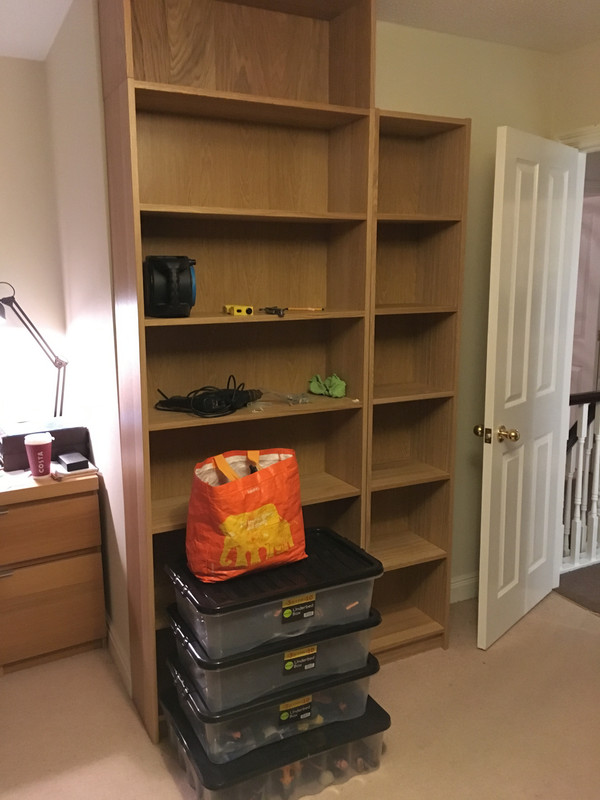 Then a really good sort of all the boxes and a reduction of Junk/Boxes/Consolidation.Very Cathartic and exciting as I rediscovered some great gear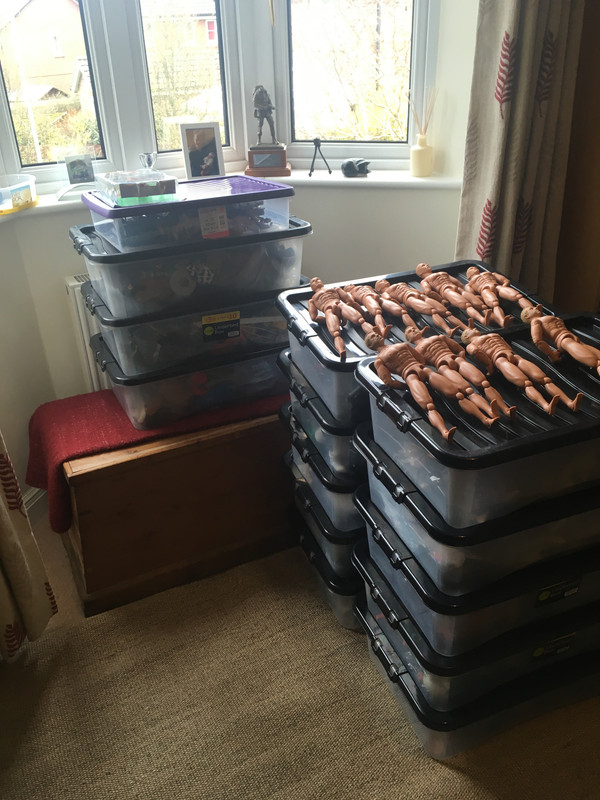 So here is the new layout.
Starting with a project section/station where my old desk was.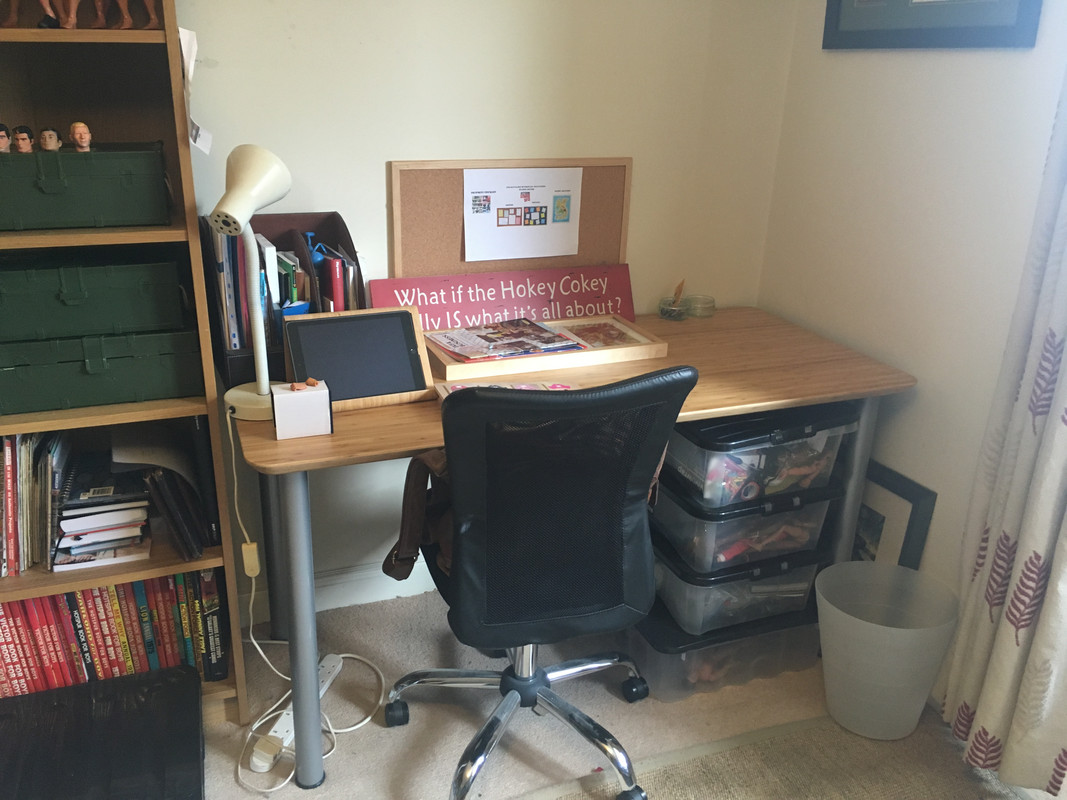 Some  storage boxes with immediate items - eg hands /spare parts some VAM uniforms/ VAM unis for repair/and Diaorama/photo's box of handy resources.
The cases next to it are primarily "project"/reference.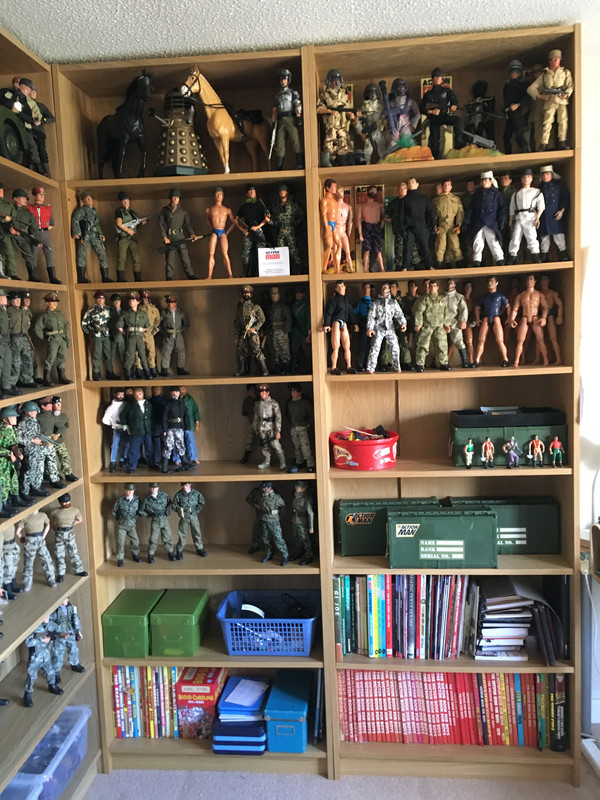 Top shelf- my best complete Uni collection.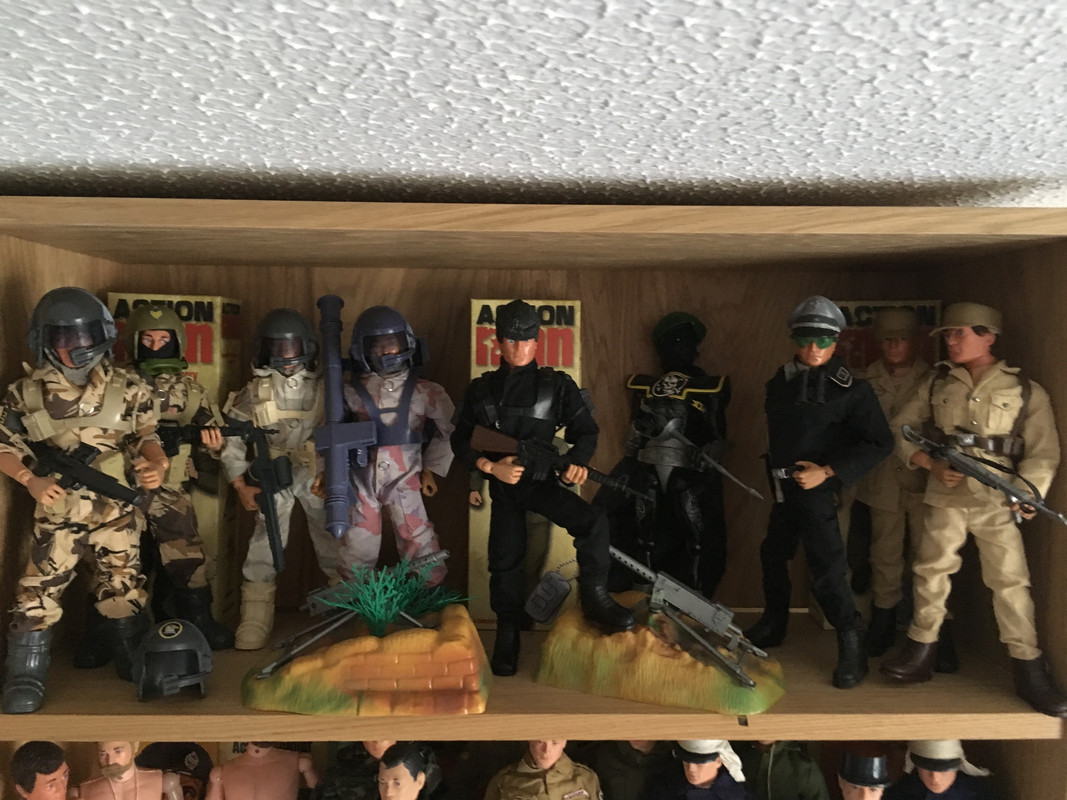 Next VAM figures for restoration/kitting out.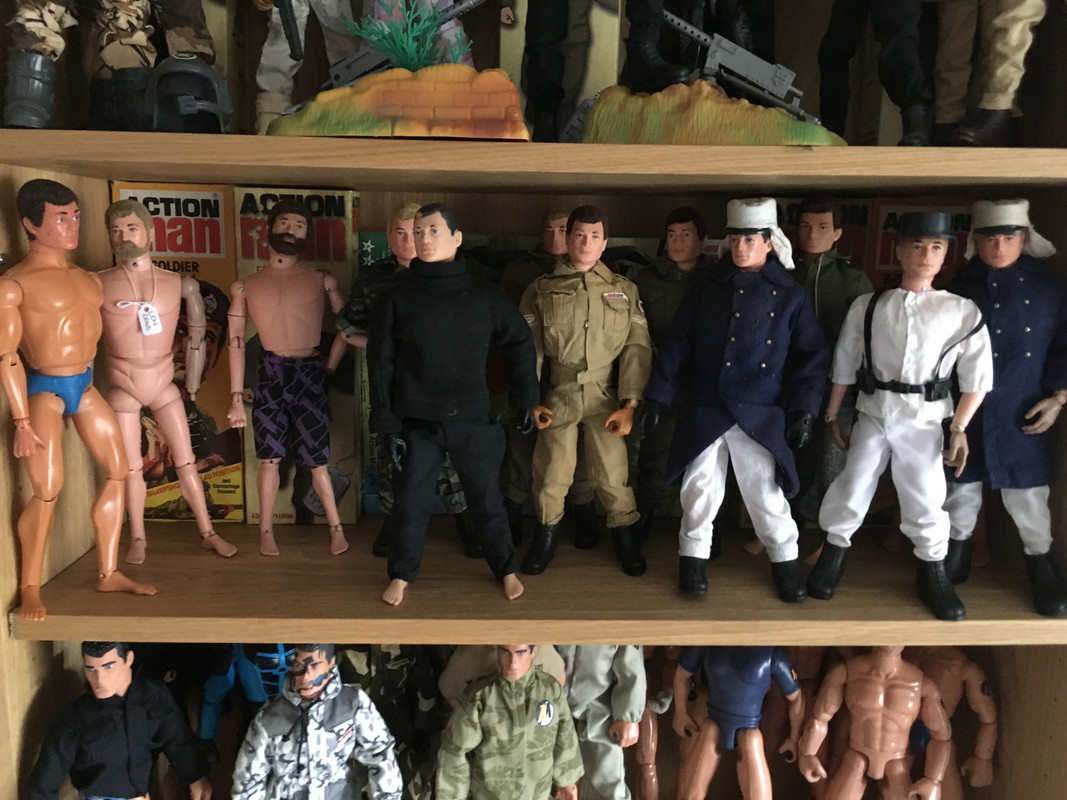 Then MAM figures.. my collection protocol is now they must be fully articulated.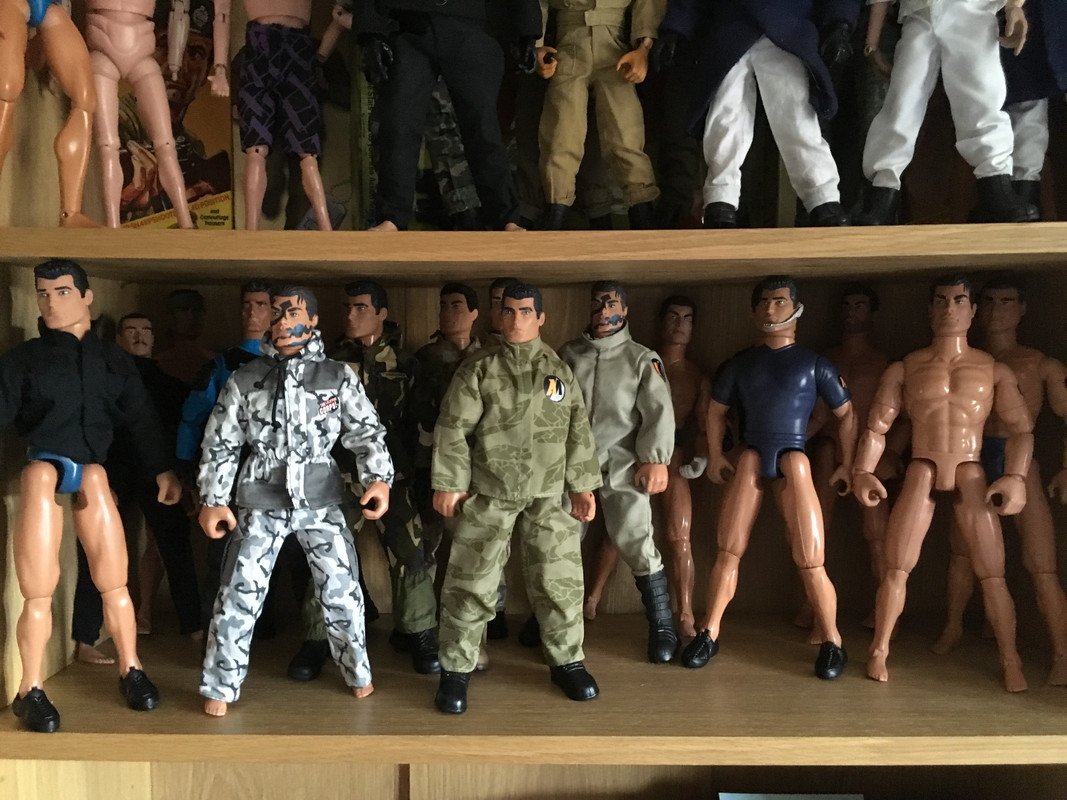 Some MAM locker boxes and Project tools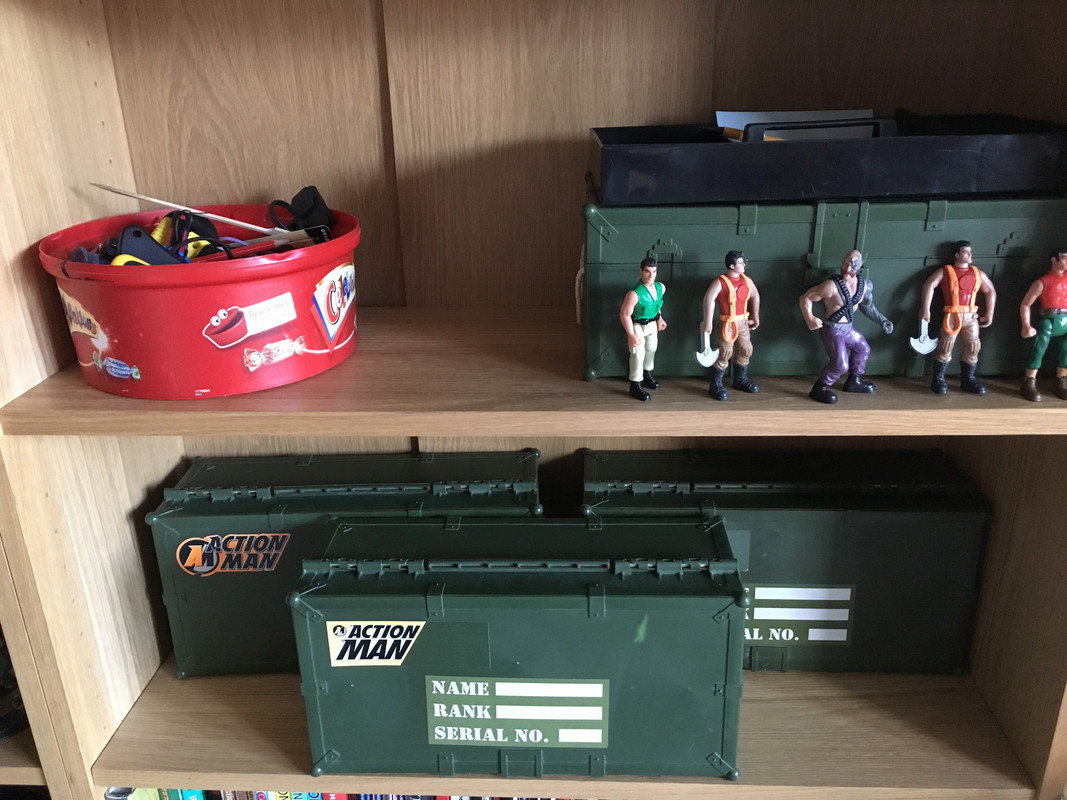 And finally some reference and reading material !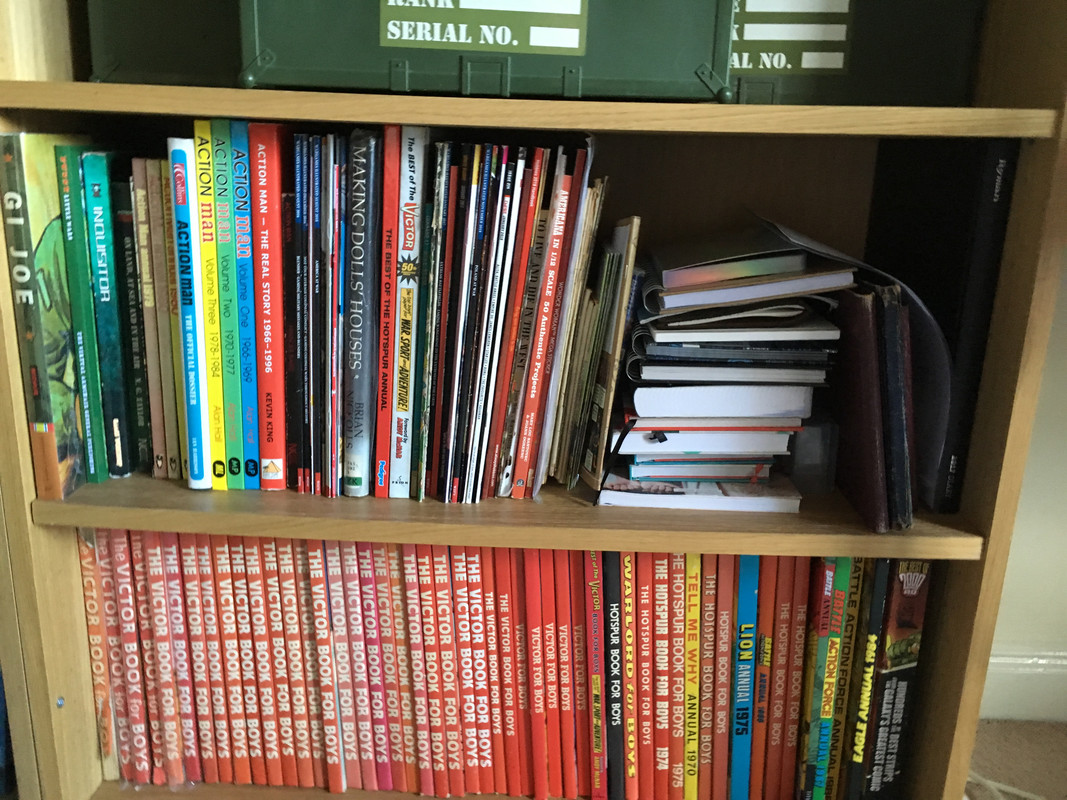 The next case along
Top shelf- my Marx and VAM horses a Darlek ( sans his "eye"- but Ok for £2.50 in the charity shop I thought) and a random MAM that is tool tall for the shelves at the mo.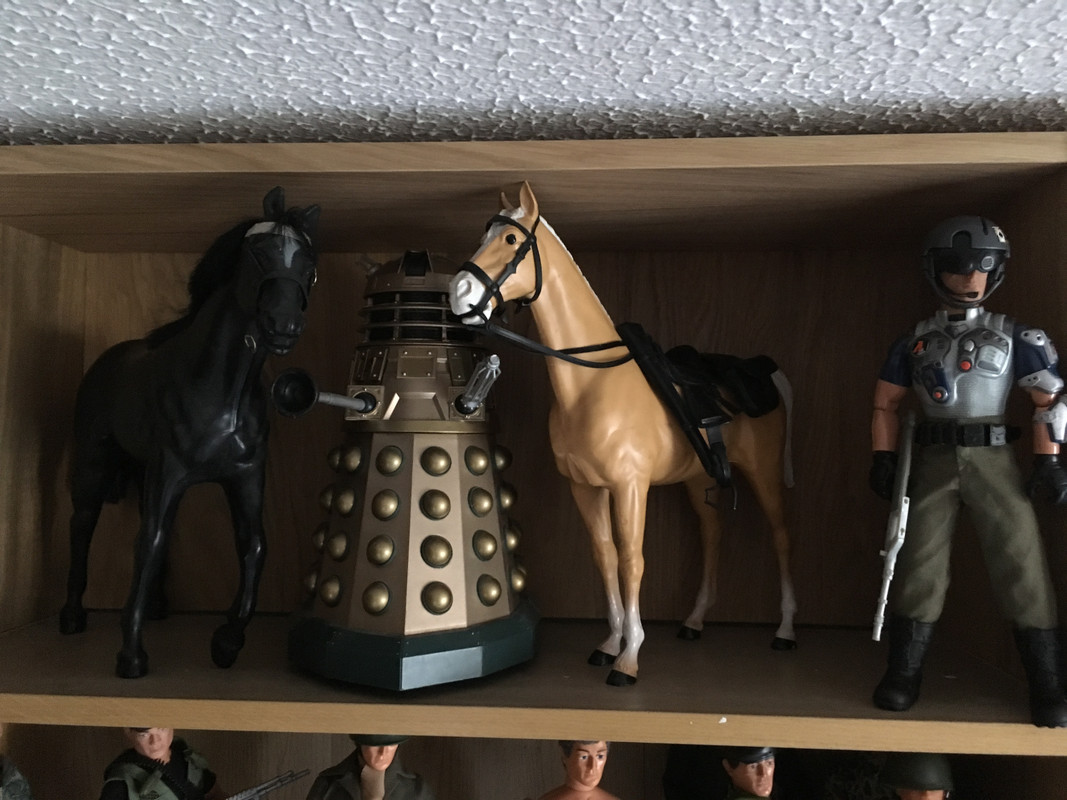 Next shelf down-The Geyper Men, Action Joe and my two 30th's .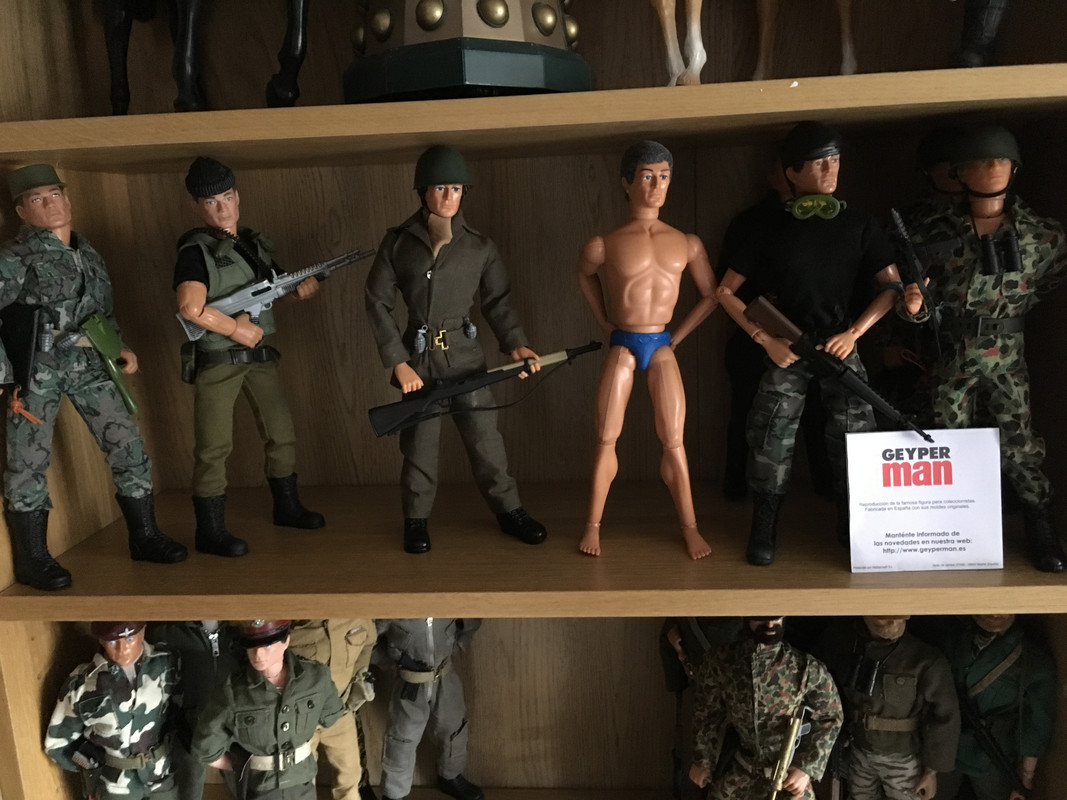 Next shelf- The 1st & 2nd Battalion officer Cadre, Major Morgan front and centre. To the right Commander Zabaletta and the Munrovain Scouts.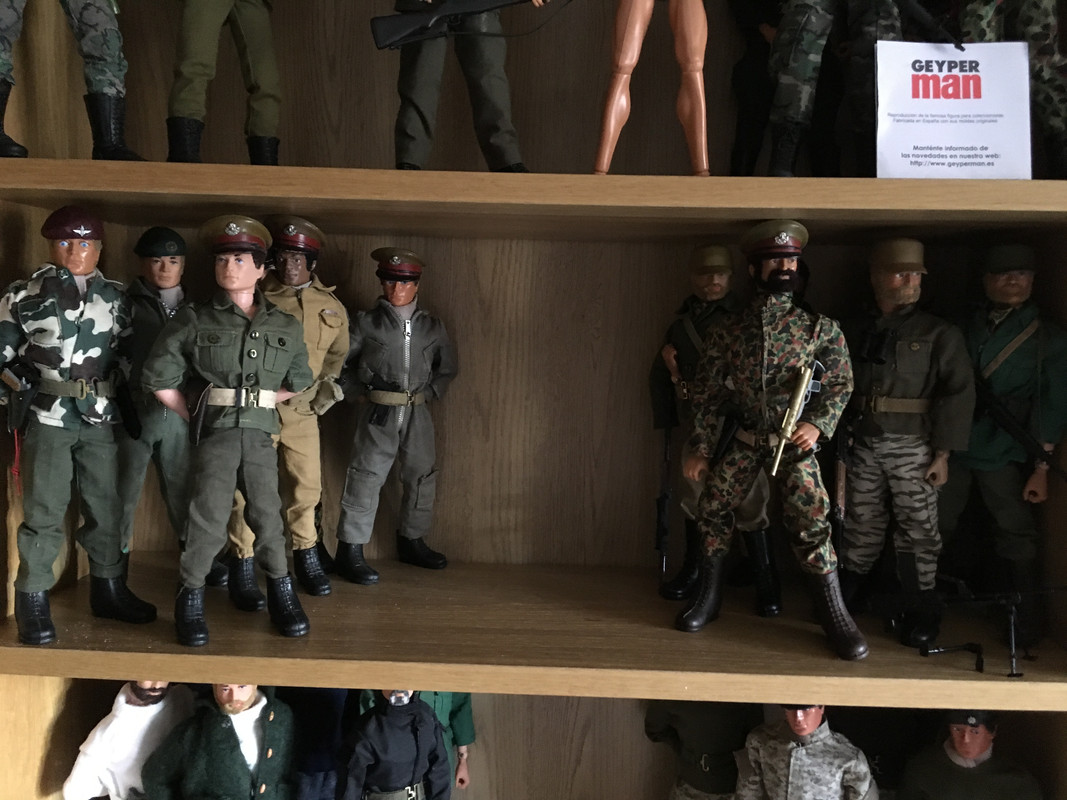 Next shelf- Three members of the 2nd Bn Heavy weapons squad and Sgt Stalkers Tank Destroyers on the right.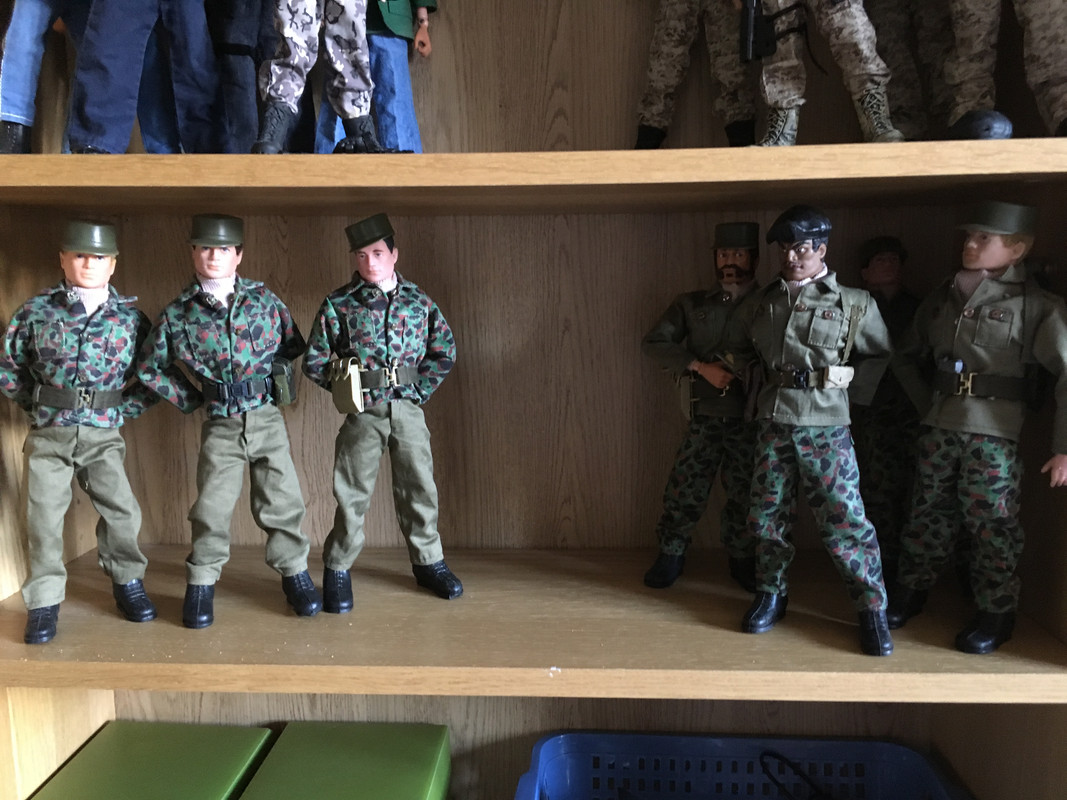 Next shelf-A Squad of "The Oaks" on the right and the burgeoning Adventurer Squad.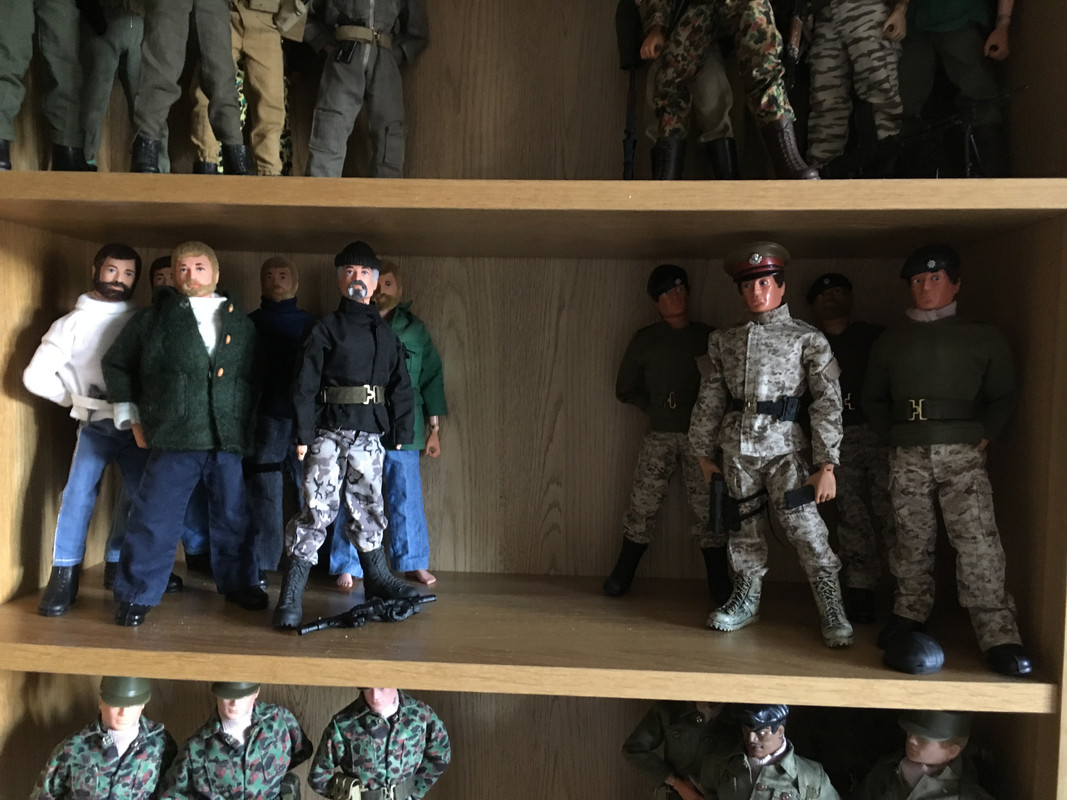 Final two shelves given over to some storage and the Beano and Dandy !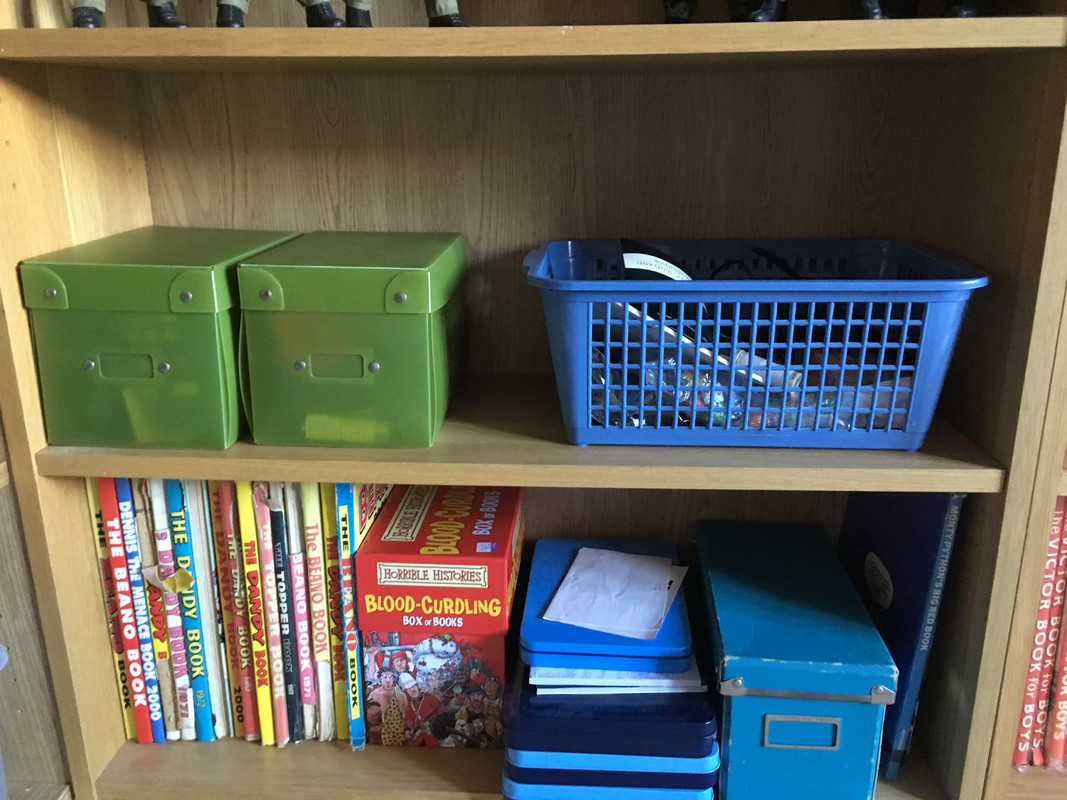 The next three shelves are long the back wall.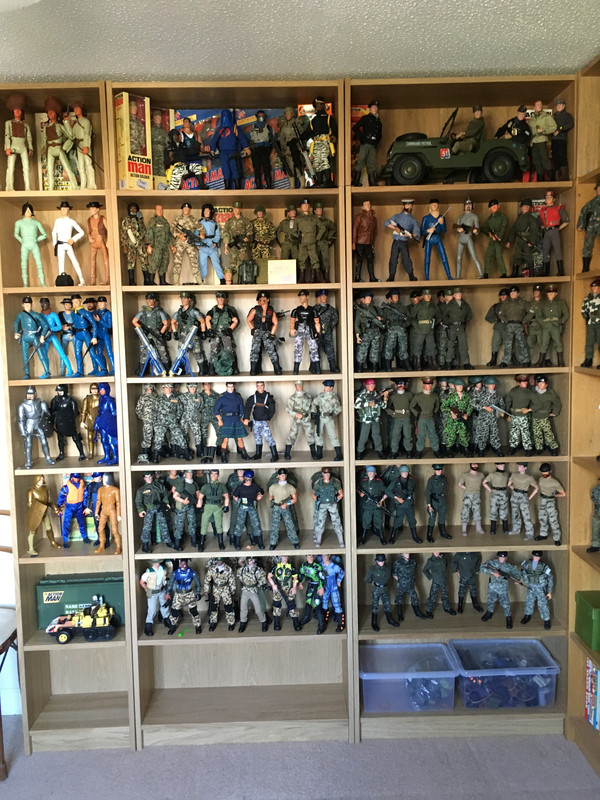 First on right- Top two shelves
Pride of place to the CH 12- These guys have been with me through thick and thin since '66 .
- Purchased from 1966 to 1973.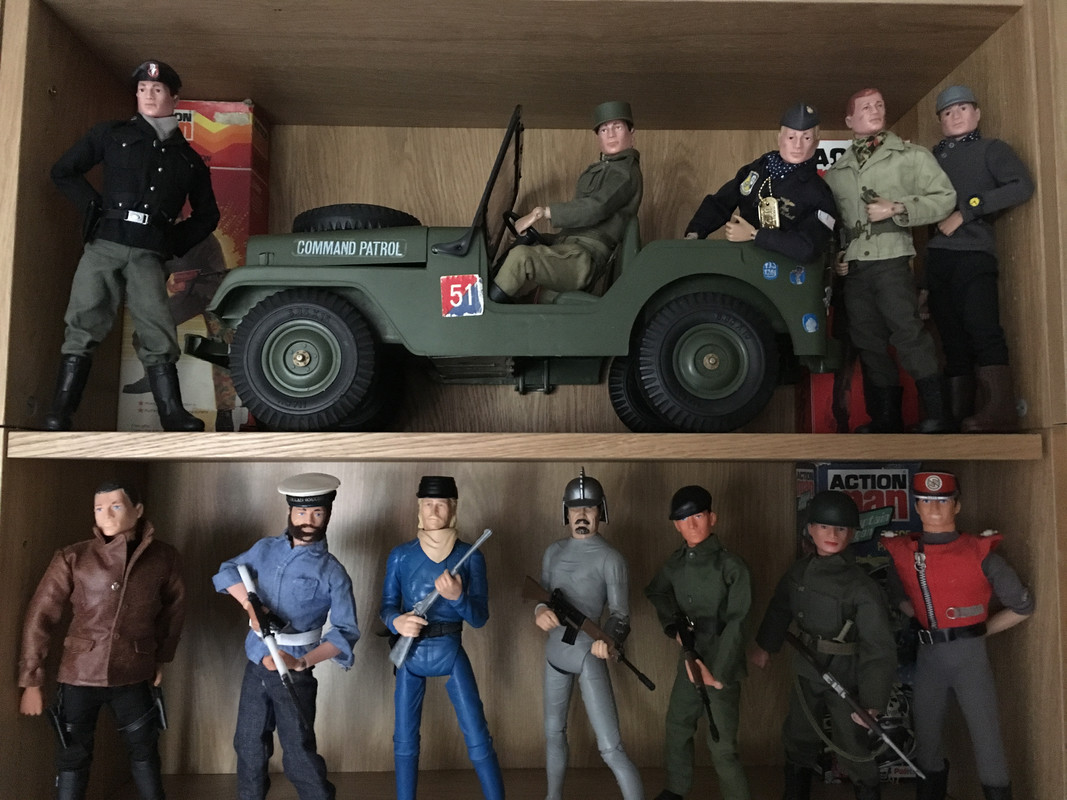 Next shelf- 14 Platoon under the command of Lt 'Tim' Gunn.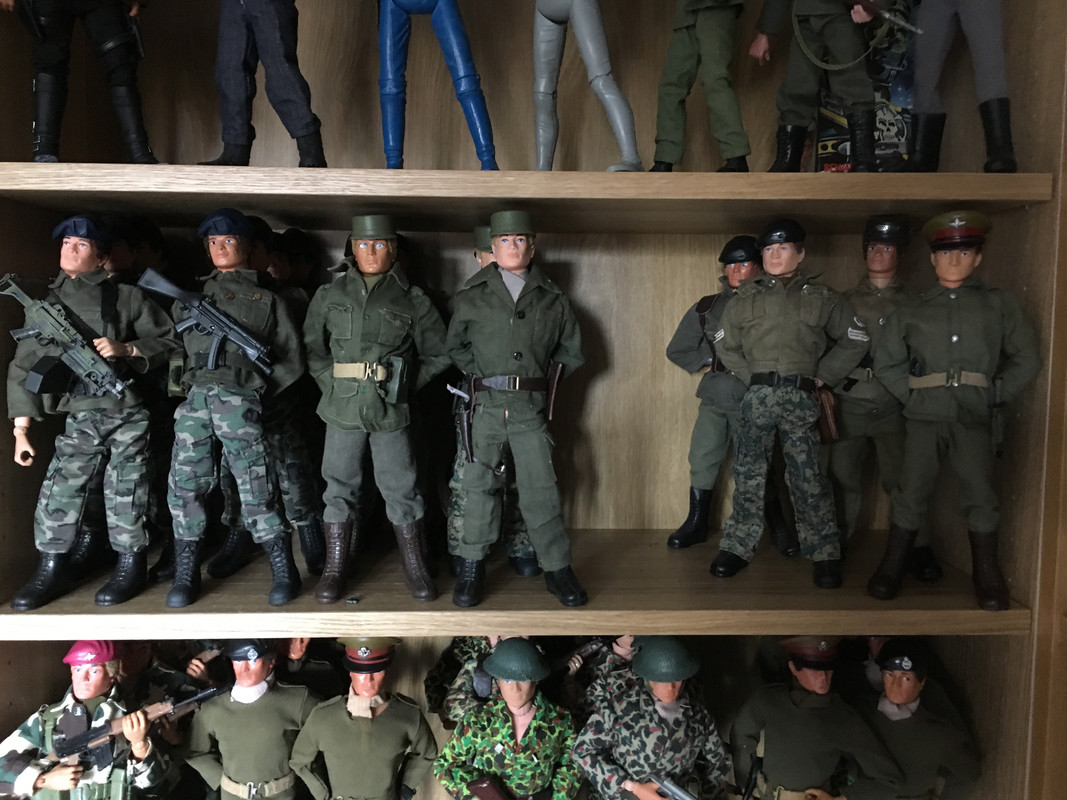 Next shelf- 1st Bn and 1 Para. Gotta love a basic VAM Soldier!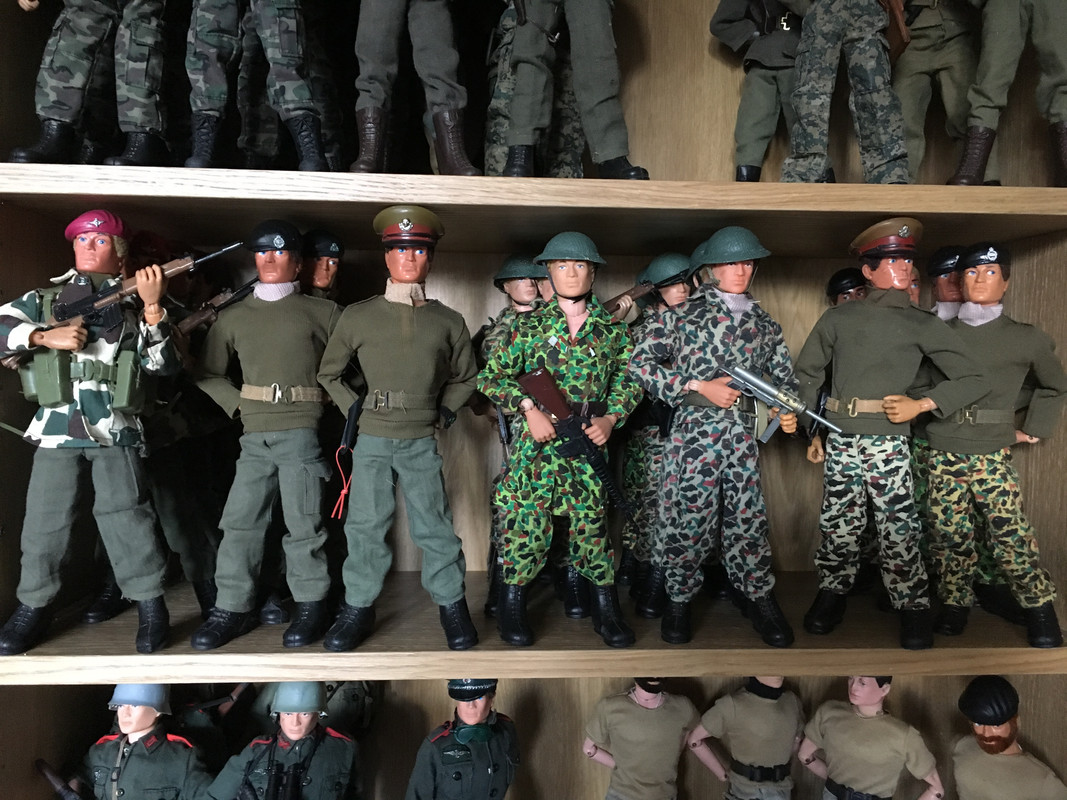 Next shelf -My Germans and The Special mission squad.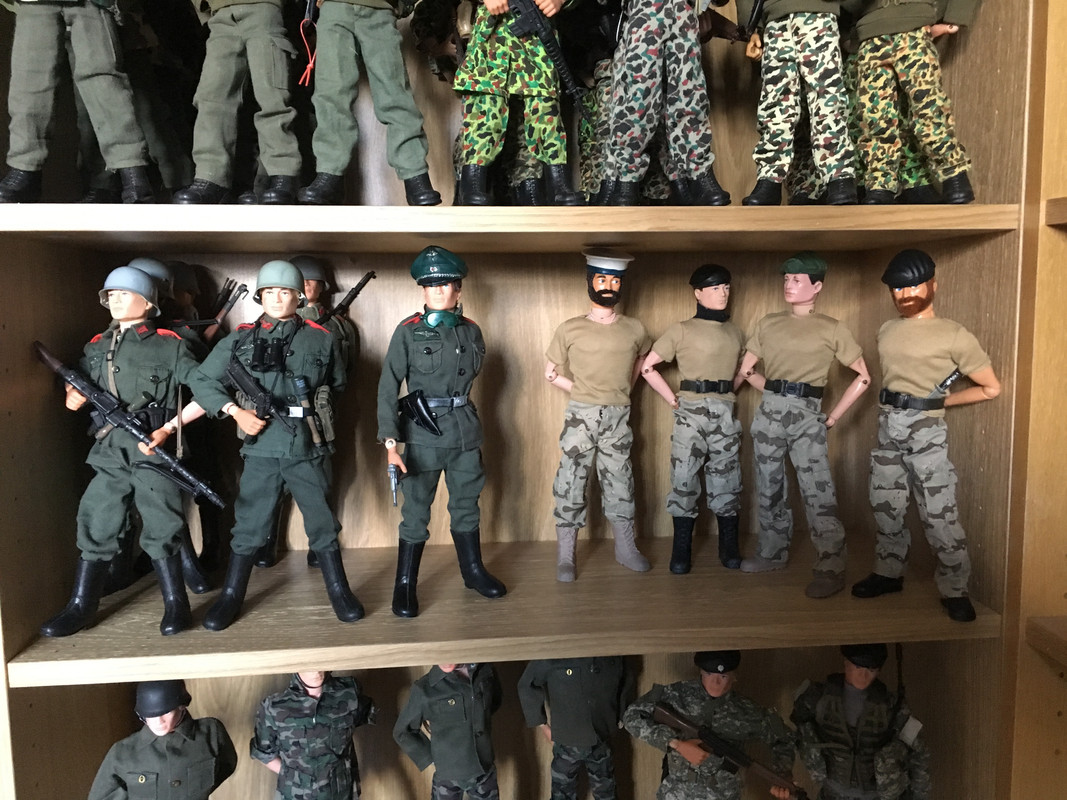 Next shelf- Some "experimental - What if Germans - Not sure if these guys won't morph into a US themed squad.The Rigby Twins- all the way from Ulverston ( my childhood home from 8 years old) Via E-bay- These guys are a top team assigned to from the Oaks.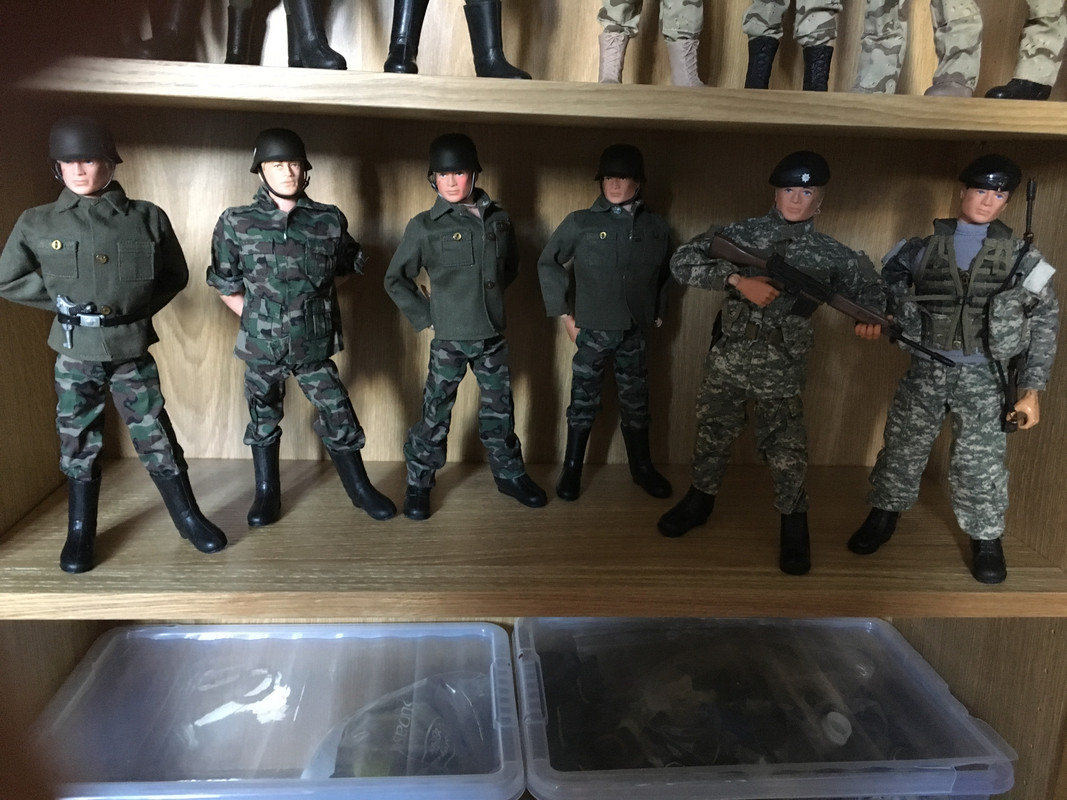 Final shelf is given over to more storage. Need to work out what to put in these.
Next case along- The MAM zone ! - Look away now SKJ !!
Top shelf - a bit of a homage to my kids journey into AM in the 1990's . The Stalker on the left has a head on a `GI Joe articulated body and a uni recently donated to me by the magnificent Prof Ganrenge fan - aka Alex. Thanks Alex .Top bloke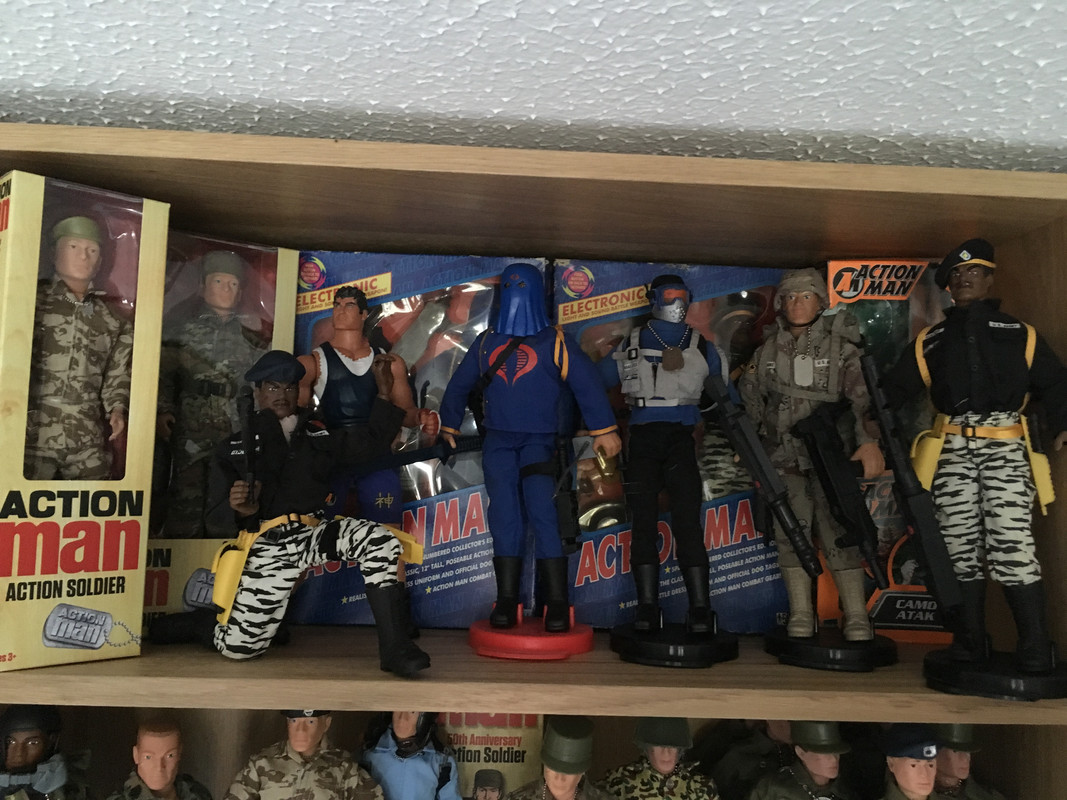 Next shelf- The 50ths and the latest 2018 Issue - Soldiers and Pilots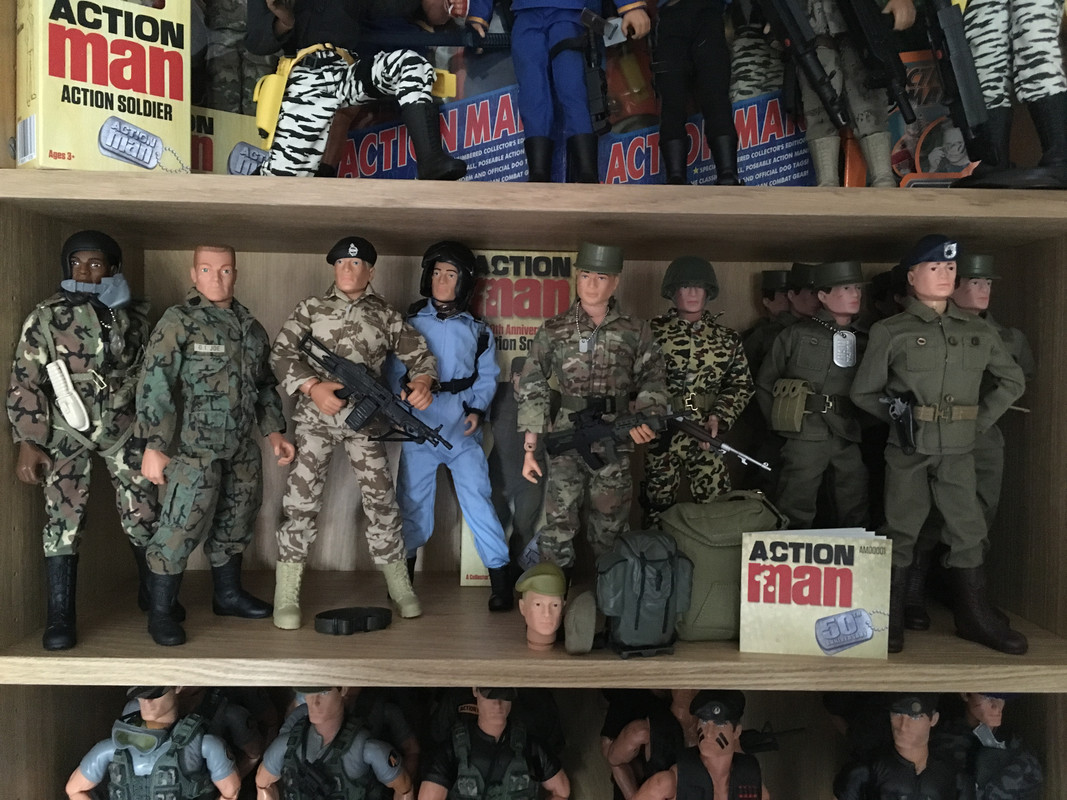 Next shelf- Mortar Raid section and Island Attack and the MaM Special squads.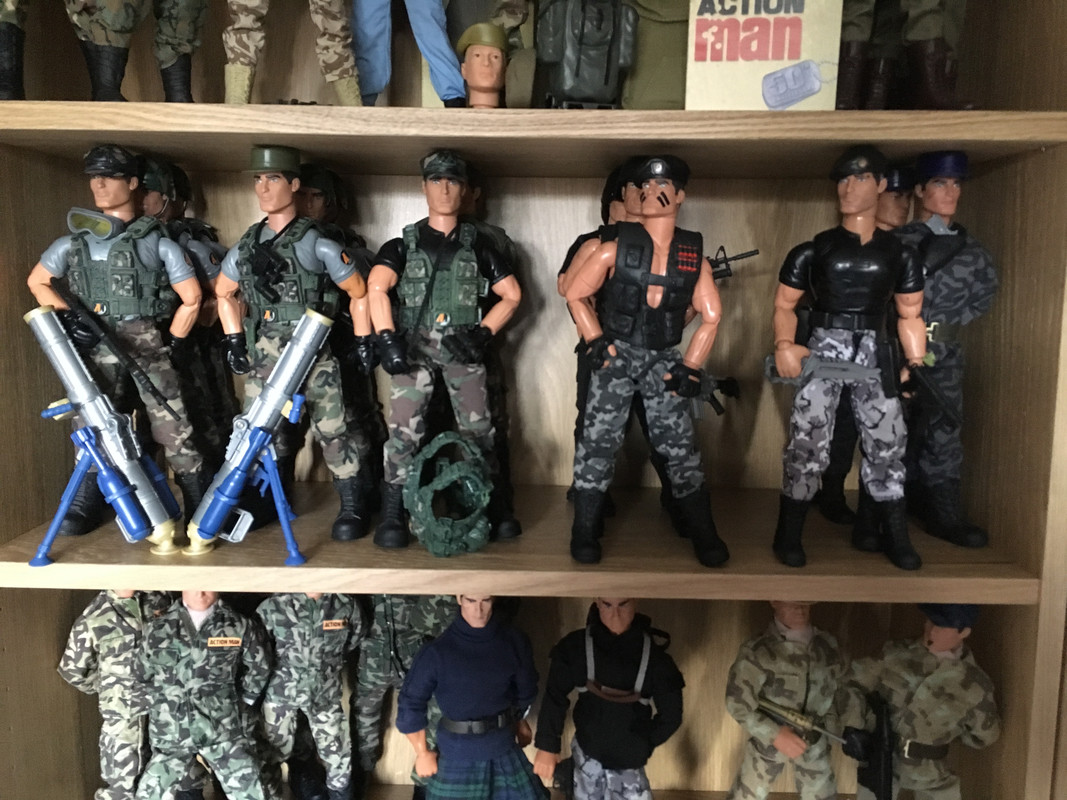 Next shelf- Battleforce Squad- just getting these guys together. Ackie88 , Urban Ops & Comms Defence.
(photo to come !)
Next shelf - Lt Ocean and the Mortar/Heavy weapons team and The Sgt Duke 2.0 brothers with their Sweep and Destroy squads.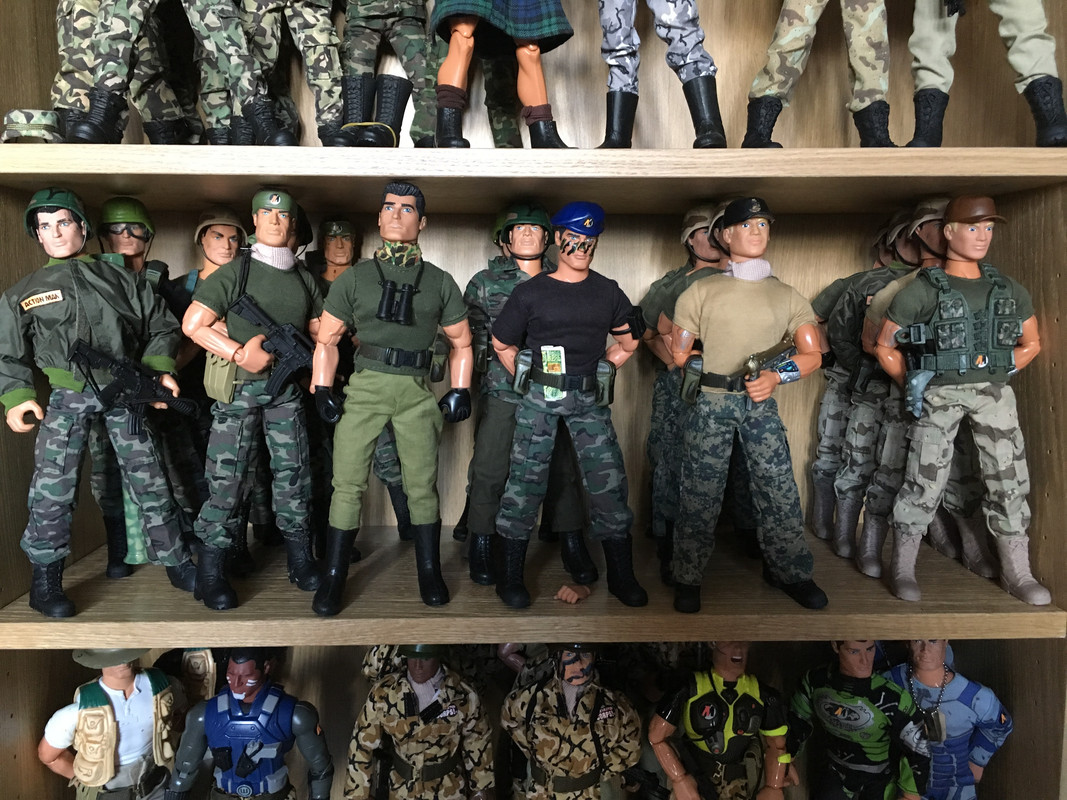 Next shelf- Scouts, Assault squad and 3 "space" dudes - Not sure what they will end up as in the Munrovian-verse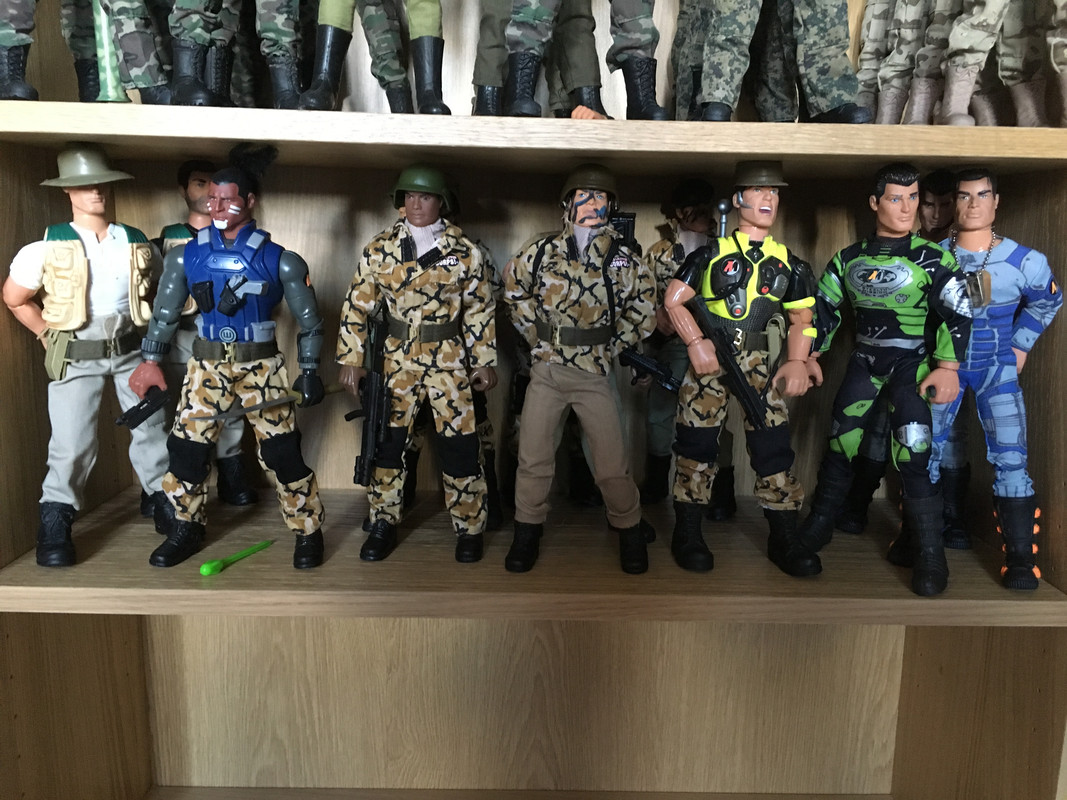 Narrow case.The Marx boys
Top shelf- Comanchees
Next shelf - a couple of Western plus a Viking.- all need some serious kitting out.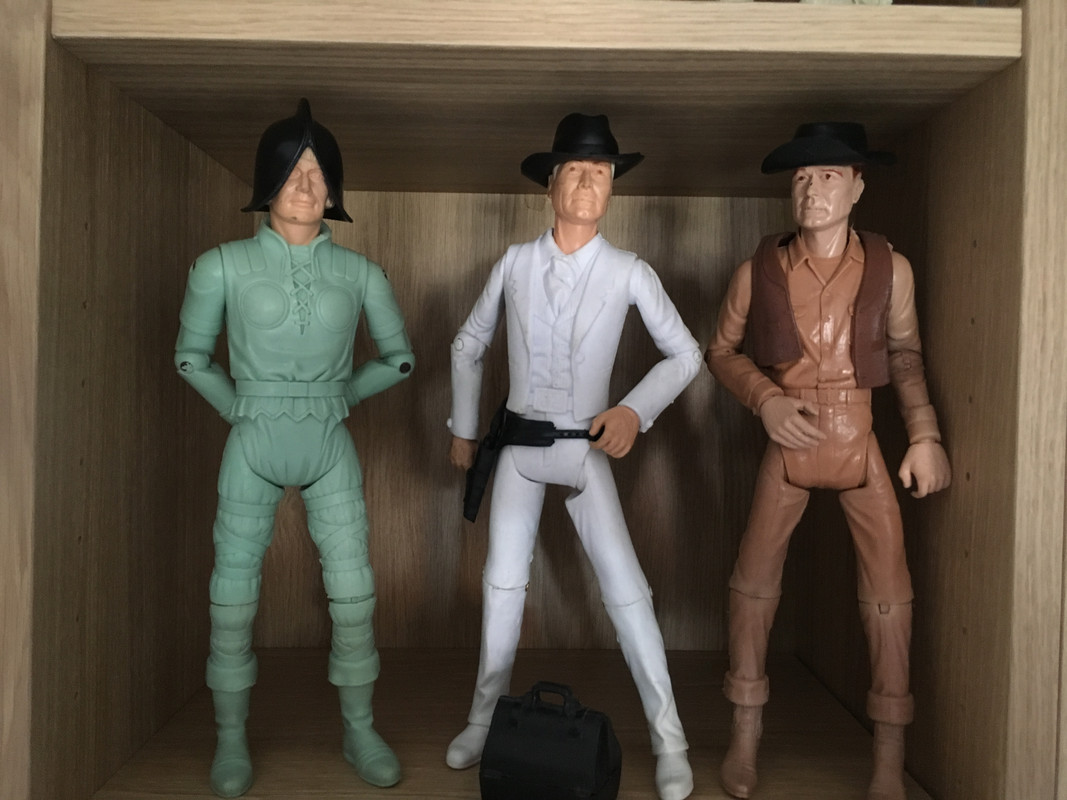 Next shelf - The Cavalry !!- Moved from the downstairs loo at last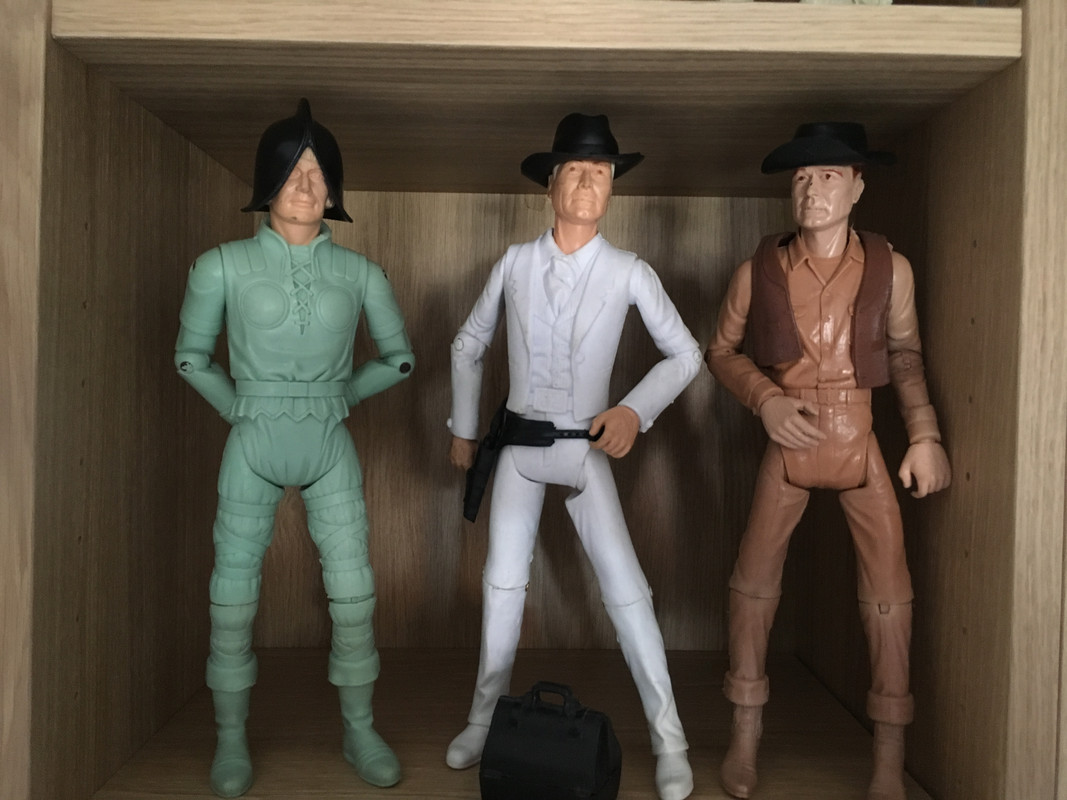 Next shelf- The Knights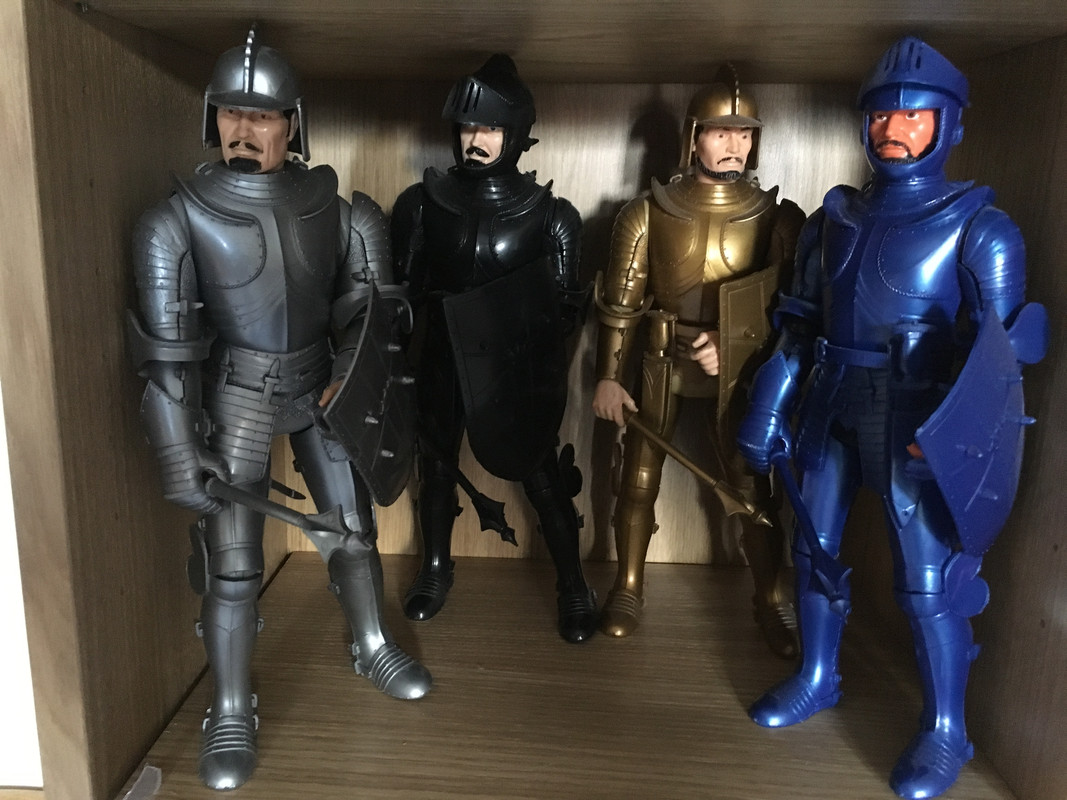 Next shelf - Knights & a viking  in waiting.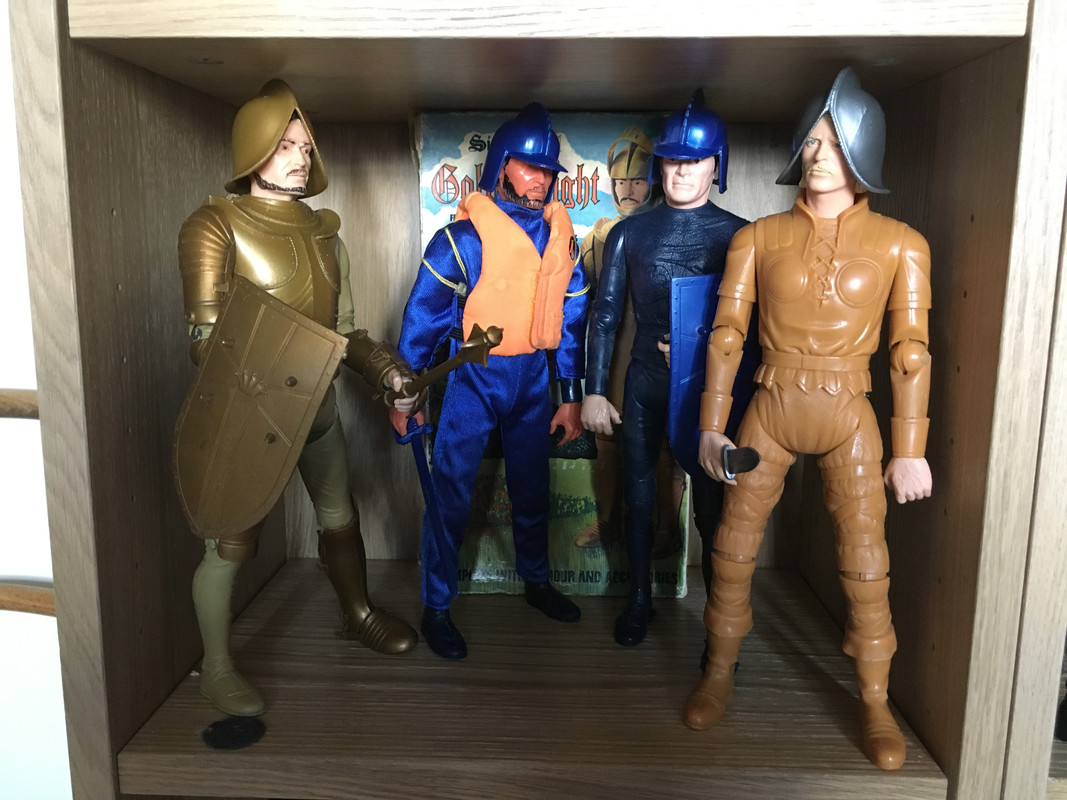 The knight in the Life Vest is what happens when your 3 year old Grandson helps
Bottom shelf- Locker box contains some GI Joe from the 90's - another fixing up project to add to the list.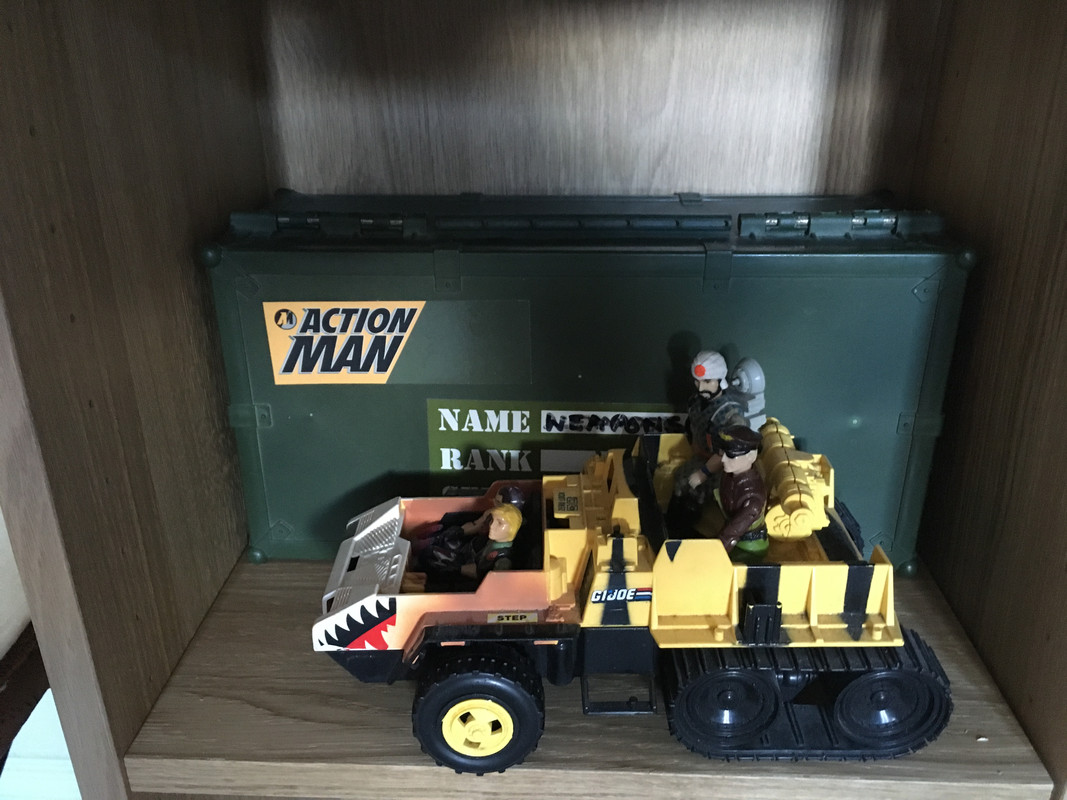 Moving to the last two cases
The Others and the Enemy !!
Half book case is dedicated to some other 1/6th lines/pick ups
Top shelf - Star Wars/Dragon US Para/Gunny Lee Emery and Rick from the Walking Dead.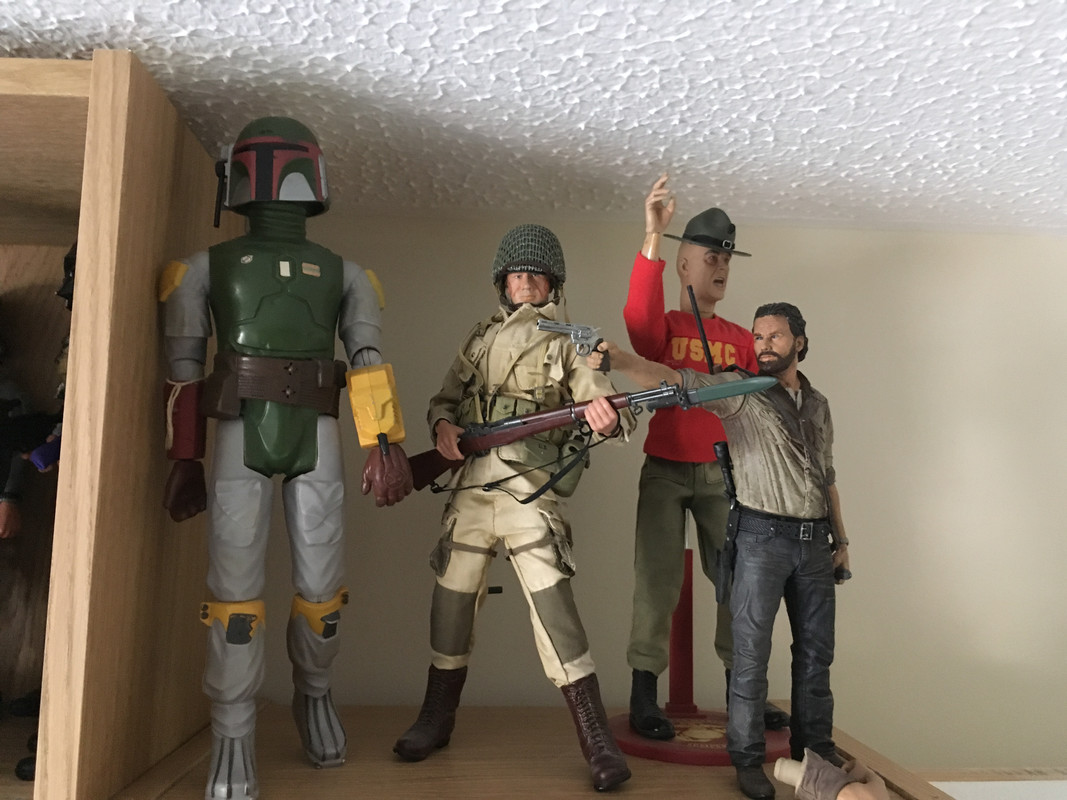 Next shelf -Alessandro Pirlo , Lenny James (TWD) aka Sgt Mike Cooldude, and a SWAT Peacekeeper.
Next shelf- An as is box of the Argos Army Soldiers- their brothers kitted out most of 14 Platoon so I felt they deserved some recognition.-terrific value IMO
.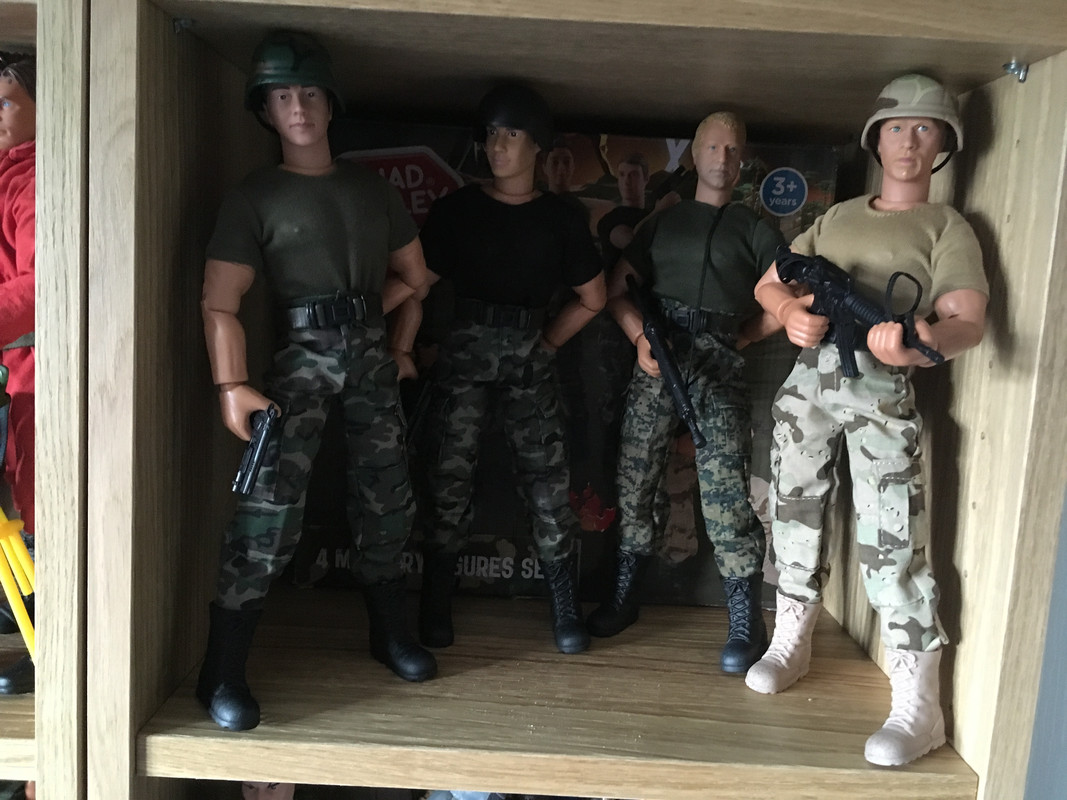 Next shelf - Some Lanard Corp figures- In holding before they get absorbed repurposed .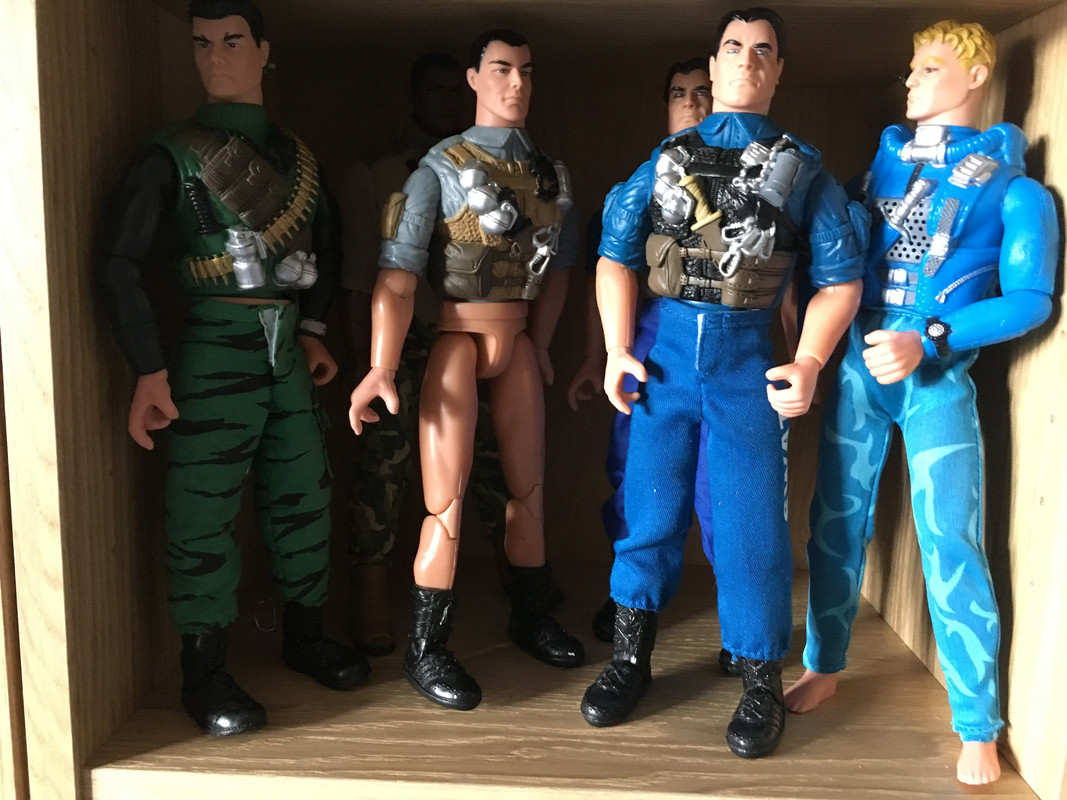 Next shelf- A Special Forces soldier - as is- ( again, another terrific value  source of kit IMO ) and two HM armed forces figures recently picked up in a bundle.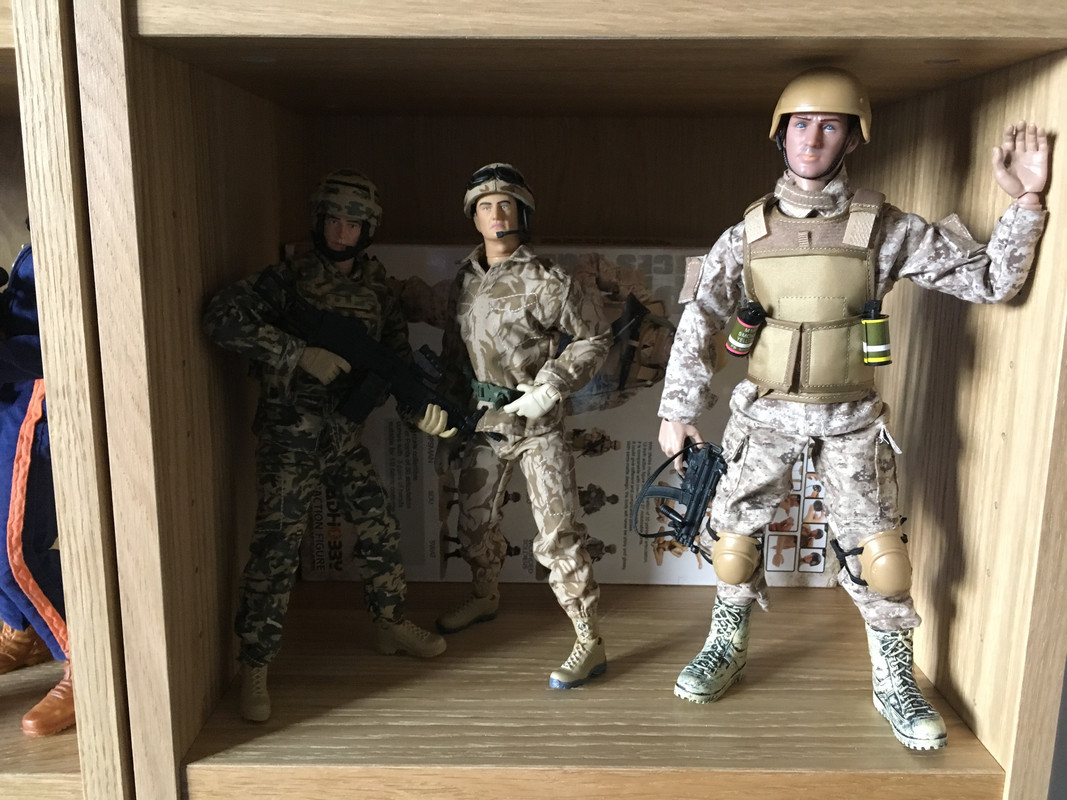 Final two shelves have some World Peacekeepers 1/18th figures and vehicles.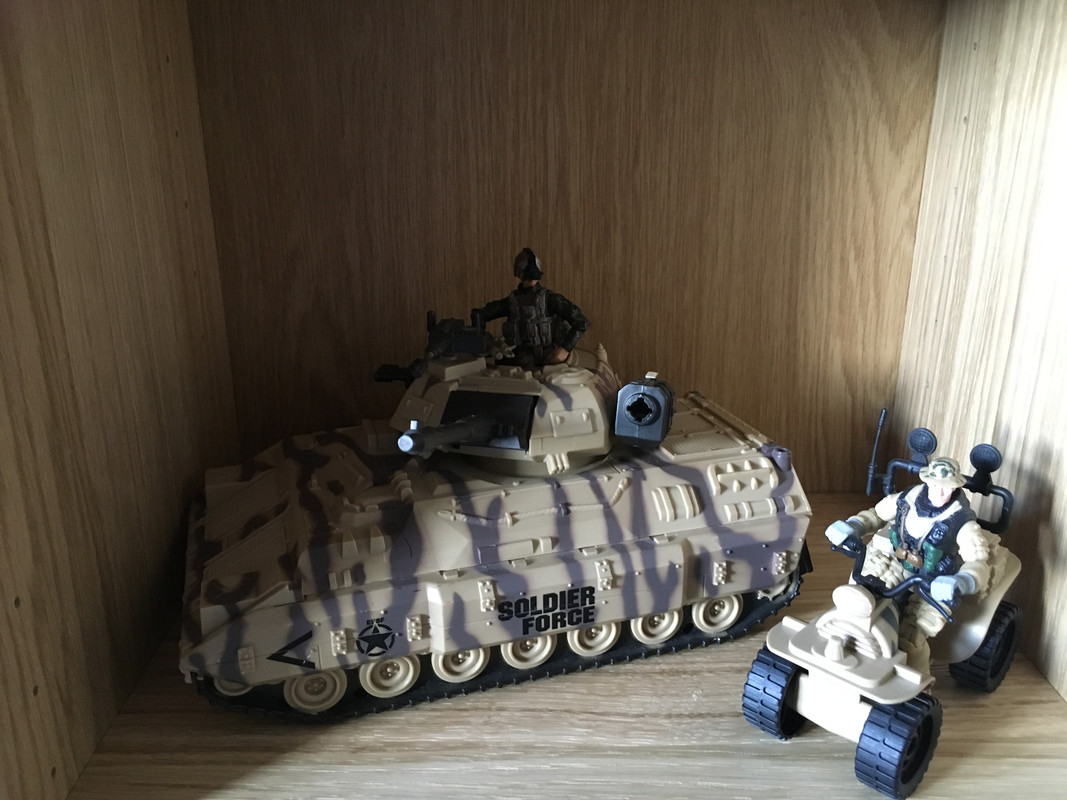 Final case is dedicated to the baddies....I'll tell you more about these guys in a follow on post...
Thanks for looking - any suggestions for improvement always welcome
Take care
Steve