Dreadnought wrote:

Hi Steve ! Hope you and the family are well. You've done some great work there on your 'Strongpoint' dio.
Fantastic MAM mortar raid teams too. Really excellent looking crews you have.
Hi Kev,
great to hear from you and thanks for the comments .
After setting up that Dio/shoot I thought maybe just one more...I said I had enough but...my top MAM hunter, Alexander, sent me an e-bay link... and .....
Just another typical summers day just south of Manchester...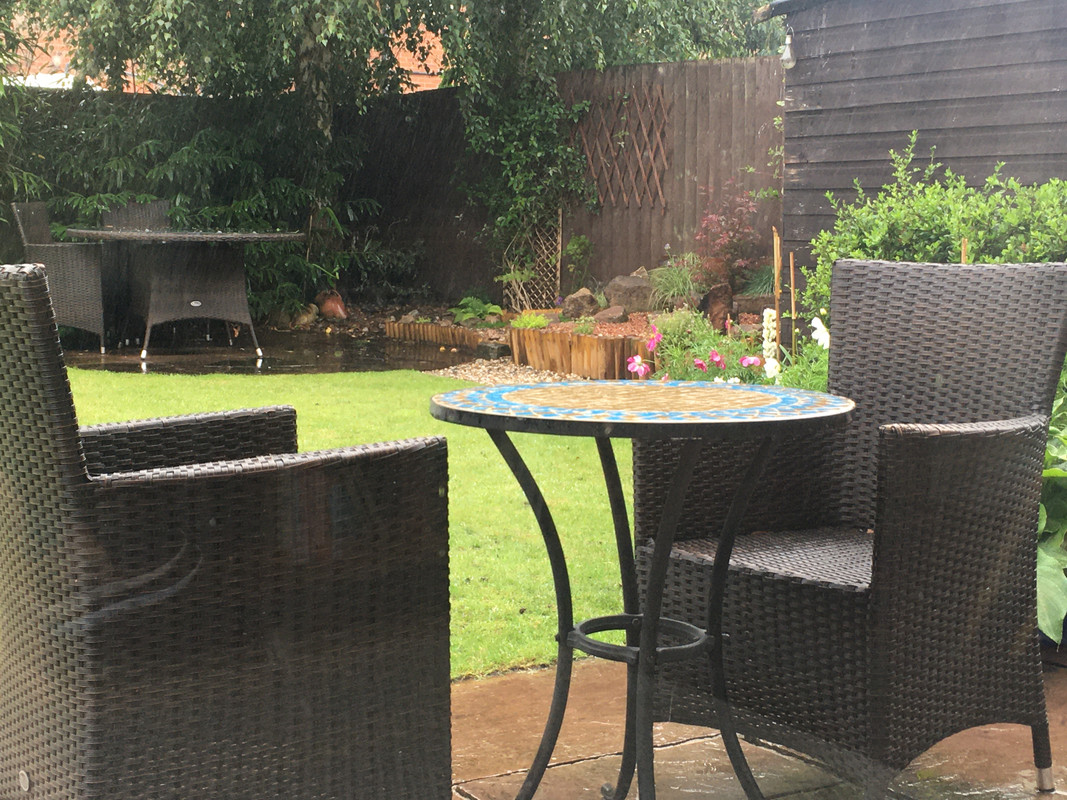 The VAM tactical area is waterlogged and off limits ..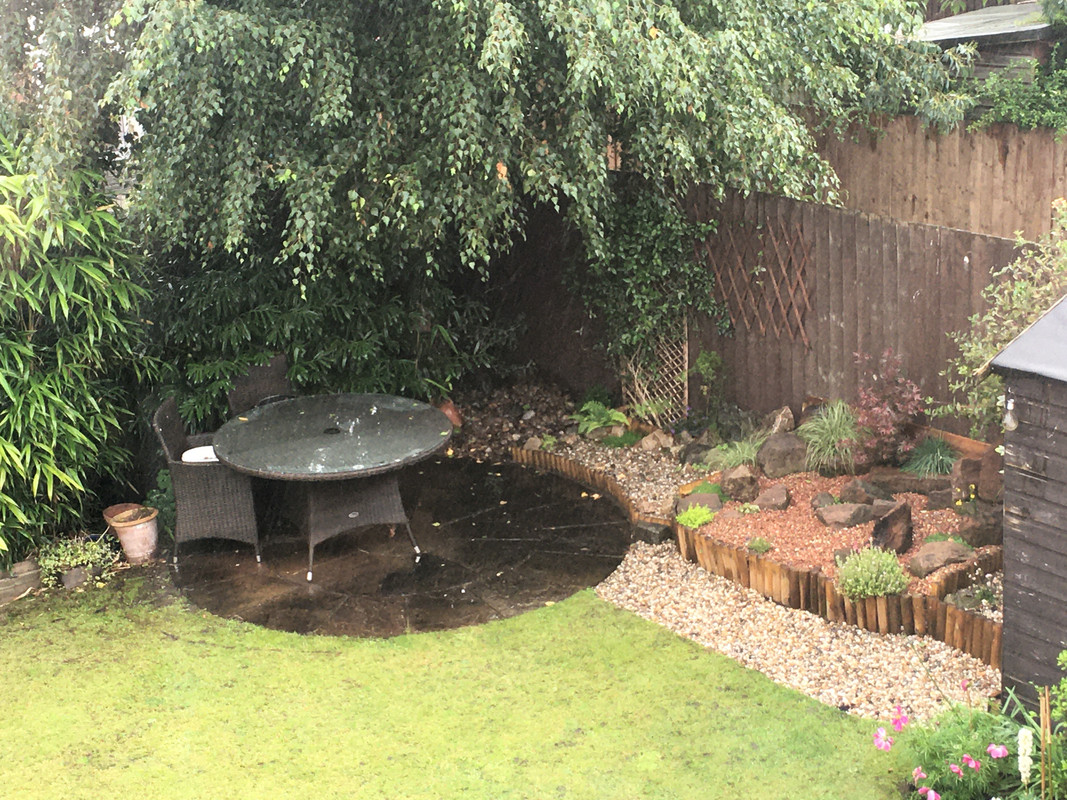 Mrs Gunners shed ( sorry craft workshop) has arrived also...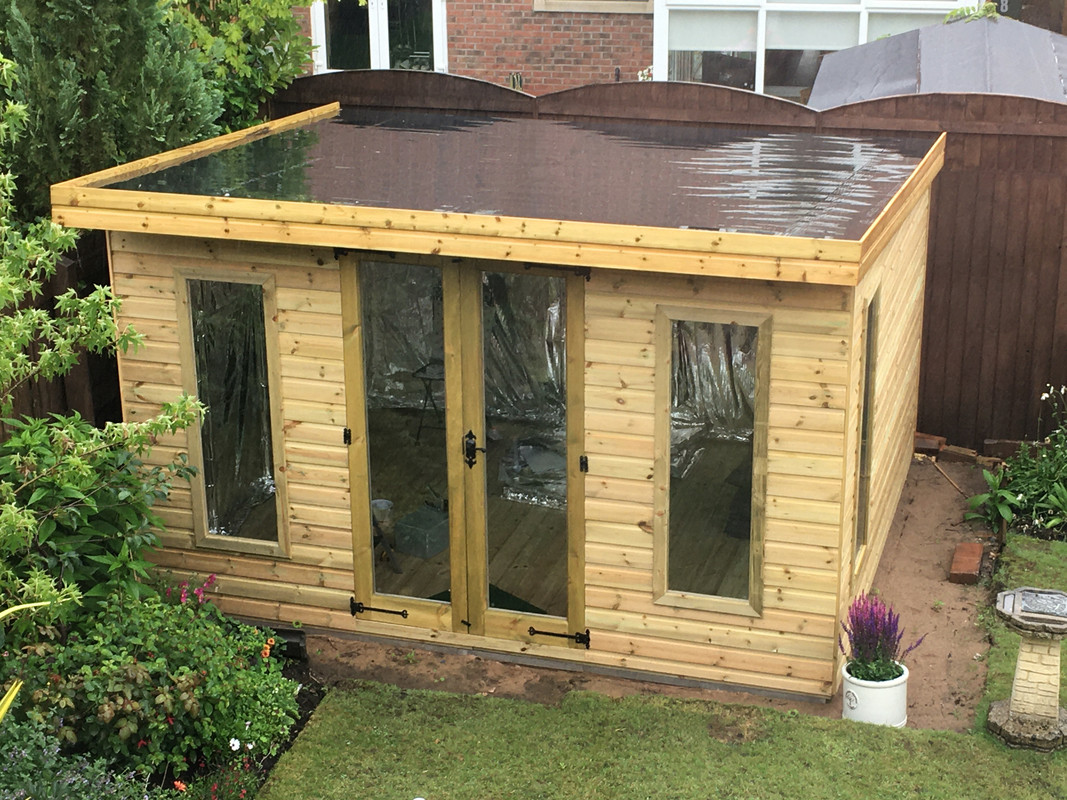 As you can see we have been lining with foil to stop the aliens/Government brainwashing us
Just waiting now for first fit electrics and tracking down enough tongue and groove to clad the inside ..Covid 19 has disrupted supply hereabouts ..
..but patience is a virtue..or so I keep saying to Mrs Gunner..
So I had a little time on my hands...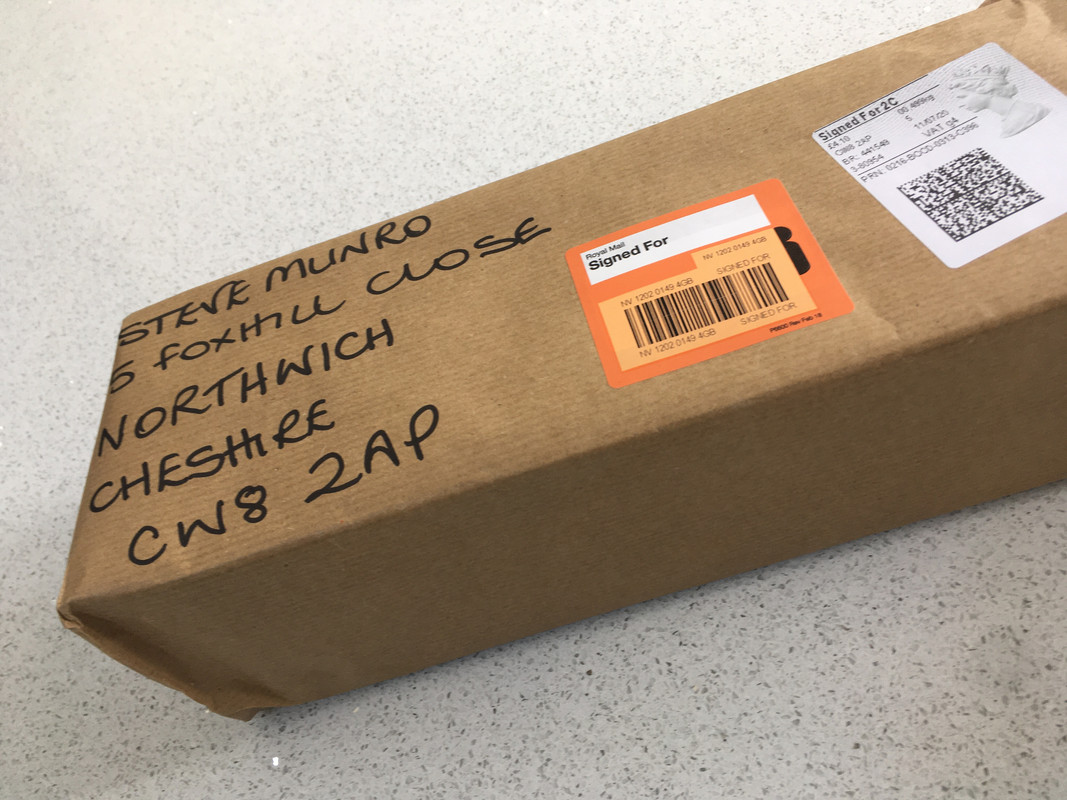 A Package lays unopened in no mans land at Gunner HQ..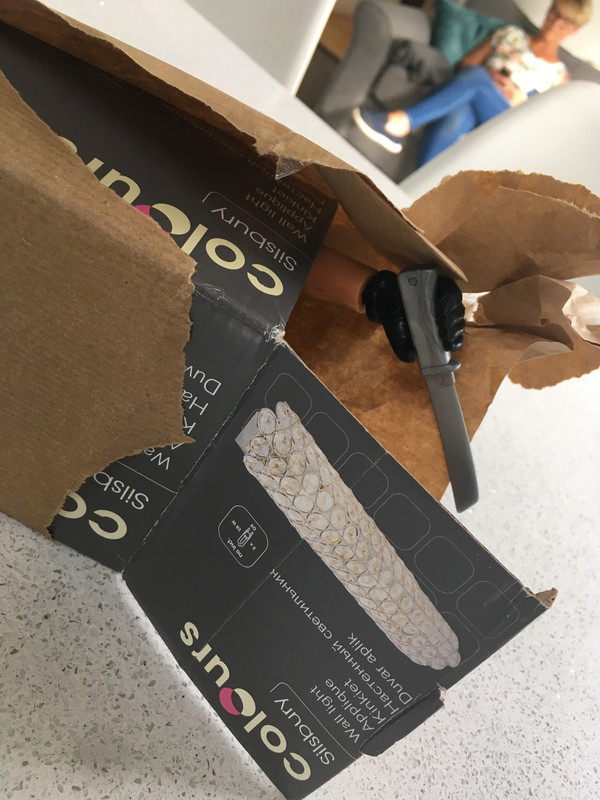 There is activity within...an Action Man emerges from suspended postal animation..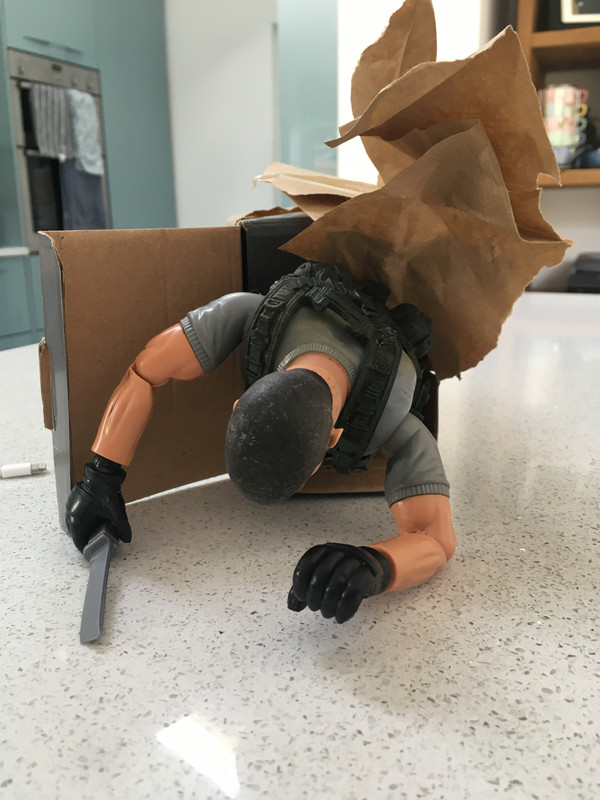 "Ugg .. fresh air ...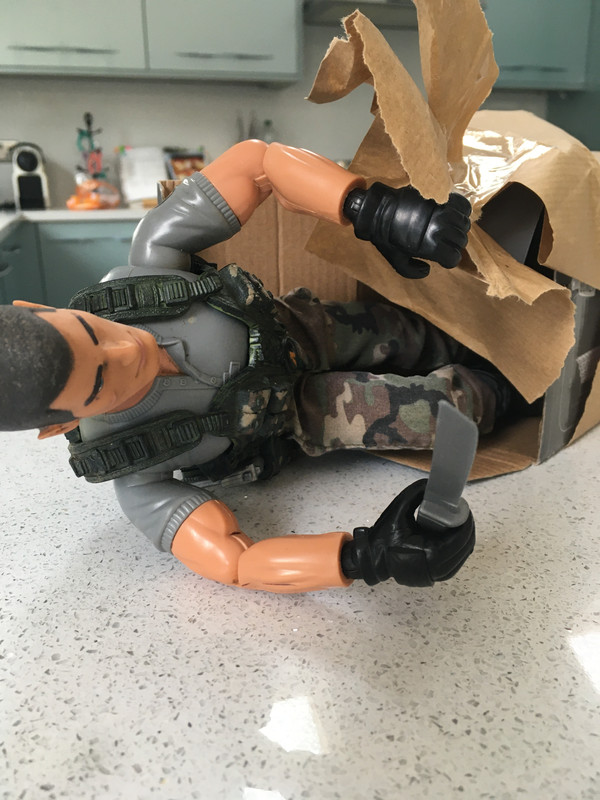 "at last..!"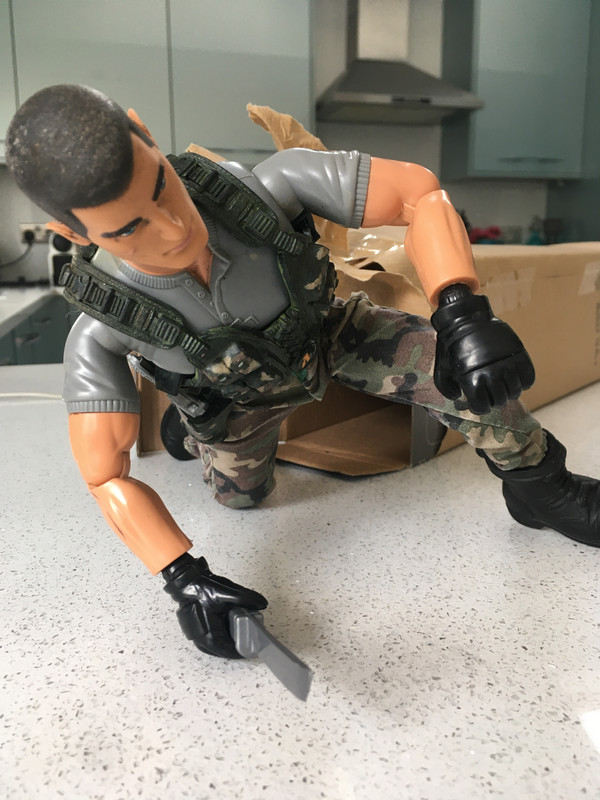 " Where am I ?...."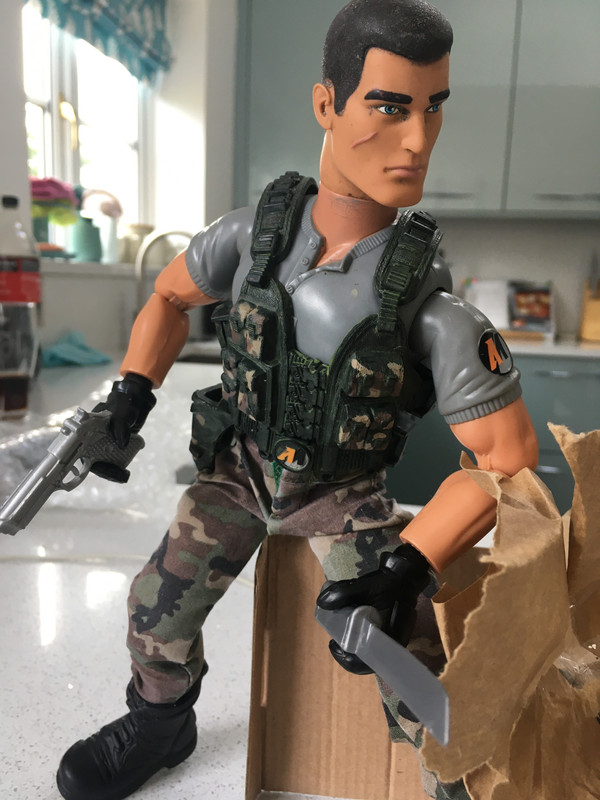 " My last orders were to deploy with the 2nd Bn Munrovians..MAM Mortar Raid section.."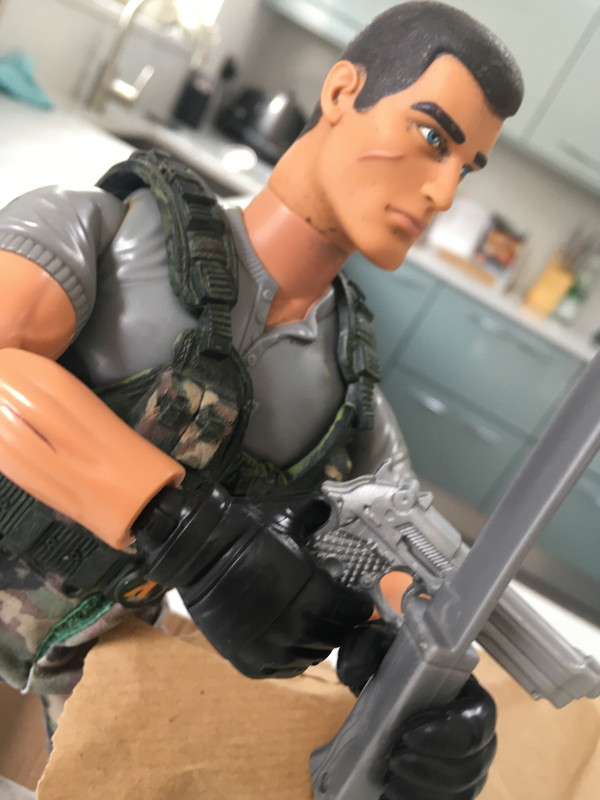 His VAM/MAM training kicks in and he makes sure he is safe...
"No obvious enemy activity.. better get my kit together and make my way to the RV .. looks like I may be off by a couple of klicks.."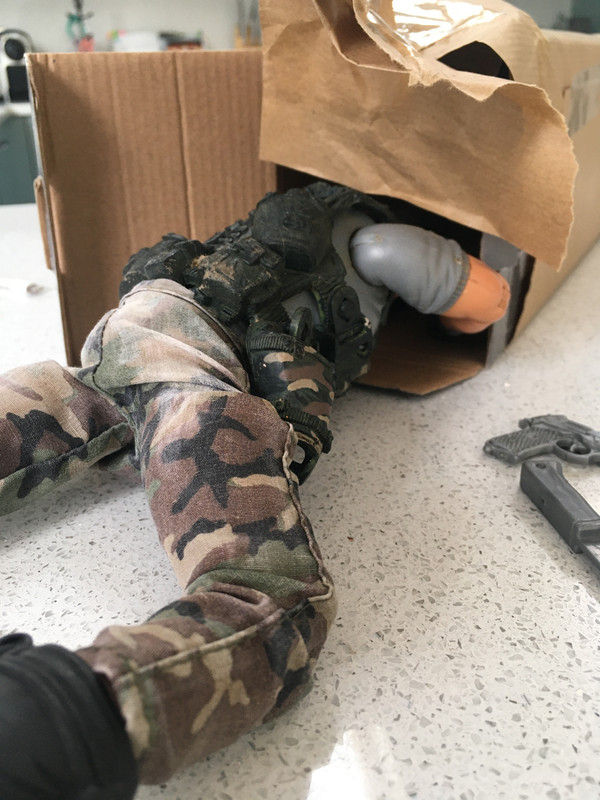 With that he starts to unload his Transportation pod.."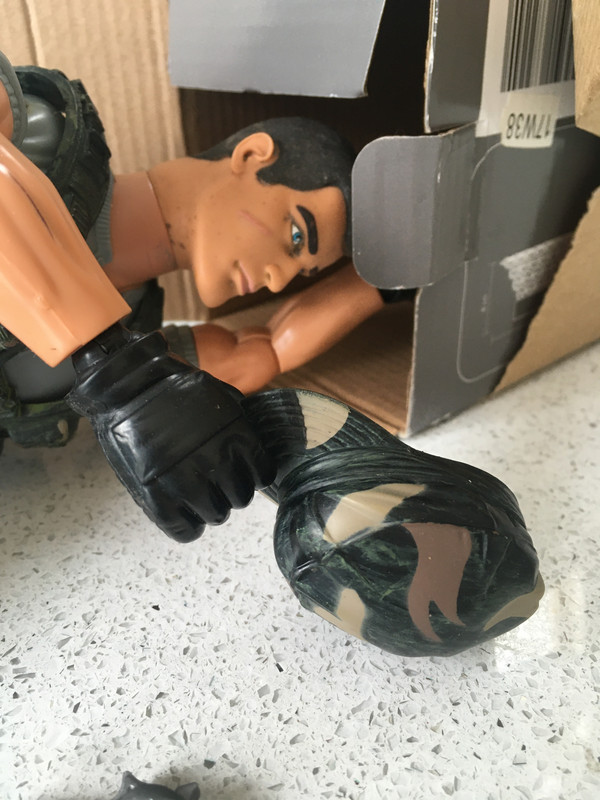 "Phew at least my forage cap came with me..now then .."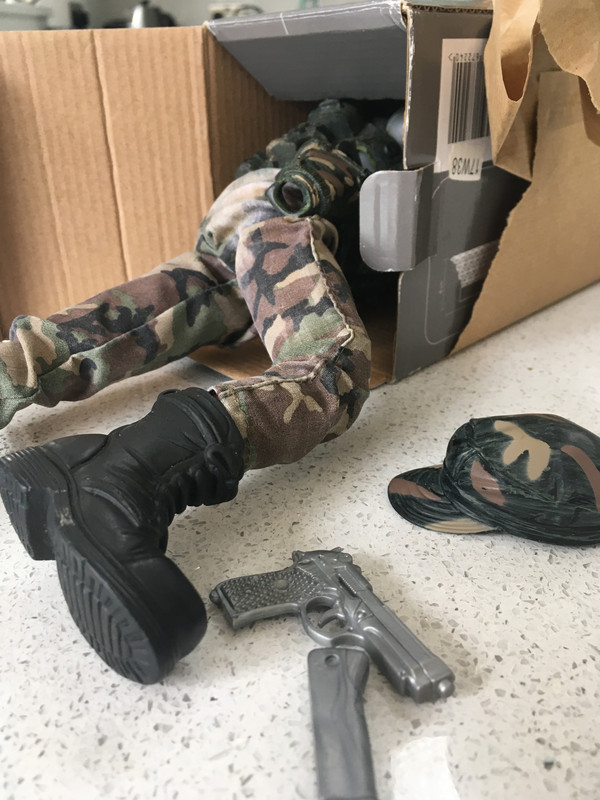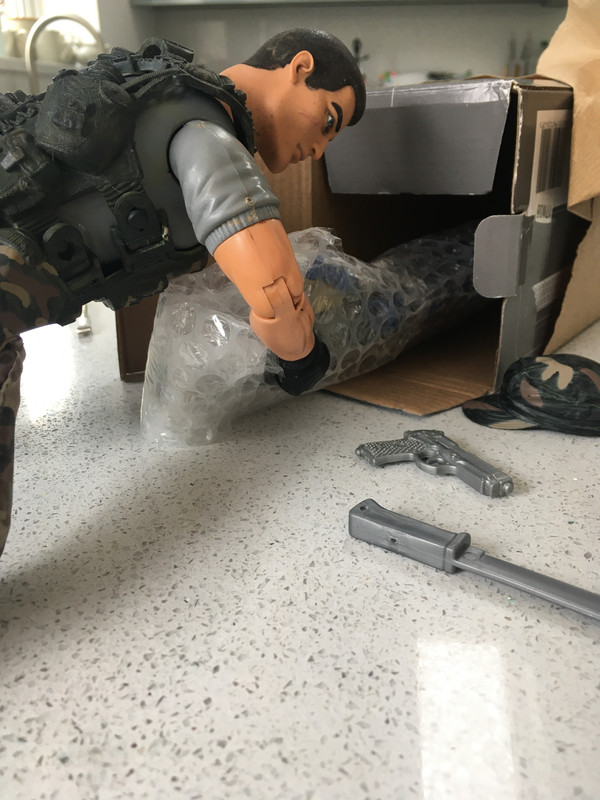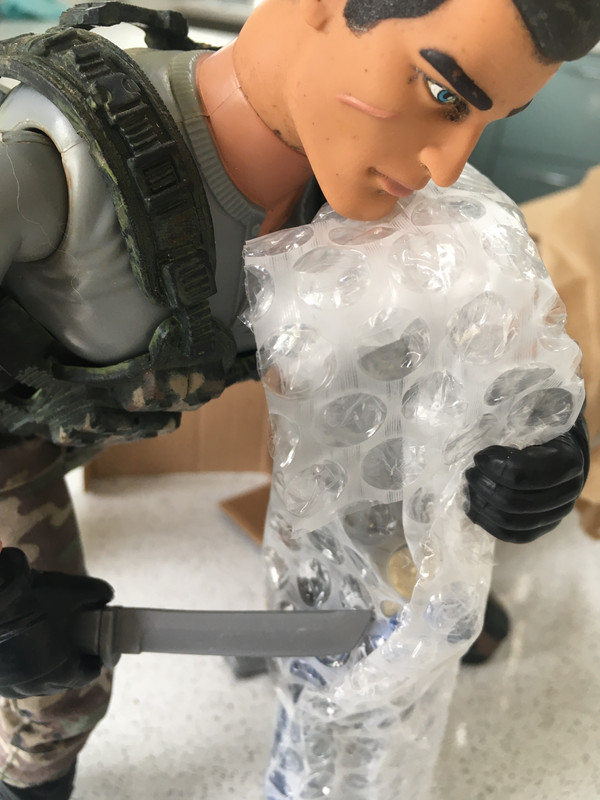 Hopefully ..all is ok ..better get this protective covering off ..."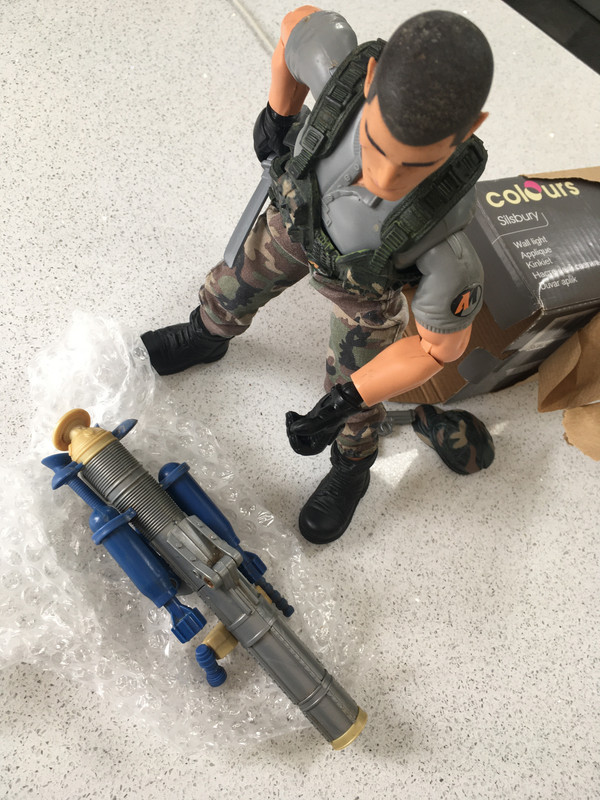 " Well she looks ok...two intact rounds ...better just check .. its been a few years since I was packed away at the back of the garage.."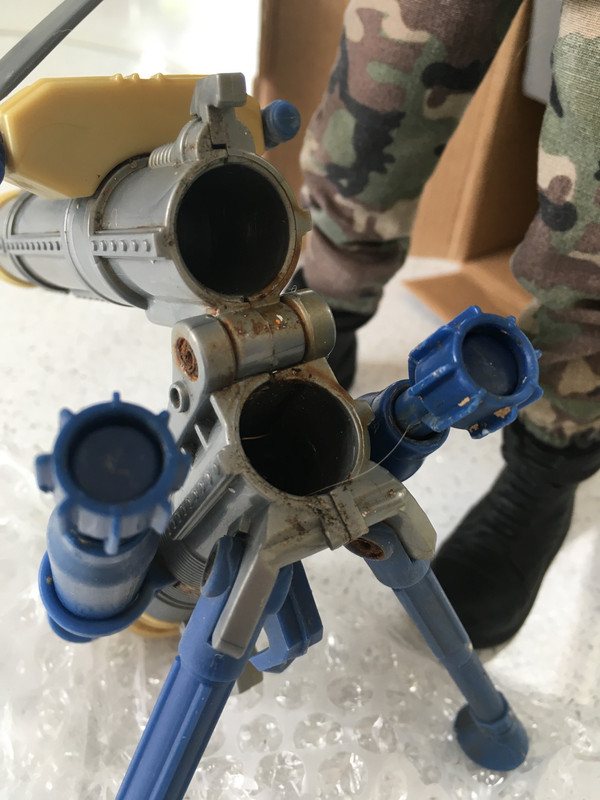 "Uh oh ... some fouling from that last Mission.. it was a bit muddy as I recall.. spring of 2004 I think..?"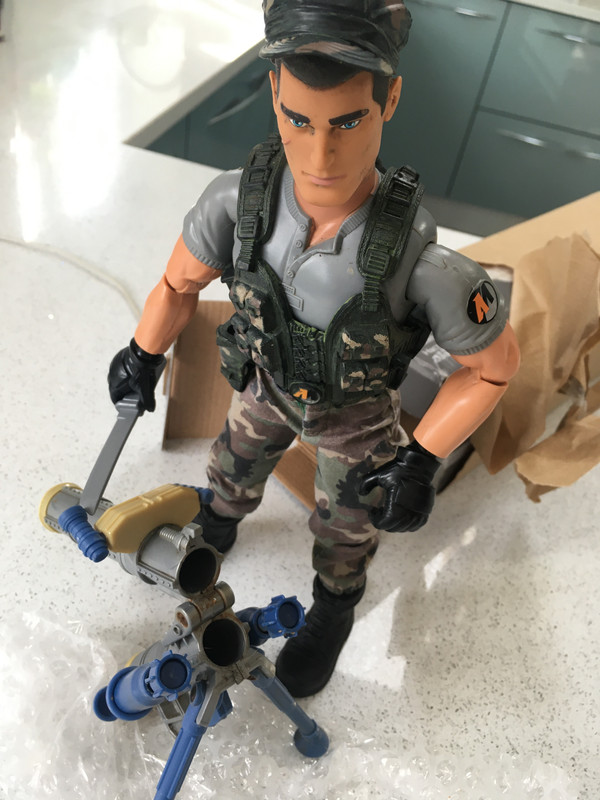 "Right better get to the RV .."
" Oi  !!"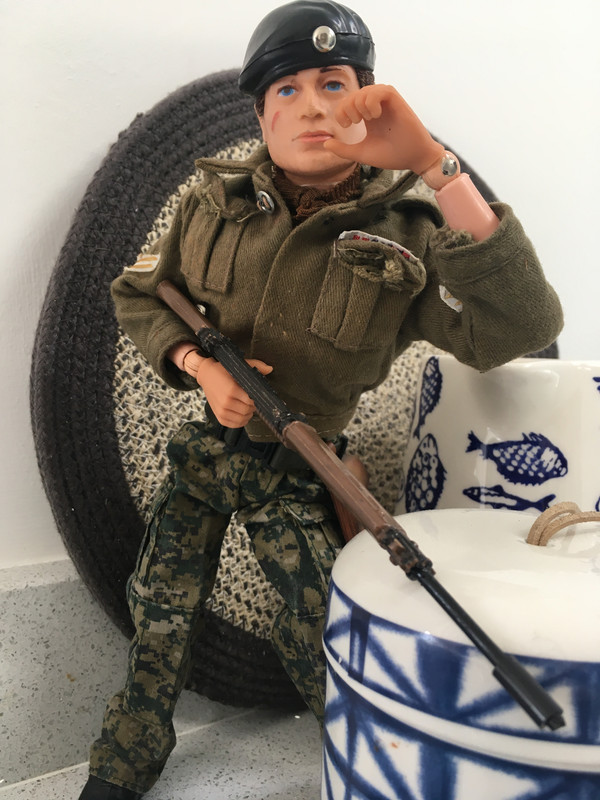 Cpl Pallister of 14 Platoon calls out.
" Manchester" ..Unsure of the correct response Mortar raid uses the age old VAM/MAM response "Toy of the Century?"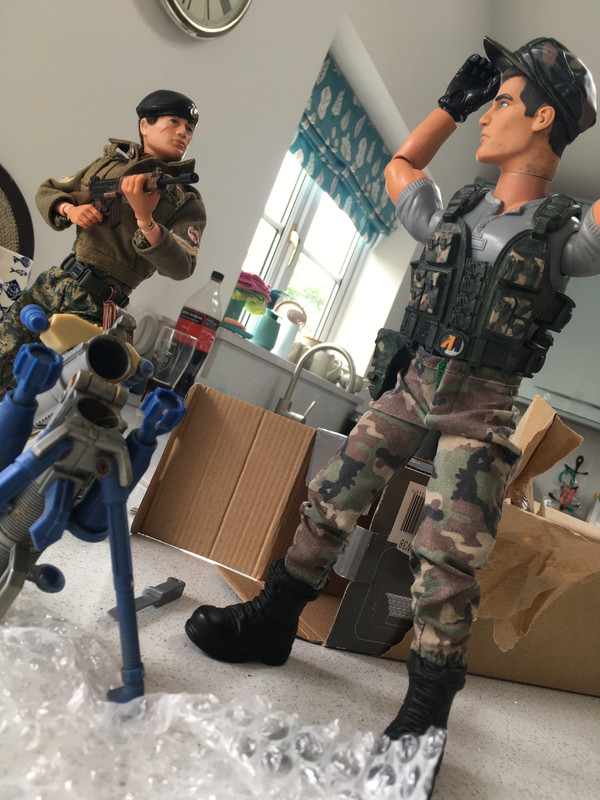 Taking no chances Pallister calls out " hands where i can see 'em canny lad..."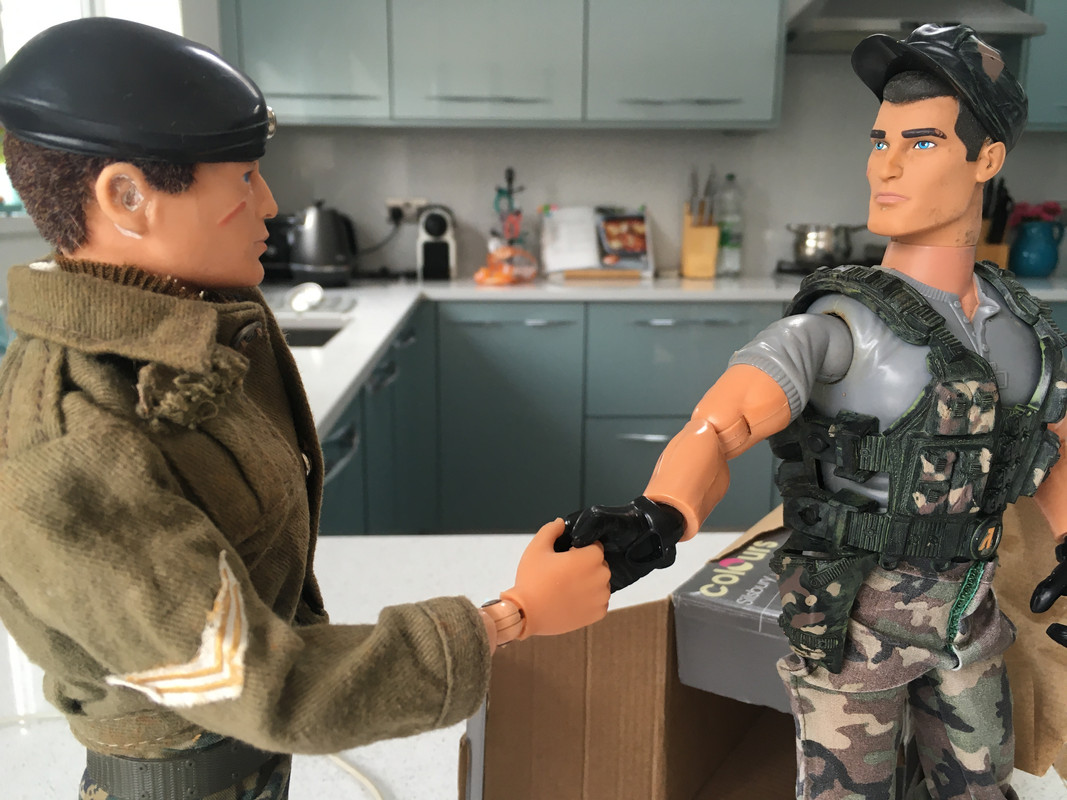 "Welcome to the Munrovians fella..if you are out on patrol again the counter is "City"
"Thanks Corp.. can you help me get to the RV ?"
"thats what I'm here for.. We heard a drop had gone slightly astray.. you are in No Mans land at the Moment..can have you falling into enemy hands now can we ! "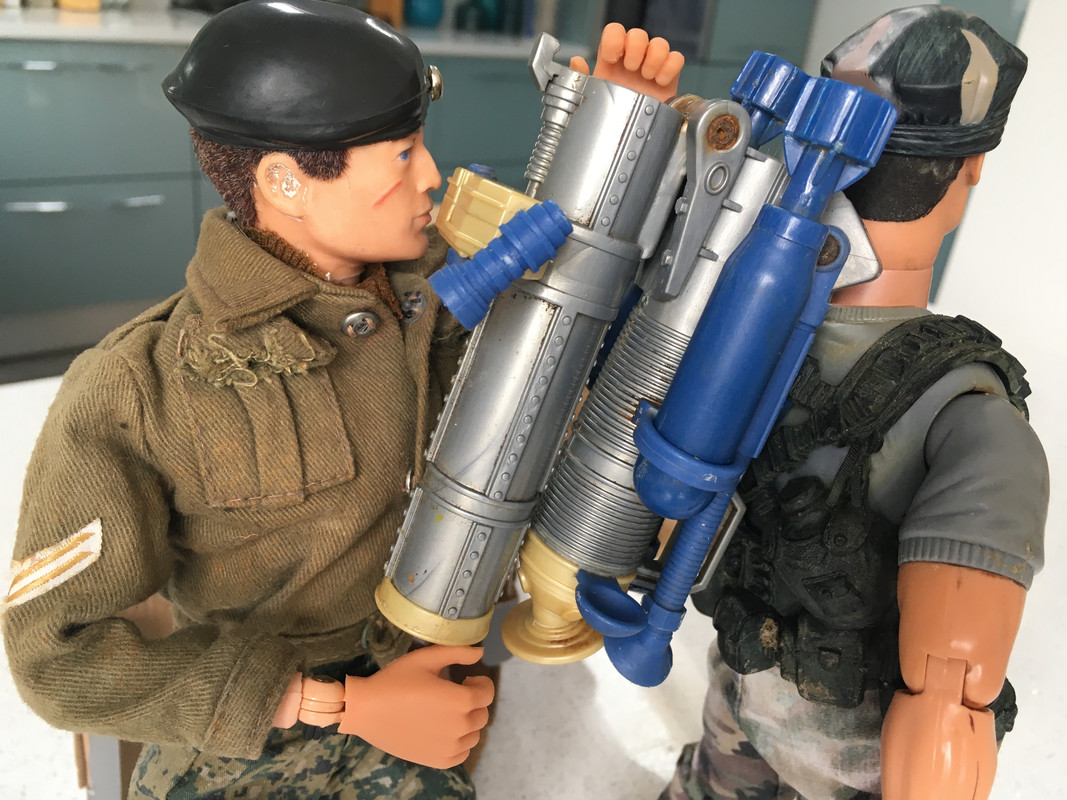 Pallister helps Mortar raid load up..
"Who is our enemy now then corp? .. last I heard it was DrX and Prof Gangrene.."
"Prof Gangrene and his henchmen are deployed well north of the Border mate.. but we need to watch out .. last I heard  Major Bludd has been given command ..."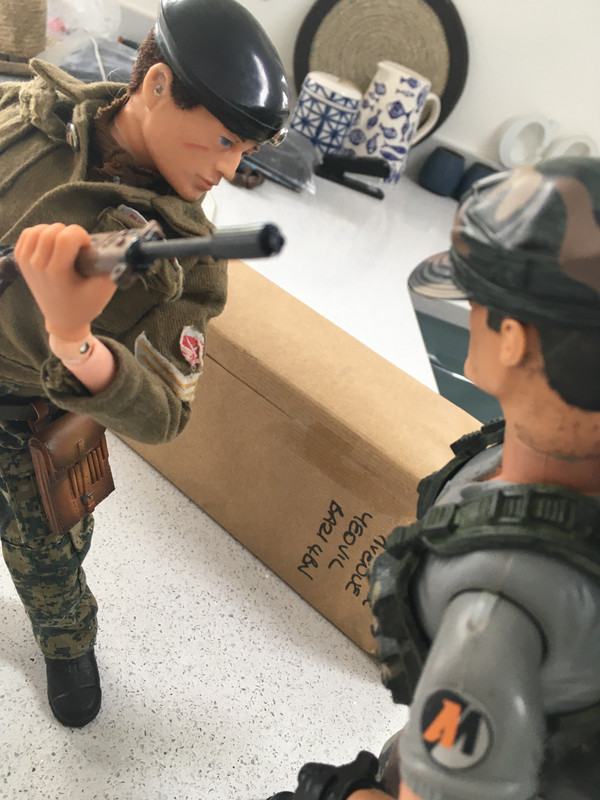 Pallister" Where you from then?..."
"Looks like the Deep South.. You"
"Teeside..but you are in Munrovia now canny lad.. we are locked in a deadly battle against the Dragonians and their allies the Volgans to free Munrovia again for all VAM & MAM to live safely and in peace once more.."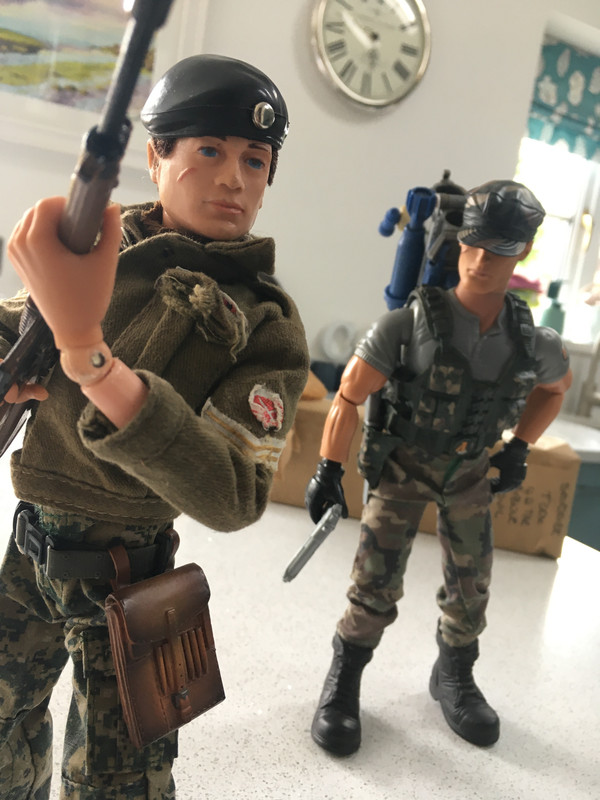 Pallister " Come on lets get moving before we are spotted ..."
And the pair head off .. MR will need a good wash and his Mortar a good clean.. once thats done he can take his place in the enduring battle to free Munrovia !!
Sometime later.....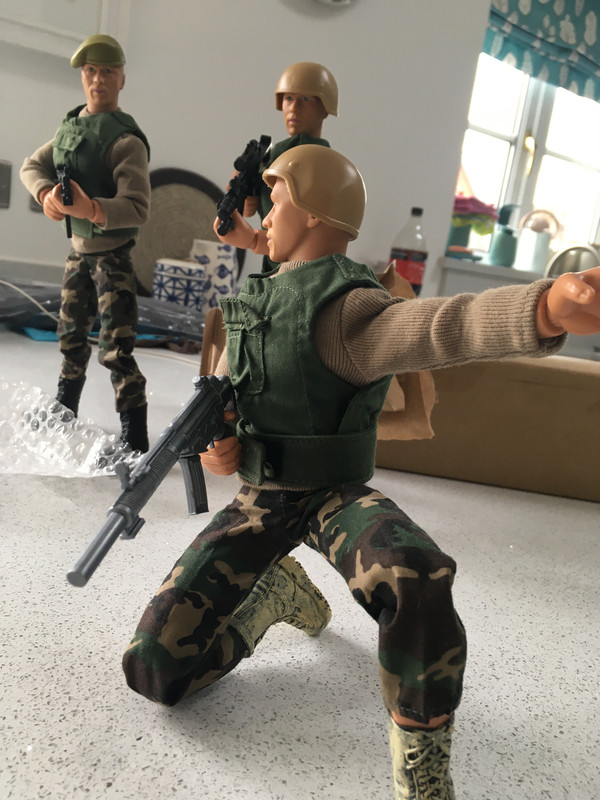 Comrade Sergeant.. the trail leads this way ...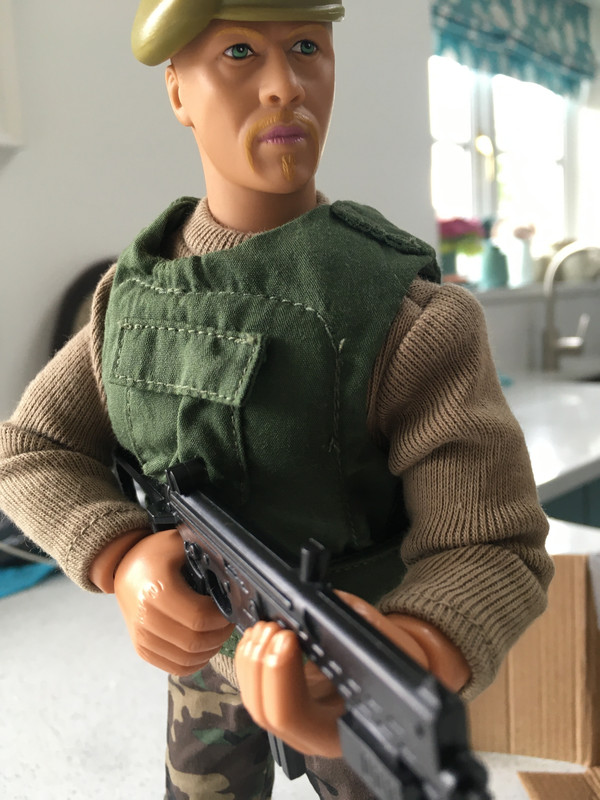 First Sergeant Vasilly Smirnoff of the Volgan 1st Shock Infantry, takes a moment..Thinking: 'Now perhaps they can find a way back to the Munrovian strong hold. Victroy shall be ours . We must crush them and remove all signs of VAM and MAM from this universe.'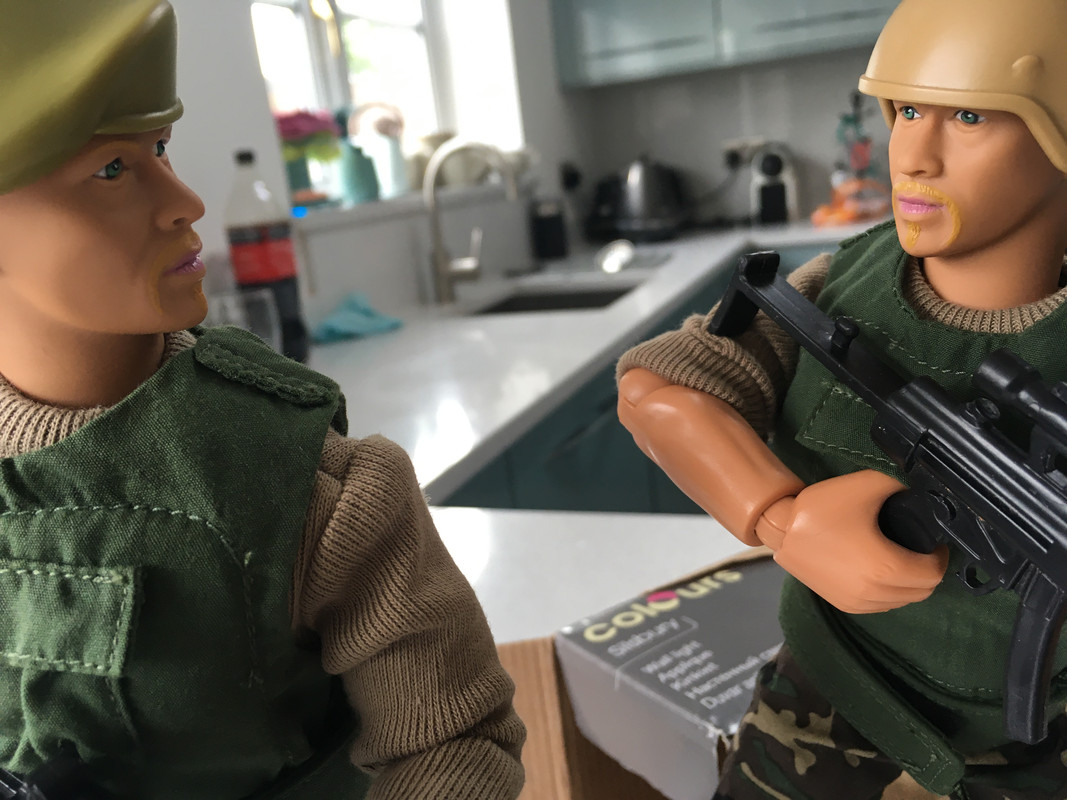 "Dimitri.. are you ready to take some Munrovain scalps and show these Dragonian dogs how Volgans fight ?!"
" Yes Comrade Sergeant !"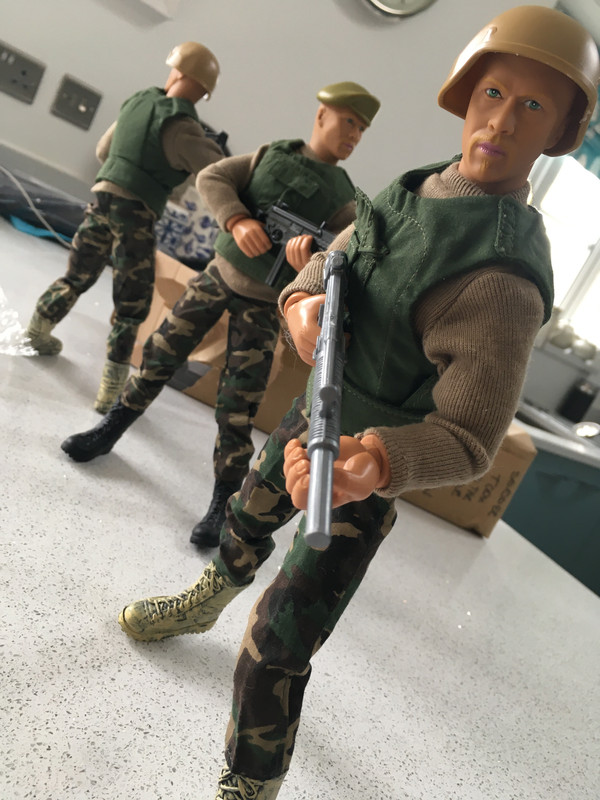 Smirnoff: " Come then Dimitri.. Sahkov ..lead on !"
The Volgan forces deployment in Munrovia is increasing .. surely a battle must be brewing .. buy who will prevail?
Thanks for looking.